If you are looking into the matters of digital and social marketing, you have got to remember that social media platforms obviously play a huge role. Blogs are the way to go right now and it is up to you to make it as visually appealing or as bland as you want.
Pictures and infographics are ruling the roost presently. By using specific images and pictures in blogs and articles, you can see 90% more engagement than the ones with less or no images.
It is human nature to grasp hold of pictures more than words. It is not rocket science, it is just easier and soothing for a human to relate to something that is visually appealing.
In this case, huge blocks of words are relatively less appealing than a colourful image. Feeding that instinct and using that to build your business is the best you can do.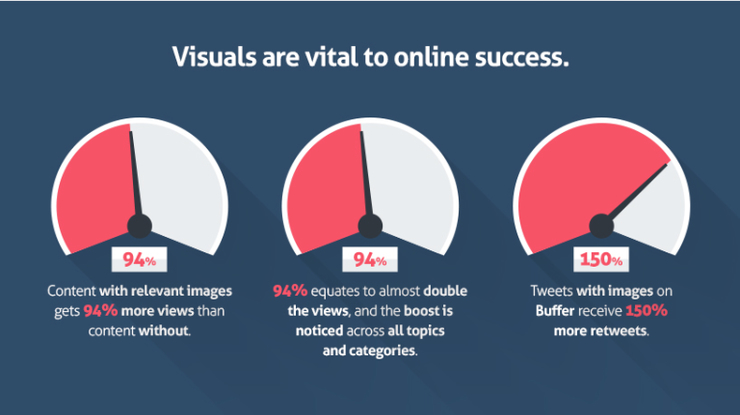 Photos are vital parts of media marketing that can make your journey to success, smoother. This article contains all the aspects of how to use a picture in a blog post.
Images in a blog post are important because
Visually appealing articles attract more readers and thus generate more traffic. They simply enhance the visual factor in a certain blog and make it more reader-friendly.
Images break the monotony of the blog and keep readers interested in the article for a long time.
Images are easier for the human mind to comprehend than large chunks of words and thus more people turn to articles that contain photos than the ones that don't.
How Images Increase Blog Traffic
Let's face it, once your article or blog is done and ready, you will not find your audience waiting eagerly for you to post it (unless you are established enough). The only way to increase reads and visits and thus traffic is to share your creation all across social media networking sites.
And social media is the marketplace for the image-based blogs and posts. The whole protocol of social media platforms like Instagram, Pinterest and Snapchat are based on picture related posts.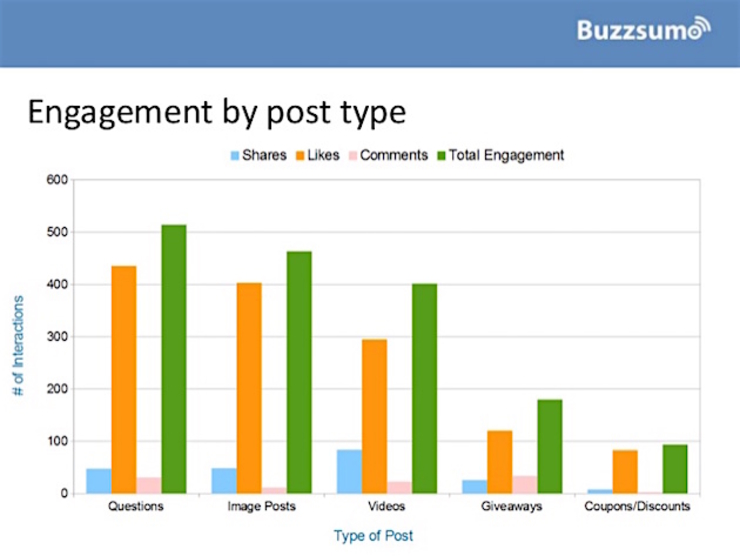 As you can see in the research study by Buzzsumo here, image posts get a lot more engagement than the video posts, giveaways, and even coupons. Almost more than half of the interactions go towards images.
Your viewers are looking for something quick and interesting rather than something time-consuming and irrelevant.
This following guide should be your go-to guide if you want to see a quick traffic boost in your blogs.
Visual content on blog posts is as necessary as water to plants. They help the content market grow bigger and better. With better blogs, come better opportunities. So the value of VISUAL MEDIA in content marketing should never ever be underestimated.
A simple research tells that an article with relevant pictures receives 94% more engagement than the one without images.
This means that the reach of the post is higher than double and it applies to all the topics across the world. This simple universal tip is enough to generate more amount of shares, tweets, pins, and popularity.
An article showed that blog posts with images got amazing engagements across all the major social media platforms. The response these posts got were dramatically greater than ones with no images.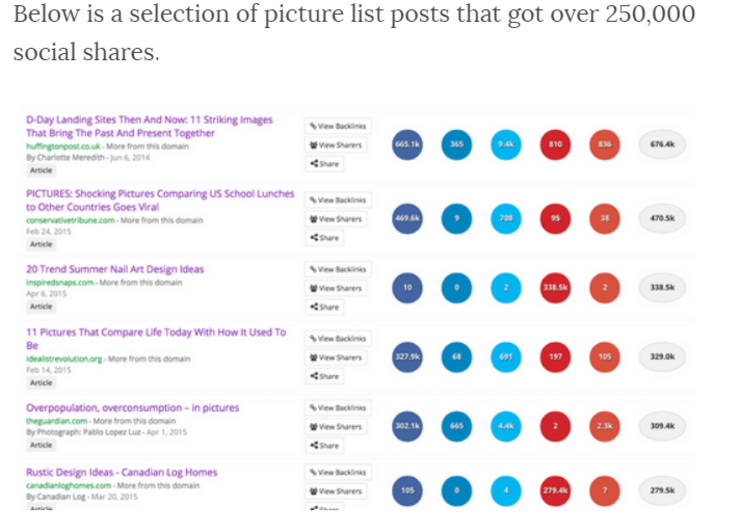 Blogs, vlogs, popups and even videos (to an extent) have replaced actual advertisements. And similarly, likes, follows, comments and shares have replaced actual human conversations.
A brilliant example of an image blog site is Tumblr.
Tumblr – Tumblr is a microblogging site that generates millions of readers per day. It had over 280.4 million blogs as of 2016. The whole game of Tumblr is balanced on sharing images related to fandom and groups of people who like a particular thing.
There are options for 'photo sets' that allows users to upload 10 pictures at once in a single post.
Simple images, photographs, icons and even tweaking certain keywords and bullet points can make unfathomable differences in the reach of an article/blog. Like they say " It is not what you do but how you do it, that makes all the difference".
Types of Images
Yes, there are various types of images you can put on your blogs. Using all of these to spice up your content is a very smart move. Some of these are visually aesthetic and some of them are known to go viral really quickly while some of them add a dash of humour to your blogs. Together, they make a perfect visual cocktail that will intoxicate your readers effectively. These are some kind of images you can use on your blog to make it more interesting.
Infographics are visual masterpieces that completely cover all the aspects of a certain topic using a single image. Mostly, it is some form of illustration and contains a lot of information.
Using one Infographics on your blog will be completely fulfilling for your topic. They may include statistics, graphs, info, etc. all in one. The Infographics are best examples of efficient packing of information.
The key to great marketing is humour. It helps to connect with your audience on a personal level. Memes are the perfect driving force if you are looking for some humour on your blog.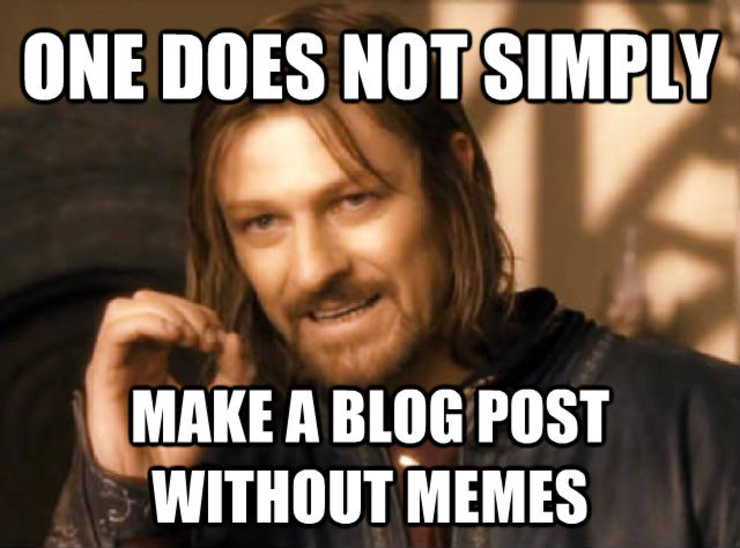 Memes go viral really easily and very quickly. The main reason behind this is the fact that memes are User Generated Content or UGC. Once viewers get to know that there is a human being behind this content and not a computer, their trust increases instantly. They gain interest in your blog and keep coming back for the dose of humour.
Memes are a great way to bring your readers, a content they can relate to as well as to increase the humour quotient of your entire blog.
Avoid using a certain meme if you do not know its purpose. Using a wrong meme might make you look inconsiderate. Use Memes that are complementary to your blog and use content cautiously, for people get 'offended' on the Internet really easy nowadays.
Lots of entertainment based blogs contain a decent amount of graphic design. Not only that, in fact almost all the genres contain some amount of graphic design in their blogs.
There are also entire blogs solely dedicated to Graphic designs. Onextrapixel, Creative nerds, and Designhill are some of the popular graphic designing blogs that people visit.
Graphic designing adds that extra sprinkle of awesomeness to the dish of your blog. It is wise to hire a professional graphic designer who can help you create monumental images and designs for your blog.
This is a form of digital art but it has such a big impact that it has become an individual subject. Typography is the amalgamation of text and design. No, it is not a 'fancy' way of using ' fonts'. Instead, it is a completely independent design technique.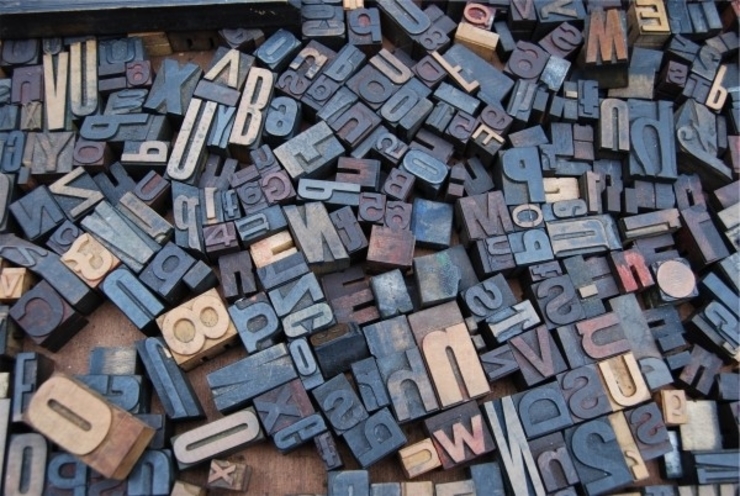 Certain typography can emphasize your business more effectively than the rest. Using typography in your blogs will not only be useful to show text and at the same time not be boring.
We all have used charts, graphs, bar graphs, pie charts, etc. at some point in our life. And its importance cannot be stressed enough. Images that tell us the statistics, numbers and percentages fall under this category.

Photos that show the data and the truth behind the certain research is very crucial if you want to build an audience that can rely on you. People need a proof in order to believe what they are reading and graphs and data-driven images enable them to do so easily.
Photographs that have been clicked with a gear and not 'created' using computers fall into this category. There are millions and billions of photographs ranging from selfies to aesthetic landscapes images that are pouring in each hour on the internet.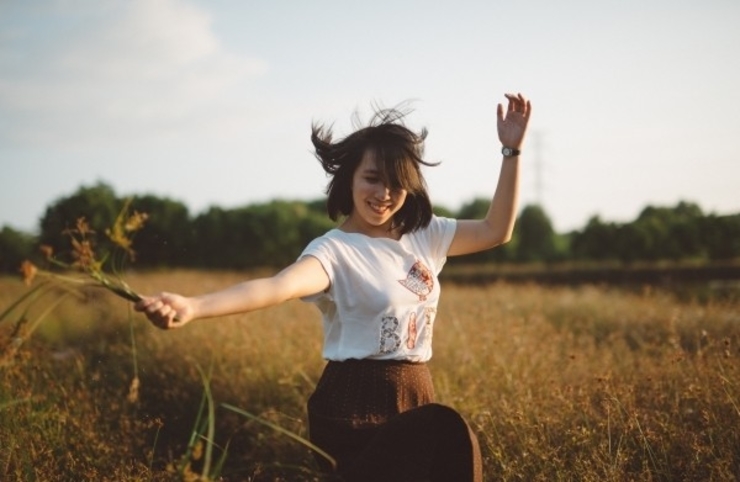 Without taking a long time to 'create', photographs are probably the easiest ones in this list to process. The photographs convey a lot of emotions through them. Using photographs of 'people' in your blogs consistently makes the reader assured that they can trust the person behind this blog.
Alternatively, photographs are realistic and add the sense of reality among all the digitally pursued art as well as text. In the pile of digitally and artificially produced images and text (even though by human brain), photographs stand out as windows into reality.
Illustrations and digital art
There is a category completely different from all the above ones and still overlapping each slightly. Illustrations or digital drawings are very good substitutes if photographs are not available.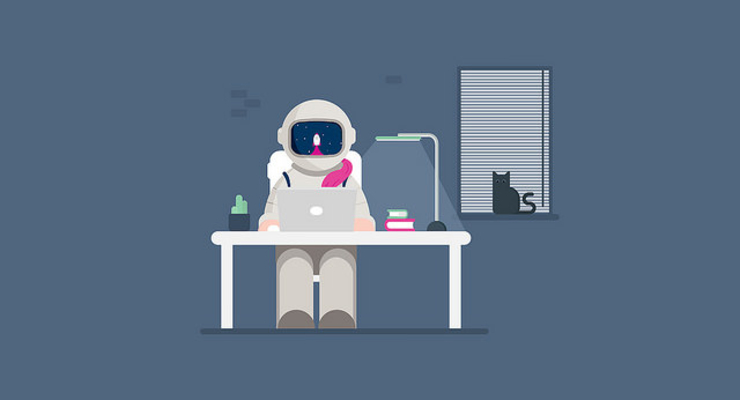 Vector graphics and digital paintings fall into this category. Some digital paintings are used to show surrealism in a situation where Photoshop cannot be used. A painting is the outflow of an artist's mind and how can that not be beautiful. Using illustrations or vector graphics in your blog will decorate it efficiently, if not more.
Legal Issues
Now that we have established how using images and infographics in blog posts can benefit your business, let's look at the legalities of it.
Using copyrighted images for your business may ban your business forever or might invite a serious lawsuit against you. You don't want to take that risk, trust me.
You might have heard about the terms 'Stock' or 'royalty -free'. These are some of the categories in which we can classify the images that we get from online. Let's take a look at the kinds of Photos that are available on the internet.
Free Images – Free images are easily available on the internet and the most popular source is Google. You can just type in a keyword and you will be bombarded with millions of search results (some of which are free). However, a majority of the images either contain a watermark, which prevents you from using it effortlessly or they contain a copyright claim.
You can easily manipulate your search results by tweaking your Google setting to only give you images that are copyright free.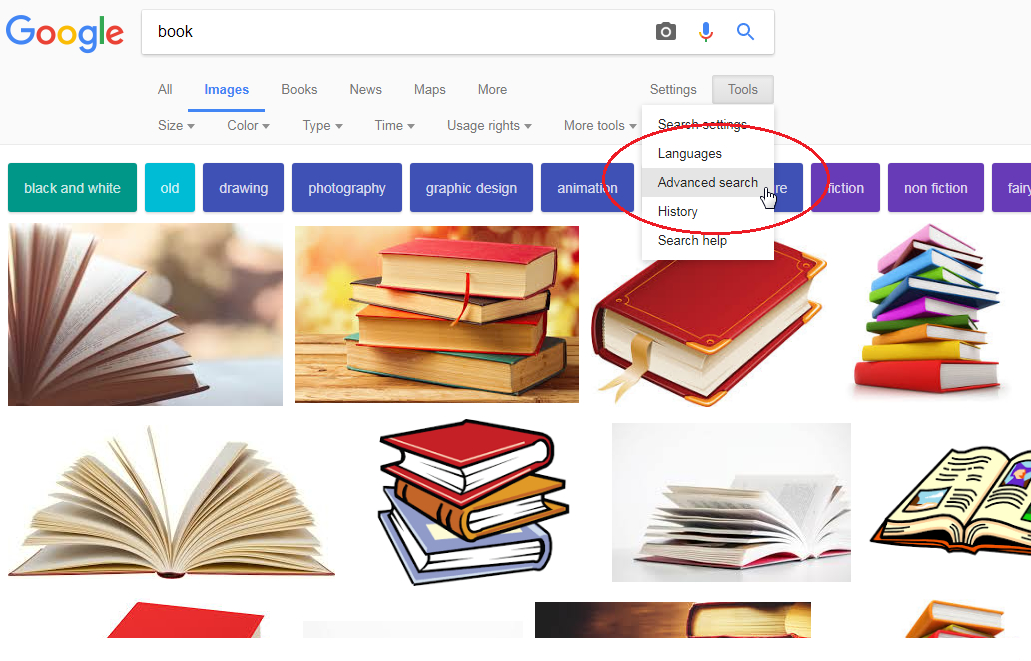 Enter keyword in Google search bar > Click the 'gear icon' > Advanced search > Usage right (drop down list) > click 'Free to use, or share, even commercially' > Click on 'Advanced search' button.
This way, you will be presented with articles that do not have any kind of copyright claim on them.
Apart from Google, numerous other websites provide free images for blog posts. More on them later in this article.
Stock images – To put the definition simply, the stock photos are commercially available pictures which were previously clicked by someone else.
Now, depending upon the business, they can be free or might come for a price. There are tons of stock image sites, both 'to be paid for' as well as 'free'.
The internet is swarming with these websites. If you want to know how to get them, skip over to point number 5. The details of the websites are depicted elaborately in that segment.
And now finally, to sum up, 'Things to do' when using pictures from online —
Use proper images that are paid for, from respected websites that offer stock image services.
Use advanced google search to modify your search results to only show you royalty free and copyright claim free images for the topic.
Avoid using photos without correct credits or captions if you have downloaded them for free.
If you are using screenshots of graphs or even pictures, give credits to the website you took the screenshot from. The content still belongs on the website even though the screenshot is yours.
Where to Find Images
There are tons of online sites that allow users to download stock images for commercial uses as well as noncommercial uses for a specific cost. There are also tons of sites that offer absolutely free images.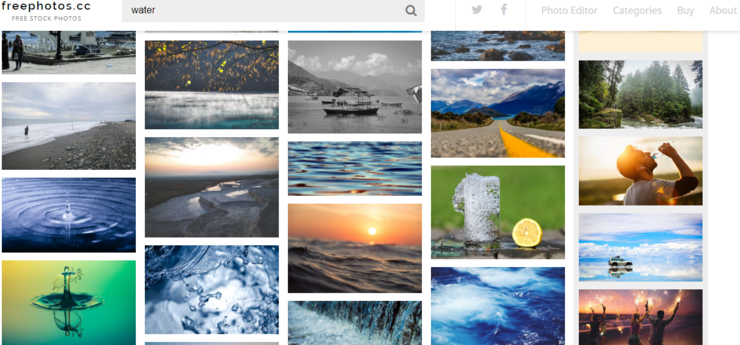 Among the two, the latter finds more popularity. This is a widespread practice that new and upcoming small businesses follow. Downloading a royalty-free image directly from one's search engine seems like the way to go.
But what needs to be reminded is that with cost-free images, downloads and usage also increase and thus the risk of one image being used multiple times also increases.
Not only this will lead to usage of the image multiple times but will also be very familiar/recurring and thus bore for the readers. It might also trick the audience into thinking that they have read this piece of the article before.
Described below are details of both the kinds of stock image sites with examples (paid as well as unpaid).
Paid Photo Services
The best advice is to buy stock images from sites like Shutterstock and have the rights to use the same image as many times as you need in your business. A wise investment has never hurt anybody.
Shutterstock — Has over 130 million images for the users. So, it is quite a lovely and vibrant stock to choose from. Moreover, photos that go perfectly hand in hand with the keywords are easily available in Shutterstock.
Even the quirkiest of the keywords generate mind-blowing results. A simple example can be seen in this following search result.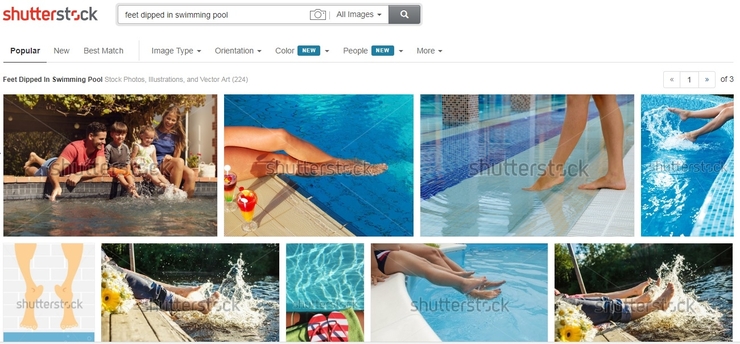 For example 'feet dipped in swimming pool' is kind of an absurd keyword, but the results are surprisingly spot on. Not only pictures but cartoons are also in the resulting feed. Free Image downloading sites might not be this specific.
As seen in the image, the search results carry a unique watermark which can only be removed after payment.
There are schemes that allow users to pay for multiple images at once as well. The user can download that image and use it anywhere, any number of times and in any number of places.
123RF – This website provides both free and 'paid-for' image services. Their gallery is very rich in quality images. You will not feel the need to look for any other stock photo service once you have visited this one.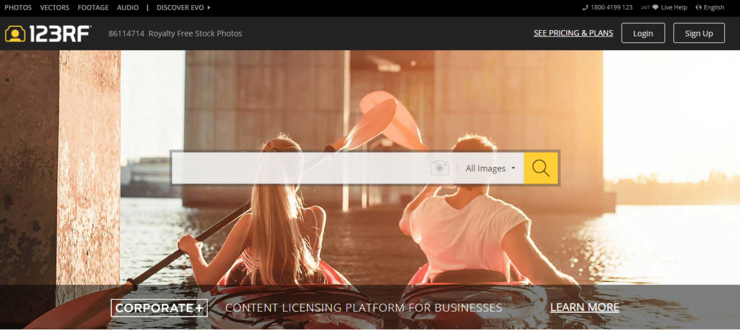 The price is minimal and comes as a bundle for a limited amount of downloadable images. The services they offer is also on yearly basis other than based on pricing and number of images.
Overall it is one of the decent choices among the stock image services that are paid for.
Unpaid Photo Services
It is obvious that small business owners or people who are just starting off through social media marketing would not get how important an image is for a blog.
The reason is not good enough to buy a certain picture when there are plenty of free stock images. According to research, less than 30% of business users use images that cost them money for their businesses.
If you are just starting up and do not believe that investing money for 'something as vague as' an image is fair, then there are other websites such as Pexels.
Some other very popular examples of similar websites are — Pixabay, Freeimages, Unsplash, istockphoto.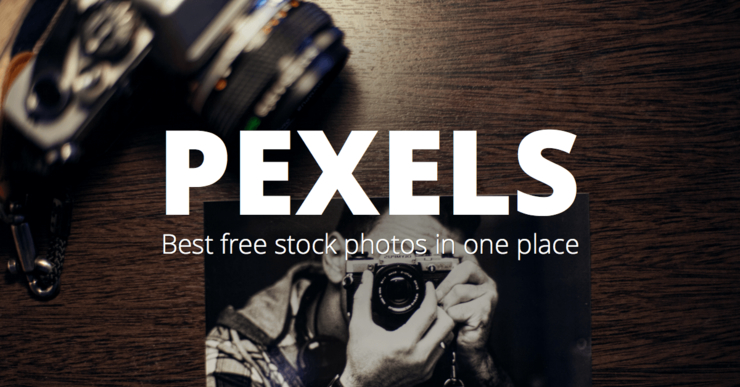 Pexels — Pexels is a website that allows users to upload and download royalty free images/stock images for commercial uses. This site contains over thousands of pictures which are contributed by world-class photographers.
The pictures one might find here are aesthetically beautiful and reek of photographic brilliance. The site also contains royalty free videos for commercial uses.
You can choose from categories such as landscape, food, portraits, street, minimal, black and white, city, office, winter, etc. and you are bound to get mind-blowing results.
Their online library is saturated by accepting contributions from fellow photographers all over that world. The only downside of this site is that it rarely contains 'portrait' oriented photographs.
Visual Hunt – This website has over 340 million stock images, and all for free. Unlike the previous website, this one contains portrait as well as landscape oriented photographs for optimal usage.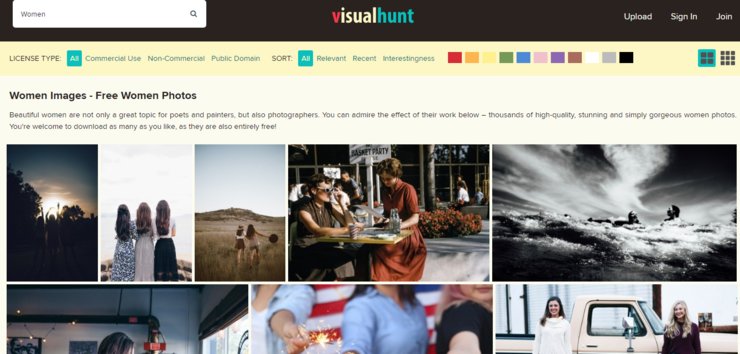 With amazing categories like Women, city, romance, travel, and work, this one is a goldmine for people who require free stock images.
You can also specify your need and choose license type among -commercial, non-commercial and public domain. This will also help you get images without copyright claim.
These sites do not claim money for the pictures but some of them do have an option for donation. Alternatively, these sites are also great platforms to upload original photos for showcasing to the world for free.
Image Formats
There are a lot of formats in which an image can be presented; namely JPEG, Bitmap, RAW, etc. And there are numerous image formats that are best for being used in a blog post.
Some formats are better to be used with certain types of images such as drawings. In this upcoming section, I'll take you through the most used ones and the most optimum ones to use on a blog.

JPG or JPEG – A jpeg is the most popularly used image format. Almost all of the blogs contain mostly jpeg images. However, it is really notorious for being a lossy format after compression. It is found that when drawings and images containing straight lines are compresses they lose a lot of resolution and the image is destroyed.
If you are using photographs, then this one is the best for you.
PNG – This format was created as a substitute for GIF. Web images, digital art, drawings etc. are more or less saved in this format because it is a lossless format. However, the file size in a PNG file is very difficult to lessen. The photos that are saved in PNG usually contain a lot of data and hence are heavier.
GIF – Similar to PNG, this format is also renowned for being loss-less after compression. The best use of this format can be seen in short animated sequences. The files that contain solid or bold figures, shapes and colours also can be efficiently saved as GIF.
Image Sizes
Image size can be differentiated into two categories. One is its file size and the other is the resolution. Even though both are interlinked, they both can be manipulated and optimized differently according to the usage.
If the file size of the images you use are very big and take up all the page, it will mostly come off as an image based blog and viewers might get sidetracked.
Even though an image-centric blog is not a bad idea, it is not wise to use numerous images if you already have your article prepared.
To maintain your voice on the blog, keep the image size proportionate to your font. For example, If the blog post is 600 pixels wide, the image should be 600 pixels wide as well or less than that size.
Never use images to increase the size of your blog. It is a wrong thing to do and drives away customers. If your blog is small, then keep it that way. Do not fill it up with images in hope of making it look 'bigger'. If you want to add more images, add few more words to them.
Using out of proportionate portrait oriented images can throw off readers' attention. Use text or content that wraps the image, if it is portrait.
Optimize Images for SEO
One factor that highly controls the load of the page and SEO is the image size. To optimize the blog post for Social media, it is better to resize your images before uploading it to the blog.
Big images or heavy files bring the whole blog down and make it harder for the viewer to access it.
If your desired image is big and contains a lot of data, it is going to increase the page load time. Use software like Photoscape or photo resizer to resize the image or save to 80% of the original quality. Unless you are trying to get the blog in a printable quality, this should be okay to go on the blog.
Keep in mind, resizing the photo to very low resolutions, such as 50 % or less will cause the image to appear blurry when zoomed out.
Use more of.JPEG or .jpg files than .png or .gif files if they are photographs. They offer better resolutions after compression. This format is also very useful while processing pictures that have a gradient.
If the images are of a graph scale, a straight line or diagrams, blindly go for .png. It is a lossless format unlike.JPEG and is very efficient in retaining the quality of images.
If going for solid colours and animations, use.GIF files on your blog. They produce lossless compression and are very healthy for the file resolution.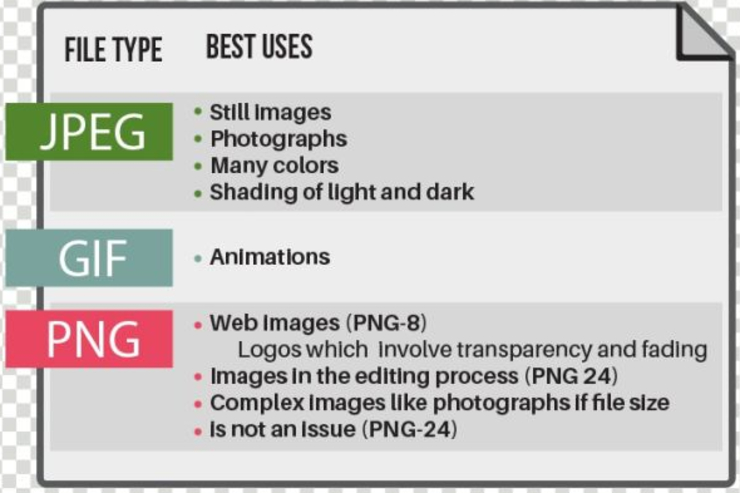 How to Place Images
Even if you follow all the previous steps, your blog has the possibility to fail miserably if you choose to ignore this following step.
While using images is a good practice for the business to flourish, it is also necessary to remind yourself time and again to have a limit for the same. Remember 'too many cooks, spoil the broth' and 'too many images, spoil the blog'.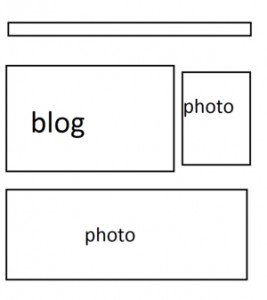 Jokes apart, strategic placement of images is of the foremost importance. It would never work if you add all the images on the blog but do not place them accordingly. All the pictures cluttered up at the beginning/ end of the blog post is worse than having zero images.
It is ideal to place images at intervals of every 300 words- 400 words.
Alternatively, if you think that your article is lagging at a particular part but the upcoming parts are very crucial to promote…you can add one image to spice things up and break the monotony of the situation.
Depending on the photo orientations i.e., landscape/ portrait, place images on the sides and middle. Usually, portrait photos look the best on top right corner of the page. If not that then try the left side.
When using landscape images, try to keep all the landscape picture used in the blog post equal in size, if not in resolution.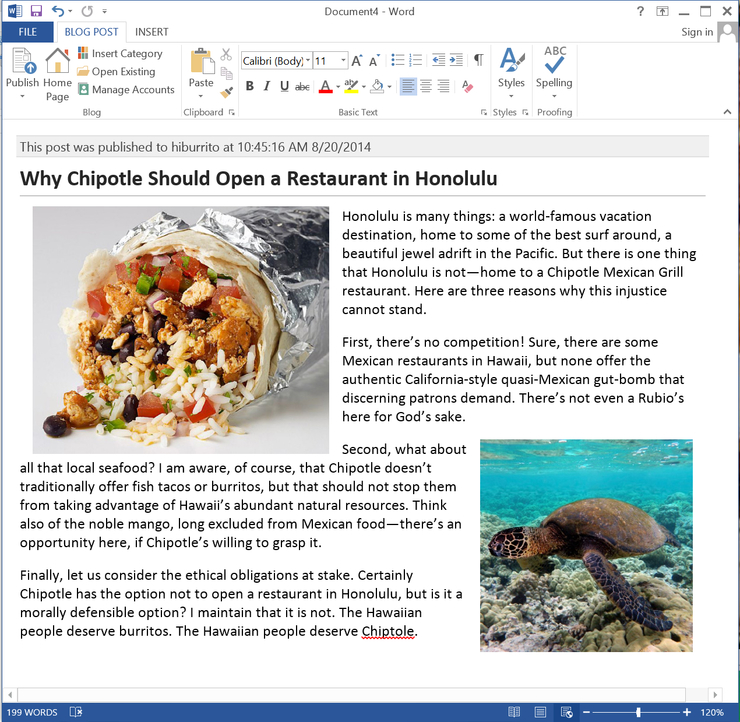 The above picture is a great example of how pictures should be posted in a blog post correctly.
At the end of the day, the images are only there to draw attention to the blog and not the other way around. 1 image per 200-300 words is considered as a general rule.
One can easily tweak the quantity and frequency as per need. Using 1 image per 50 words in your blog post will not only clutter it but will make it difficult for the user to concentrate on your writings.
A user/reader/viewer takes approximately 10-20 seconds to judge a website. It is highly crucial to make a lasting impression within these few seconds. It is a wise thought to keep the page loading time around 1-3 seconds, otherwise, the viewer tends to lose interest.
Tips – Dos & Don't
Using pictures in your blogs can be the easiest part of promoting it. Everything depends on how many pictures, what kind of pictures and what context is used. Like everything else, there are rights and wrongs of image placement as well.
| Do | Don't |
| --- | --- |
| Your photographs should complement your blog post. This will avoid misleading viewers. | Use unnecessary or irrelevant pictures in your blog post. |
Keep the photographs minimal and to the point. Users find it very frustrating when they click on something and it leads to irrelevant and unwanted topics.
For example, If your blog is about 'Dogs', it may contain pictures of a dog, dog toys, dog foods etc. But it should not contain pictures of 'parks' 'flowers' and other unrelated things.
You might present an argument that dogs visit parks and people who like dogs also like flowers but that is completely absurd.
| Do | Don't |
| --- | --- |
| Keep the theme of the whole blog within a light and/or neutral colours so that viewers find it easier to read. | Use tacky, flashy and eye- pricking colours for your blog. |
It has been observed that pictures with tacky colours or too much saturation and contrast drive away viewers instantly. When we use the word 'tacky' is does not necessarily mean the word 'too bright'. Sometimes, a bright photo might catch the reader's attention better than a bland and boring picture.
| Do | Don't |
| --- | --- |
| Maintain the subtlety of the blog. Keep the blog neat and classy. | Confuse your audience with a massacre of a blog by bombarding them with 100 images in a 200-word blog. |
The way your blog post should be is the way you view things. The blog should mirror your thoughts. Using a limited amount of photos in relativity to your word count and theme is the best way to go.
| Do | Don't |
| --- | --- |
| Resize images according to its type and choose the correct format to save it. | Edit your images to a point that they are not recognizable or undecipherable. |
Downsizing or choosing bigger sizes for your images can be a waste and an unnecessary thing to do respectively.
| Do | Don't |
| --- | --- |
| Give credits and take permissions before using images that belong to other people. | Make the mistake of thinking that a screenshot is your content. You still need permission to use the image on your blog. |
Not giving credits where necessary or not taking permission from the source website before using the image on your blog can lead to severe legal charges against you. That might also ban your blog. Be careful while choosing free images.
Conclusion
Pictures, photos, illustrations, icons, GIFs and even charts are keys to make your blog post more energetic and interesting. People usually tend to click on images rather than long paragraphs of text. Even if the text contains sheer brilliance, it might not be visually appealing.
It is not very shocking to understand that people nowadays are more 'present' virtually that they are in reality. We live in such a strange world where the virtual and the real can be swapped for their meanings and nothing will change. In this space and age, digital marketing is taking over.
But there are always some little tips and tricks that help in achieving your goal. Tweak them as you need and you shall reach your goal soon.