Are you active on social media? If no, my suggestion would be – start posting more on your social media pages. If your answer is yes, I would ask my next question. Do you think that you use the power of social media to its full potency? What type of content do you post on your social media pages? Do you think that you are engaging your target audience?
You might be thinking that you are already posting for your target audience on the official website. So, there is no need to engage people on your personal social media pages, right? WRONG.
When you own a business and you are the face of your company, people start following you on social media as well. Hence, it is highly important to create and distribute content that is relevant to your business, is valuable and that attracts more and more people. Think this as reverse marketing. If you can attract more people using your own social media posts, you can increase the base of your target audience.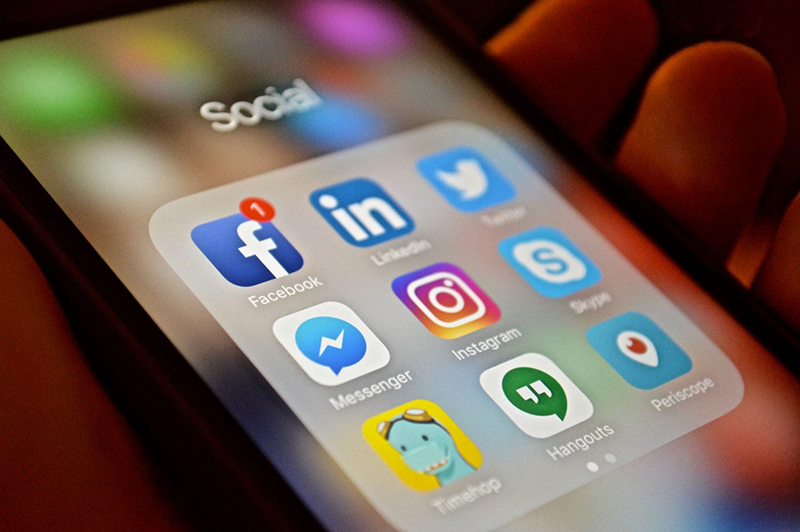 Image courtesy: https://bit.ly/2OvgfnX
So, let us understand how you can curate content for your personal social media post design so that you can attract and engage more people in the process.
What is the difference between content creation and curating content?
First, you have to realize that there is a difference between creating content and curating content. Creating content is when you come up with a solution to a problem that your target audience is facing. The solution that you provide is not something that people have spoken or known before. In this case, you are creating content.
On the other hand, there might be solutions that people still don't know. You gather the necessary information so that it gives your audience an in-depth perception. It will allow them to solve the problems they are facing. However, this information that you share is not new or fresh. You just gather the necessary information and share that in a more inclusive way. And this is what content curating is.
Why should you curate content?
It is a fair question if you ask why you should share information that others have already spoken about earlier. Before answering your question, I would like to ask you something.
Do you like to see the adverts that you see when you are scrolling through your Facebook feed? Do you even pay attention to the video adverts on Instagram or do you scroll down without even glancing at those?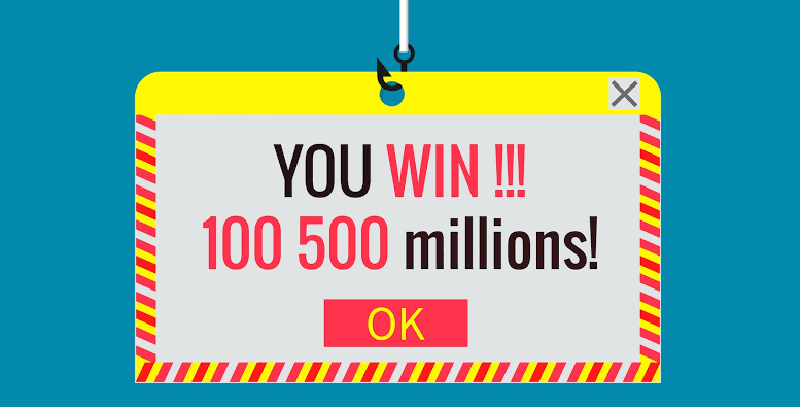 Image courtesy: https://bit.ly/35hJUHW
If I am right, you don't pay a heed to the commercial posts that you see on different social media pages.
Now, think about the content that you are sharing. Is your content talking only about your own company or products or services? Are you always sharing the blogs that you have posted on your website? Or the new price plan that you launched for your clients?
There are different types of people on your social media pages. While a number of them are your target audience, the rest are not. So, most of them don't have anything to do with your salesy posts. And even those who are your targeted people will most likely scroll through the posts because no one likes push selling.
So, what should you do instead? You should curate content. Curating content will enable you to share information that is related to your niche without being salesy as you are not promoting your business here.
Does it mean that you should never promote your own business? The answer is obviously no. Why wouldn't you? However, there is a simple theory that you can follow to maintain the balance between creating content and curating content. You can follow the Rule of Thirds.
Don't treat this "rule" as a mathematical process, but this is more of a guideline that you can follow. So, what does the rule of third means? You have to divide your social media posts in three sections. The first section should be where you directly promote your own business. This type of social media post design should include a call-to-action button that drives sales and increase the profit of the company.
The second section should be about sharing ideas and information that are already there. You can share case studies in this section. Share quotes of famous business people and leaders. It is not necessary that all the information that you share is related to your business type.
But, try not to be too diverged. Suppose you own a company that designs apps. You are not restricted to post only about technology, software, hardware or science in general. You can talk about other things as well. You can show your happiness if your team wins a game. However, while it is fine to cheer about the winning, it is not necessary to go into details. The details will not be helpful for your target audience.
The third section is where you can directly engage with your target audience. That is possible through a couple of ways. First, you can reply to the comments that people leave on your posts.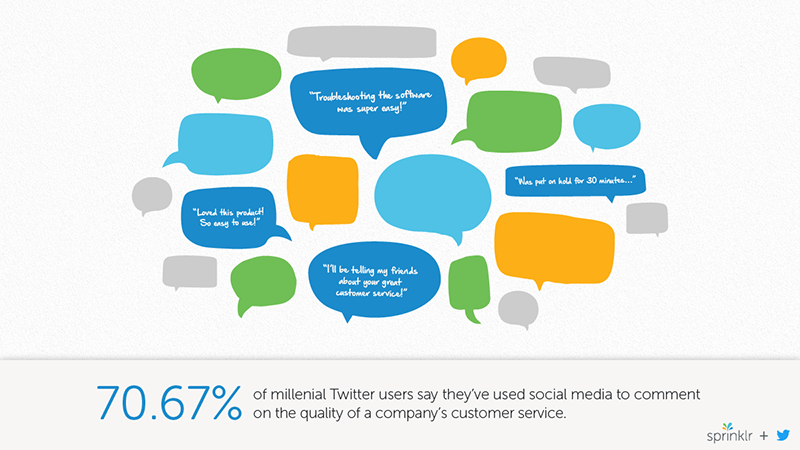 Image courtesy: https://bit.ly/2XzRjjx
You can also start a conversation on someone else's post. Suppose you follow someone who has shared some great information. Instead of just liking and sharing it, you can comment on the post so that you can start a conversation. You can also create posts where you can ask questions that your followers are supposed to answer. This is a great way to create engagement as well as understand what your target audience is looking for.
If you want to know more about the Rule of Three, let me know in the comment section below. Now, let's move on with curating content.
How to start with curating content?
As I already mentioned, the key to success in curating content is to share content that means something for your target audience. But how is it earthly possible to follow each and every person who is successful in some field or the other? And how is it possible to keep a track of their own social media pages (which I am sure are more than one) to know what they are posting?
No, you don't have to leave all your work to start with curating content. There are some tools that you can use to curate content.
Flipboard is a free to use tool that you can use just by signing up. It is seen that infographics and social media image designs attract more people than plain simple textual posts. Case studies and guides are also quite preferred by the mass. People love to read interviews of celebrities and successful people.
Flipboard allows you to check out content that are related to the categories that I mentioned above. There are many online magazines that create content related to your niche. You can choose one such interest based on which Flipboard will show you content that is published on the online magazines.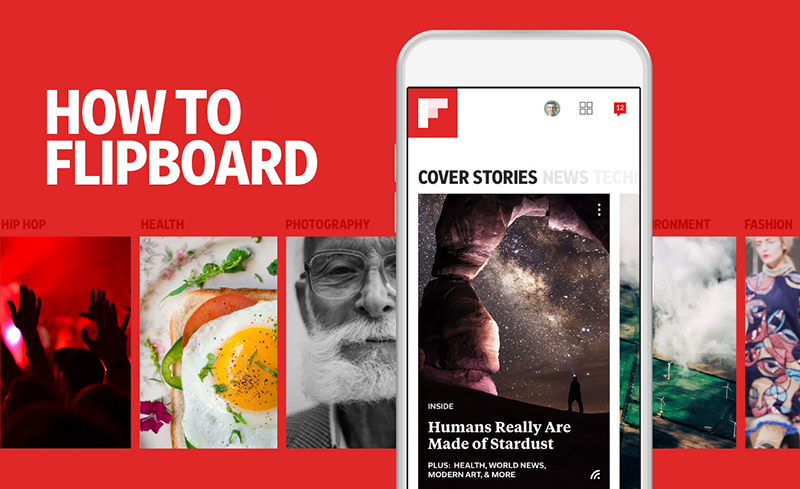 Image courtesy: https://bit.ly/2OAs3oY
So, suppose you have chosen social media marketing as your preference. Flipboard will show you magazines that talk about the topic that you are interested in. Even the magazines that may not be associated with marketing but have spoken about social media marketing will be shown to you.
If you want to save some of the magazines that you like to follow, Flipboard allows you to do that as well. You can create your own magazine by "flipping" content from other magazines into the one that you created. You may want to share the content with your friends or your employees. You can just add them in your Flipboard profile. This is one of my personal favorite tools as Flipboard not only helps in curating content but it also allows you to create your own community.
Every now and then we refer to Google whenever we need to find any answer or any information or news or weather – the list can go on and on. So, why not use the same Google for curating content as well? Google Alerts helps you in sharing news that is related to your industry.
Sadly, there is a trend of sharing fake news on different social media platforms now. Hence, no matter what information you share, you better be completely sure about it. And that is where Google Alerts come handy.

Image courtesy: https://bit.ly/347NkNv
What you have to do is to find out which industry's news you are interested in. now set up Google Alerts for that particular industry. Google Alerts will check out if there is any new information on the specific industry that you chose and let you know through email. Easy, isn't it?
Slack Groups
Slack groups are groups that are created to connect people so that the members can share content, create content and know what is going on being in the group. There are many such slack groups that you can be a part of. You just have to find which group works for your need and start being a part of that group. Share the content that you get to know before the rest of the world because you are a part of slack groups.
Twitter is one of the social media platforms that have millions of daily users. While it is great for any company to establish its identity with the help of Twitter, it can be overwhelming for an individual to keep track of what is trending on Twitter. From entrepreneurs to business tycoons to social influencers – you can curate content from any of these categories of people. Re-tweeting makes it easy for you to share the content that others have created with due credit to the actual owner of the content.
However, since the volume of content shared on Twitter is huge, it is practically impossible to keep track of each and every post created by the people whose opinions matter. So, you create Twitter lists. You create lists of people that you follow and list them under different themes. For example, you can have a list for 'content marketing' and have another list on 'IoT for automation'. List the accounts according to the topics the owners share. Voila! No more missing of what people on the specific field are sharing.
Use scheduler to curate content automatically:
Now that you know where and how to find content that you can curate, what is your next step? Are you thinking of logging into each of your social media accounts separately and posting content? Can you imagine the amount of time it would take you to post content on each of the social media accounts?
Fret not. I'm here to help you with that as well. There are tools that help you schedule your posts on different social media channels. However, you must understand that unlike the tools that help you curate content, not all of these sharing tools are free. So, let's start.
This is not a single tool but is a suite of tools through which you can manage all your social media platforms. The suite covers from publishing content to engaging more and more people to listening to what your followers are saying and even analyzing how your content is doing.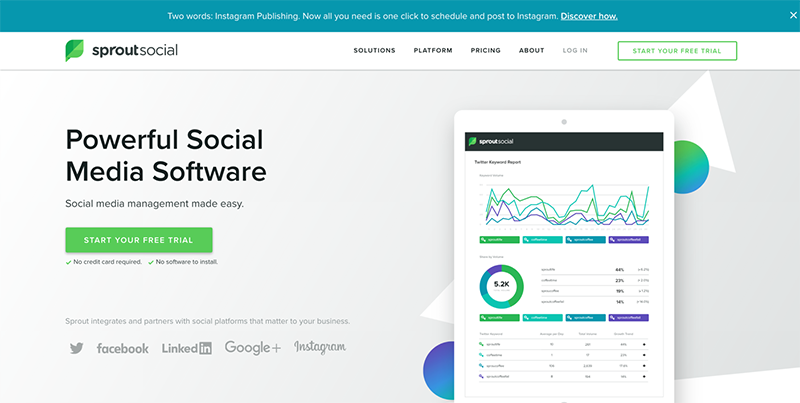 Image courtesy: https://bit.ly/2QK0AEh
There are different pricing that you can choose from. From $99 to $249 per month, choose depending on your needs.
Unlike most other applications, HubSpot not only schedules your social media post designs but it also manages your sales and marketing and even service teams. You can opt for the free package that HubSpot offers. However, the paid packages are more inclusive than the free one. The paid packages start from $68 a month to $4,320 per month.

Image courtesy: https://bit.ly/2OxEfa3
As you can guess from the name, Tweetdeck is a platform that is all about tweeting. Now the platform is owned by Twitter as well. Apart from scheduling your curated content, you can do a lot more than what any other tool offers. Manage your own timeline, check out direct messages, know the latest trends, create lists, choose favorites, look for hashtags and do a lot more without investing a single penny. Yes, you read it right. Tweetdeck is completely free.
Do you often post on social media? Do you post more than once? If your answer is yes, you publish large volume of content on social media platforms. Hootsuite is the right tool for you. This tool allows you to post large volume of content on different social media channels through different accounts.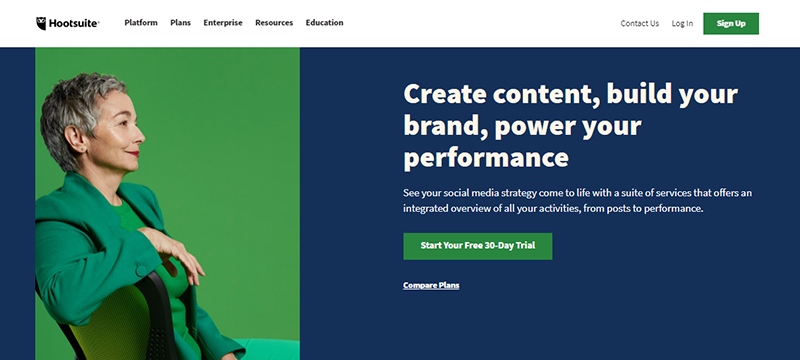 Image courtesy: https://bit.ly/2qwYeOc
You can also keep track of your posts on different platforms through the dashboard. The dashboard allows you to tag, search and check the statistics of your usage. You can custom your plans and choose any of the three plans, which start from £25 to £520 per month.
What do you have to keep in mind?
When you are curating content, all you can do is choose which type of content you want to share. That is all that you can do. Once you have the content ready, it is time to share the content with the help of the schedulers. If you want to make your content more interesting, I suggest using relevant images, infographics and other visual means that will engage more people.
If you want to create social media image design so that you can curate content, Digital Polo is the company for you. The graphic design company offers varieties of services to solve all your design needs within an affordable price. Contact with us today.