There is a saying that "Change is the only constant thing in this world" and adapting to the change is the only option for achieving unhindered development and success in life. It is always difficult to leave your comfort zone and make a shift to a new and unaccustomed environment, but not doing so would only keep you away from your exponential growth. It is said that "Today's pain is tomorrow's gain" is absolutely valid and relevant to this context. If you dream to become a master of something, you have to learn everything from basic to advanced and old to new. And, when it comes to graphic or web designing, a designer is never at ease as the profession is largely based on technology, which is a never-ending change process, especially today.

Image courtesy:https://bit.ly/2Vz0kbI
Technology has produced multiple designing tools and resources that are widely used in the both graphic and web designing. Designers' hands are so set on these tools that if we tell them to use its upgraded or a new tool as its replacement, they would have goosebumps all over their body. But, time has witnessed that whatever exists in this world has evolved to a better version of itself for the betterment of the society, be it a living thing or a non-living thing.  We all love babies and wish to remain one throughout our lives.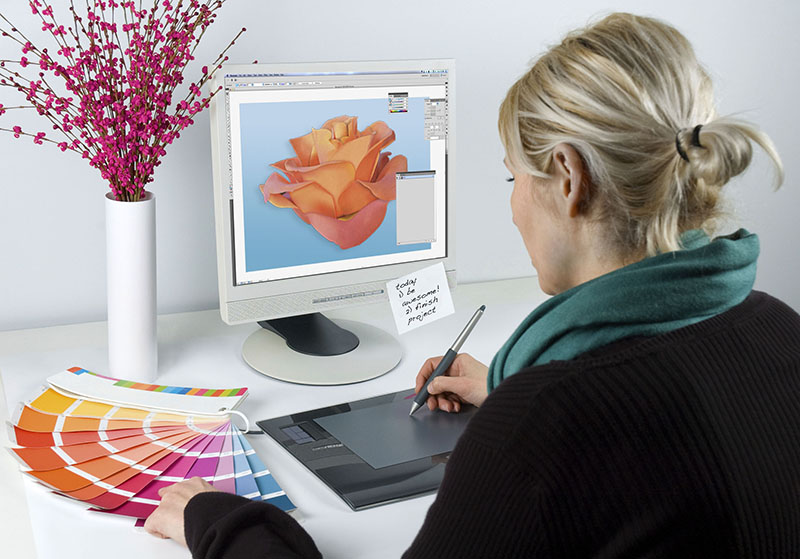 Image courtesy:https://bit.ly/2VI8wXx
But, the unaltered truth is that human beings have to grow to a bigger and sensible person. Same is the case with designing tools. A specific tool might be a designer's most favourite but he cannot keep using it throughout his career as the tool itself would stop functioning when its new version is developed. Just like humans, each phase of technology has a definite life that would gradually as the time passes. New designing tools or its updates, which are released in intervals, must be known to all the designers who want to be a qualitative designer.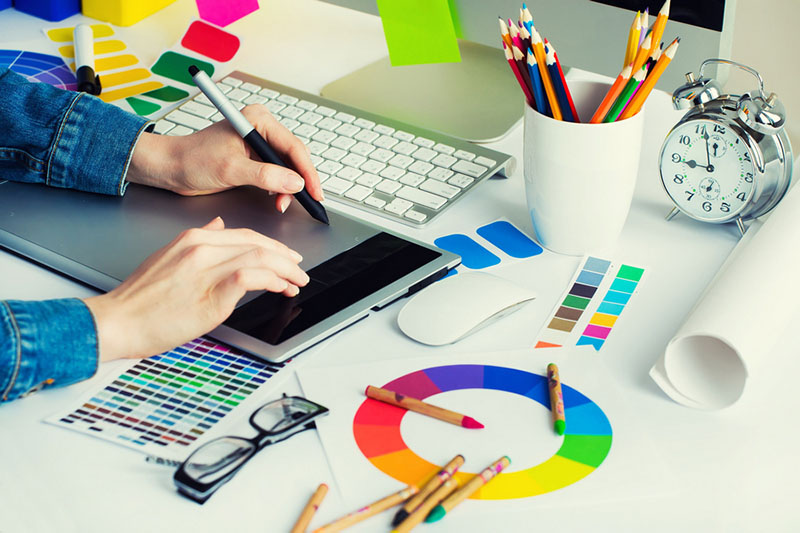 Image courtesy:https://bit.ly/2Vvb9LZ
With the growing technology, more innovative and futuristic graphic and web designing companies are emerging who are only looking for smart, highly experienced and versatile designers. While, the designers are aiming to work for companies that are using cross-platform and easy to use tools. Keeping these demands in mind, we have curated a list of indispensible designing tools and resources of 2020 that a designer must learn to reach the peak of their professional career. These tools and resources are classified into several categories that form foundation of the designing world. Read about theses career building resources and tools and make yourself a complete package for your client/company.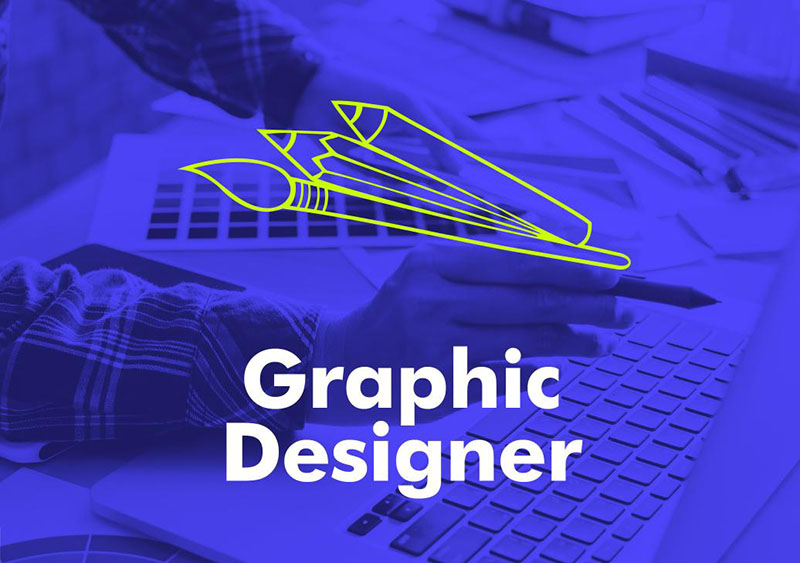 Image courtesy:https://bit.ly/3ckgn41
Most Required Designing Tools & Resources for 2020
Vector Graphic Tools
In the past, vector graphic designing tools didn't find much usage and importance because of its natural precision and sophistication features. But now, when time has changed vector based tools have now become more intuitive than ever. It is now present both in the online and offline domain of designing making it omnipresent. The most used vector graphic designing in 2020 are as follows:
Vectr: An easy to learn and use graphic designing tool, Vectr is meant for all, but especially for those who does not require advanced features that are present in heavy applications. This free to use tool is best for creating simple vector designs in a jiffy.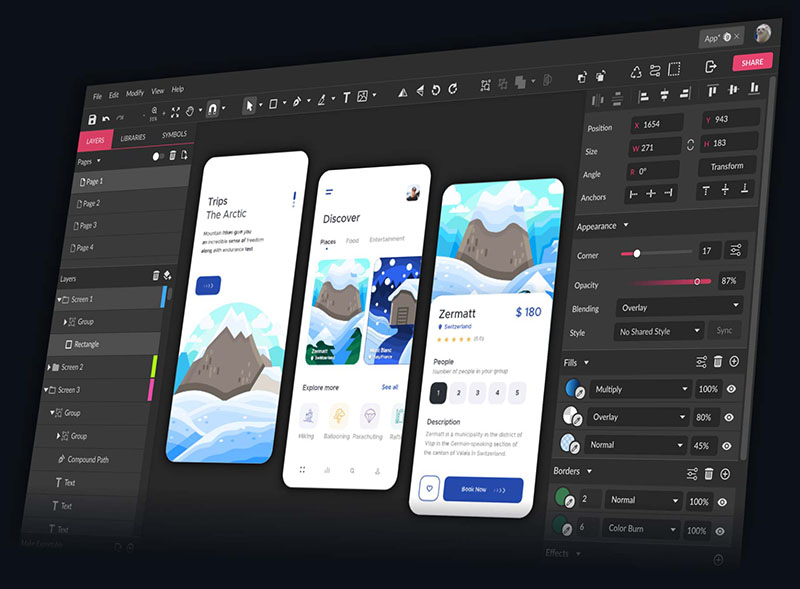 Image courtesy:https://bit.ly/2XDFniO
Vectornator: An ideal vector designing tool for iPad and iOS devices, Vectornator's easy drag and drop interface makes it suitable for fresher. It also boasts of some advanced features, like unlimited layers, live blend modes, auto-trace, alignment tools and colorful profiles that a novice can also use easily.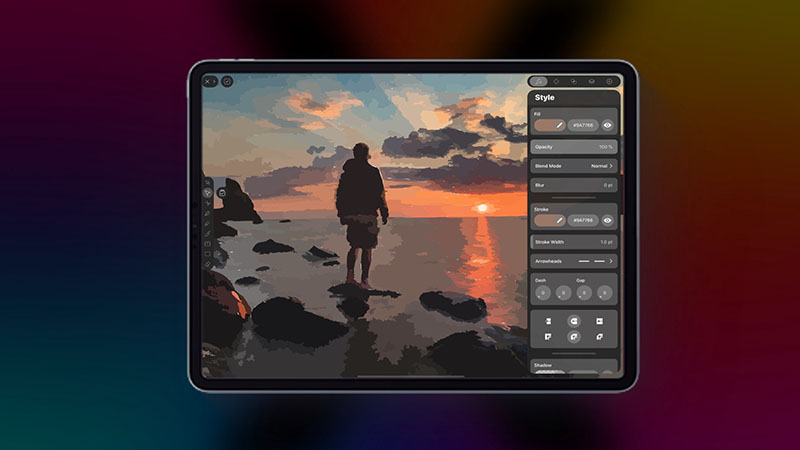 Image courtesy:https://bit.ly/3a9M7HF
Affinity Designer: This tool is a high-end vector based graphic editor that is enriched with advanced features that helps in creating icons, illustrations, typography, web graphics, branding, UI designs and many more. Affinity designer also has zooming feature that ensures accuracy of the tool, but its responsiveness is its greatest strength that has made it popular in the designing industry.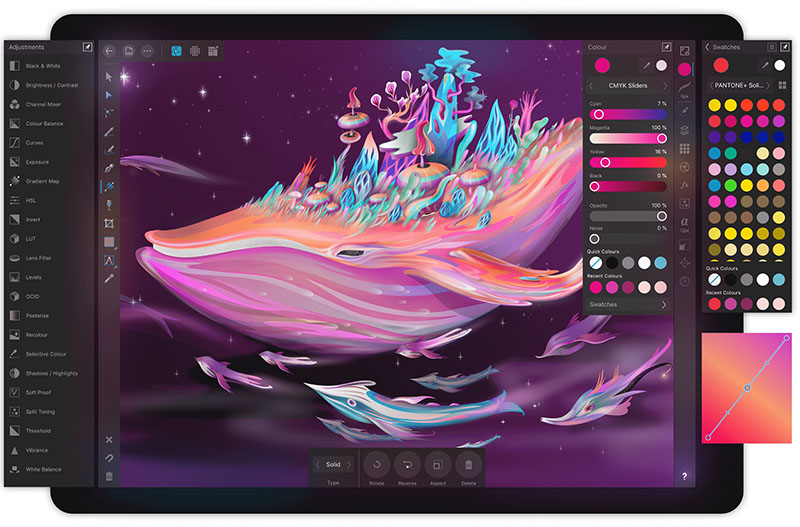 Image courtesy:https://bit.ly/2VagNnS
Raster Graphic Tools
Raster graphic designing tools that come in various shapes and sizes are a must for all dedicated and experienced graphic and web designers. Popular raster graphic tools that designers use are as follows:
Procreate: Procreate is the Hulk in raster graphic tools that is compatible only with Apple's iPhone and iPad devices. A polished designer can create incredible graphic designs using Procreate's good stylus feature.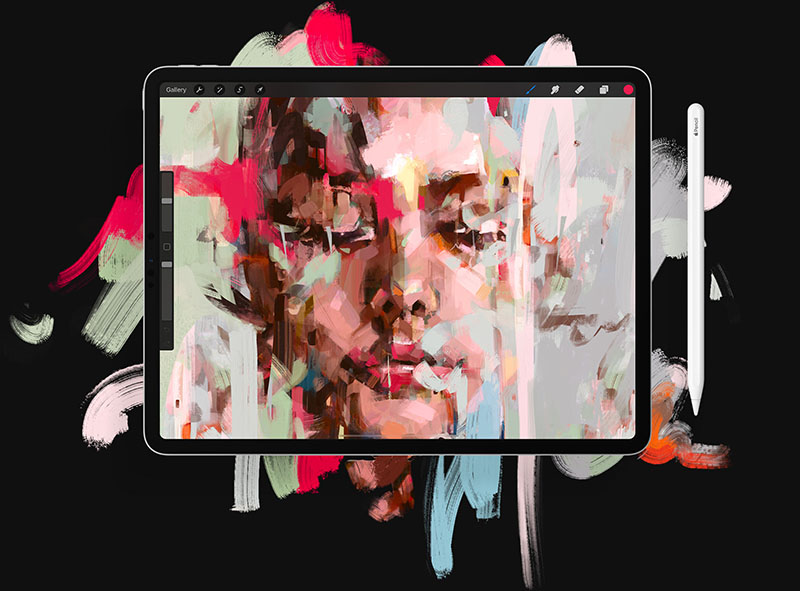 Image courtesy:https://bit.ly/3eqbmbV 
By showcasing their extraordinary designs and detailed tutorial videos on social media platforms, such as YouTube and Instagram, Procreate has been able to attract huge followers on their social accounts.
Affinity Photo: Affinity Photo is one of the most affordable and a professional photo editing raster based tool that is famous for not compromising on the quality of the images at the editing. The tool comes with some exceptional features applying which designers can easily fettle and finely tune images and module the depth, color and details in the raw file itself.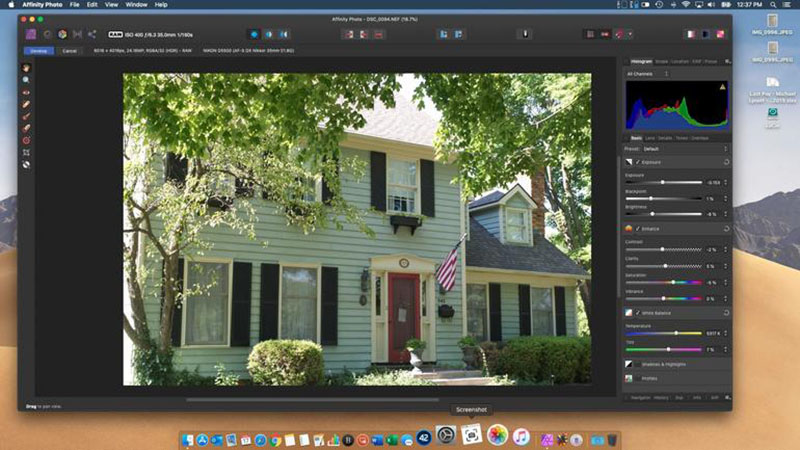 Image courtesy:https://bit.ly/2VaYXAY
Pixlr: Another great raster graphic tool that works as on online photo editor, Pixlr is a tough competition for desktop based designing applications. With few of its features still in beta-mode, Pixlr befits fine tuning of photos or power complex compositions. Though its free and seamless to use, the tool is expected to grow better with time when new features are added to it.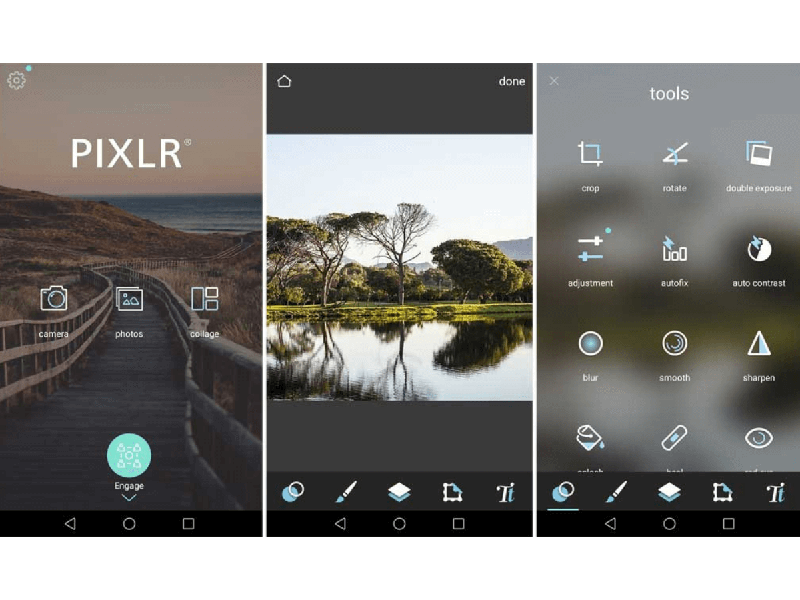 Image courtesy:https://bit.ly/2RDwqC6
Stock Photos
Internet is filled with loads of free stock photo websites that are home to innumerable beautiful photos. You just have to search through multiple sites till you find the one that completely matches your requirement. Following are few royalty-free stock photo websites that you should consider for downloading free images:
Unsplash: The most popular and used stock photo platform.
Burst: Stock photos that are primarily used for websites and commercial purposes.
Pexels: For large in size photos.
org: Only high-resolution images that are released under Creative Commons CC0.
FoodiesFeed: As the name suggests, one can find unlimited mouth-watering high quality images on food.
Duotone: Only for duotone photos.
LoremPixel: its and API which also offers stock photos, but at specified sizes.
New Old Stock: Vintage stock photos that are taken from public archives and are free of copyright.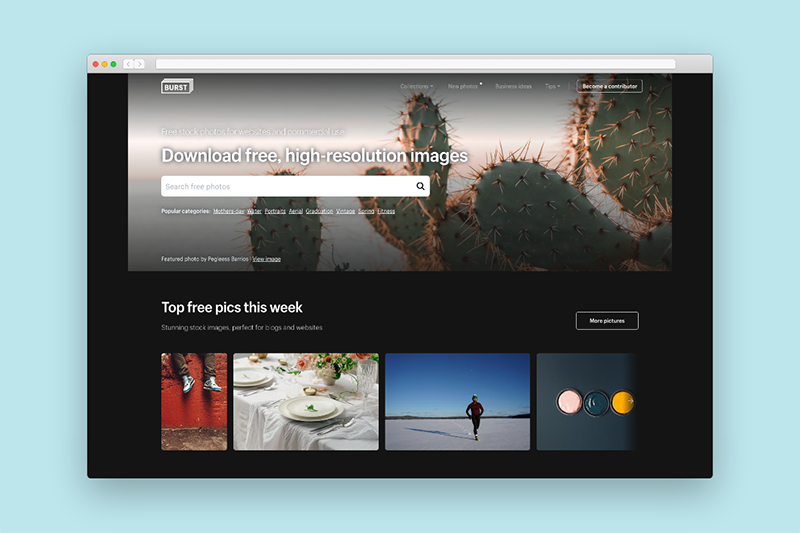 Image courtesy:https://bit.ly/3epnpWT
Font and Color Tools
Befonts: Befonts is a platform where designers can find fonts for free that they can use in their creative. You just have to become its member and then downloading fonts will be like a cakewalk. Befonts even encourage their members to submit fonts of their own.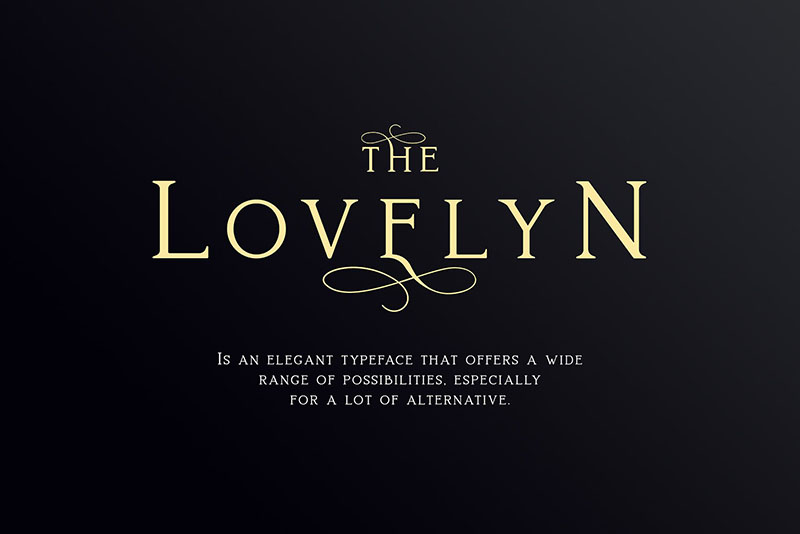 Image courtesy:https://bit.ly/2RAeCru
Fontspark and Colorspark: These two small in size tools are like boon for passionate graphic designers. As the name says it all, Colorspark will provide you a wide range of colors and gradients and Fontspark would enable designers to discover and preview fonts.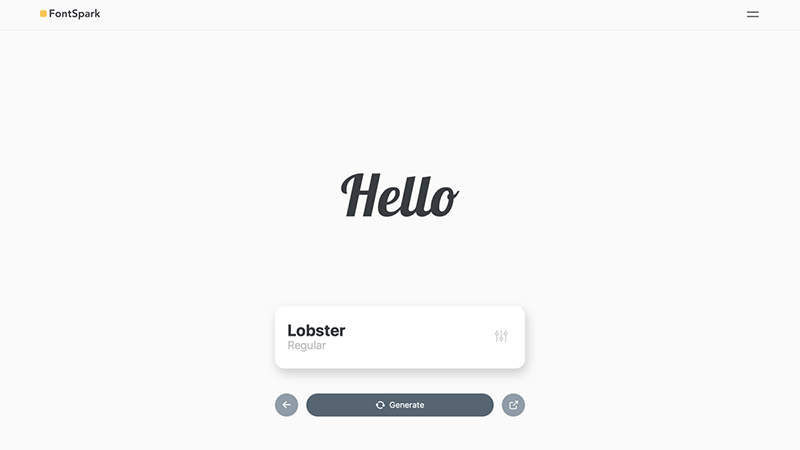 Image courtesy:https://bit.ly/2z4YZCd
Fontbase: If you want such a tool that can assist you in arranging fonts, Fontbase is the answer, which is a cross platform font management tool. With Fontbase, you can easily organize your downloaded fonts into collections, easily preview them by simply adjusting the background or the color and even experiment them with styling. Though its basic version is free of cost, it also include a premium subscription plan that offers some advanced features, like auto-activation, advanced glyphs and advanced search.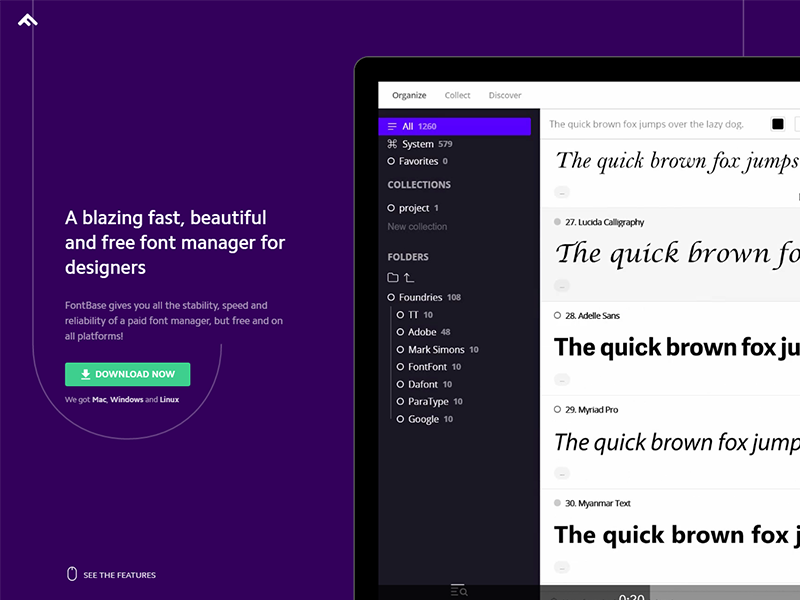 Image courtesy:https://bit.ly/2REe7Nj
Stock Icons and Illustrations
For a graphic designer, the word "too many" does not exists in their designing dictionary when it comes to illustrations and icons. For them, it's easier and a child's play to modify already made icons or illustrations than self-creating those. Following are every designer's favourite site for stock icons and illustrations:
Iconfinder: A galleria of SVG Vector Icons.
Flaticon: This site offers 1593000+ vector based icons in PSD, EPS, SVG and PNG formats.
Icons8: Icons8 categorizes SVG icons on the basis of style and trends.
Iconmonstr: It's another popular and a huge directory of icons.
Iconscout: Here, a designer would find images and icons that are put up by 400 contributors without charging any royalty.
Font Awesome: It's an open source site that is famous for its unique icon set and toolkit.
Drawkit: Drawkit helps designers get print and digitally ready illustrations through its wide range of free, paid and customizable illustrations. Its illustrations are mainly used as an adaptation and addition to a design.
Vexels: For a 100 per cent customized and minimalist illustrations.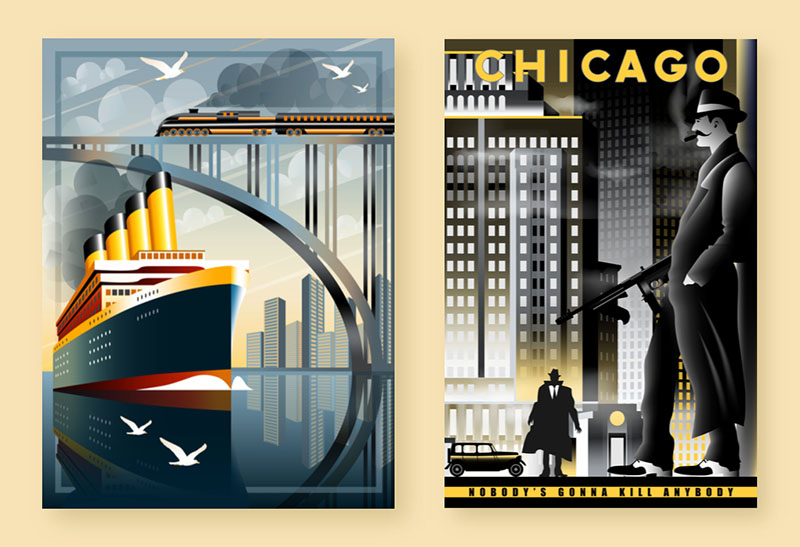 Image courtesy:https://shutr.bz/2xk1CQ1
Logo Design Tools
DesignEvo: For a quick and effortless logo design there is no match to DesignEvo tool, which is a free web based logo designing tool. The tool offers 10,000 plus logo making templates that designers can customize as per their needs.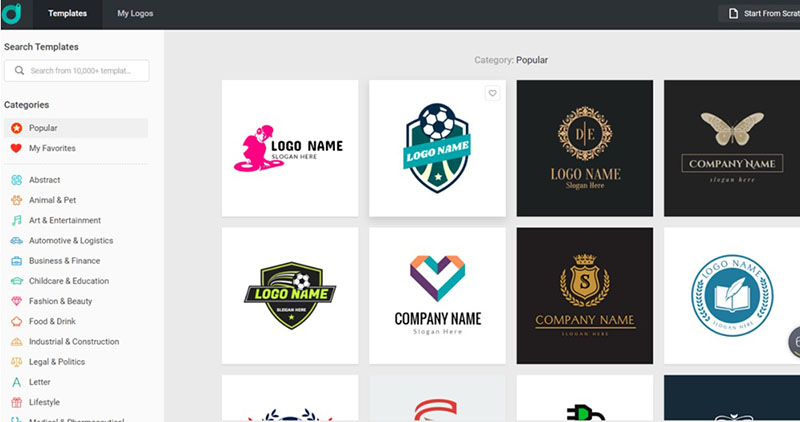 Image courtesy:https://bit.ly/3ejmlUC
Looka: Second in logo designing comes Looka, which through Artificial Intelligence creates endless logo concepts. All that a designer has to do is select a few logo templates, symbols and color schemes that are enlisted on the tool.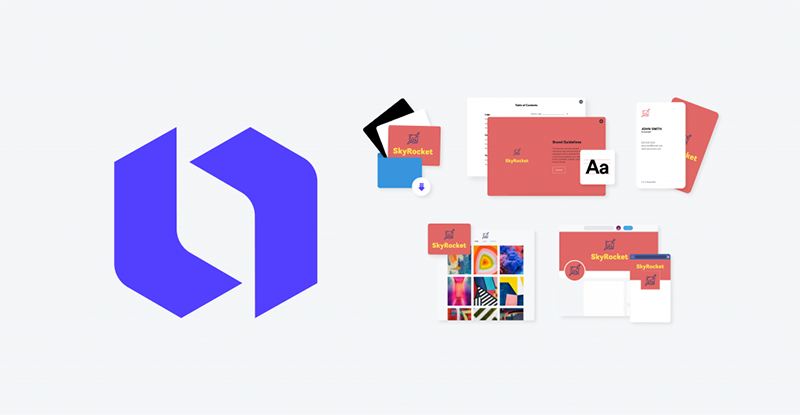 Image courtesy:https://bit.ly/2XyyOOl
Social Media Design Tools
Social Media – the best gift of advancing technology has not only raised requirements for new and challenging job profiles, but has also made room for new opportunities for existing job roles, like that of graphic designers. Except those mentioned above, there are few special and more practical social media tools that designers can use to create a seamless social media graphics, which are listed below:
Pablo: To create images including quotes for a social media account/page in easiest and fastest way, Pablo the tool. Its users can use it free of cost and without the need of even signing-in. Designers can create intrigue blog post headers, informative testimonial posters, inspirational quote images and more.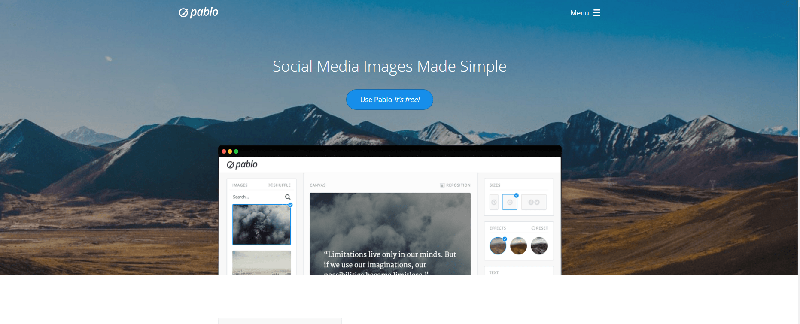 Image courtesy:https://bit.ly/2Vd28bH
Canva: Undoubtedly, Canva is every designer's favourite tools for image editing because of its easy to use interface. It has a three tier function that offers numerous features that can be used to create anything from Instagram stories to Facebook cover photos. Using Canva, a designer in infinite ways can layer images, impressive typography and vibrant colors to curate fascinating graphics for social media in just a matter of minutes.

Image courtesy:https://bit.ly/3agAkYg
RemoveBG: RemoveBG is an eliminating tool that allows its users to keep those elements of an image that they require or love and remove the rest unnecessary details, such as the clutter or the background. It a fully automated tool where you just have to upload the image from which you want to remove certain things. All this removal takes only a few minutes to present the image as required by you for your social account/page.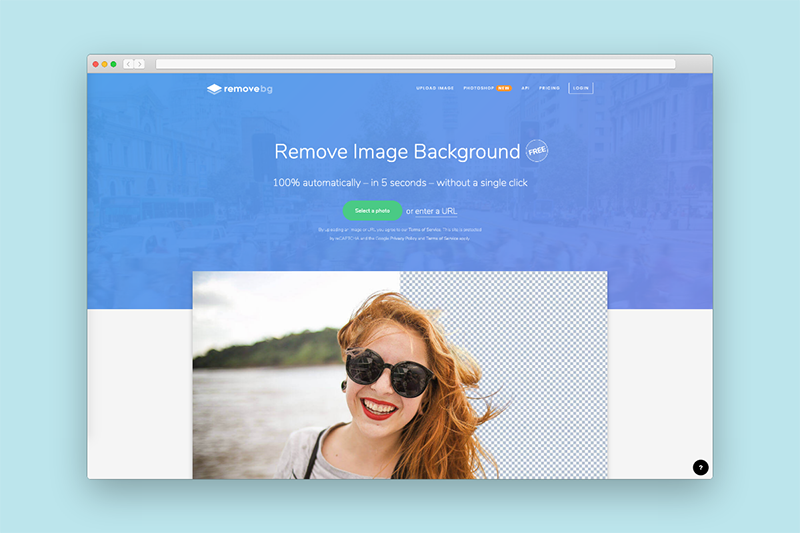 Image courtesy:https://bit.ly/2REJRBG
DesignWizard: With DesignWizard tool, you can create customized videos and images to enhance your social media and web pages. Its primary or basic version is free, but to use its premium visuals and video templates or to upload your own designs on the site, you are required to subscribe to its paid version.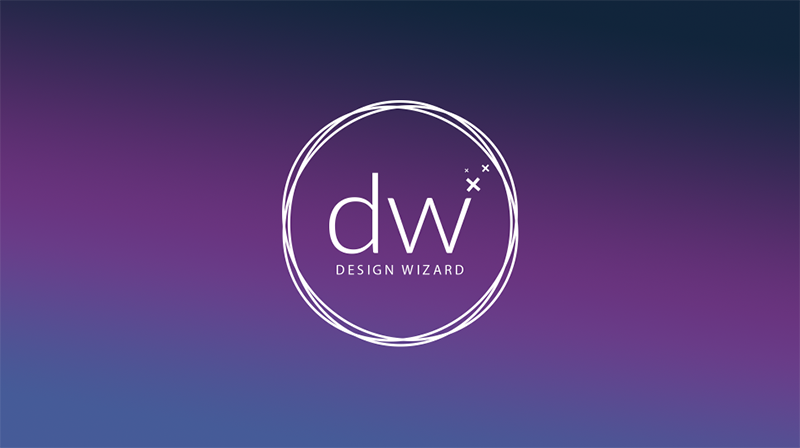 Image courtesy:https://bit.ly/2V8I21X
Collaboration Tools
Today, graphic or web designers are not working remotely or individually. They are now a part of a multi-dimensional and cross-functional team where they have to work with cooperation and coordination with others for which they require efficient tools for smoother collaboration. Below we have mentioned few of such tools that would help designers collaborate easily with their team members.
Filestage: If you a tool using which you can easily view or review images, videos and documents, then look no further as Filestage is the perfect tool for this purpose. Filestage allows you to collaborate with your team on real-time basis, comment on files shared through it that can even be exported, manage versions, add branding, etc.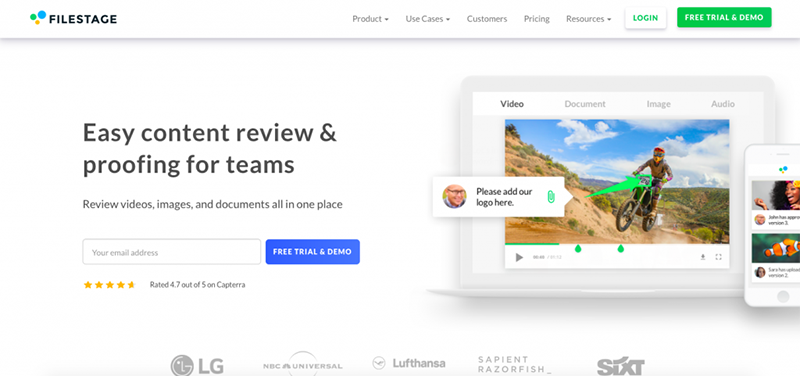 Image courtesy:https://bit.ly/34GIvM3
Infographic Tools
It always better to provide an engaging image and text together than individually one after the other. Thanks to the invention of infographic tools that has made this possible. From a starter to a professional designer, anyone can use infographic tools to create incredible infographics, few of which are listed below:
Venngage: Venngage is a very popular infographic visual tool that has a drag and drop editing feature. It comes with thousands of custom designed infographic templates from which you can choose from without spending a single penny.

Image courtesy:https://bit.ly/3chztrw
Mockup Tools
Pixedon: Your one stop tool for mockups, Pixedon is available in both free and premium options that give you a collection of high quality templates. If want to justifiably present your design work, you should use Pixedon where you just have to choose backgrounds, objects, fonts and textures as per your choice to present to showcase your brand idea.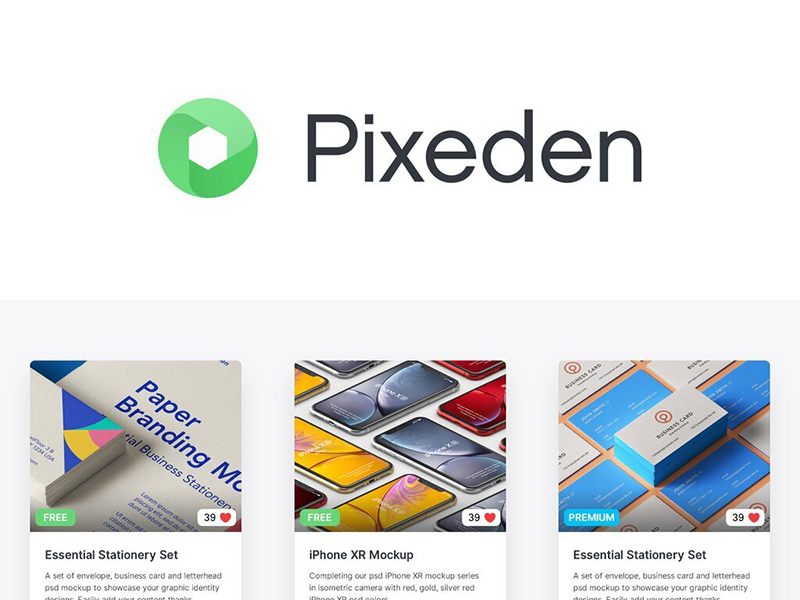 Image courtesy:https://bit.ly/2K6yA97
Shotsnapp: Shotsnapp is basically to mockup images for website or application designs. It's an online tool that smooth and straightforward to mockup any type of digital design.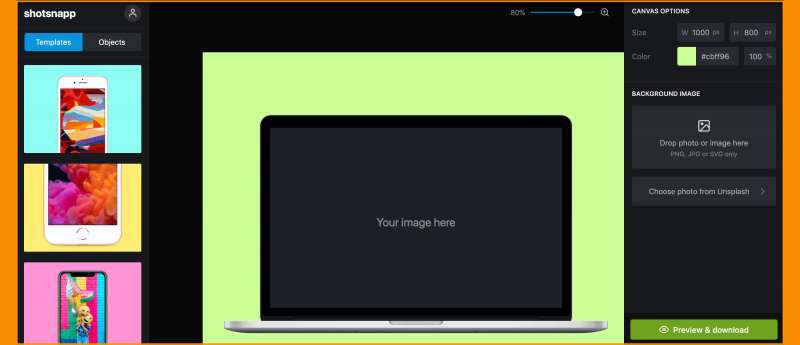 Image courtesy:https://bit.ly/34AQ9aI
Screenshot Tools
Collabshot: Collabshot is a desktop tool, using which you can selectively capture, make edits therein and straight away share screenshots and screencaps, all for free.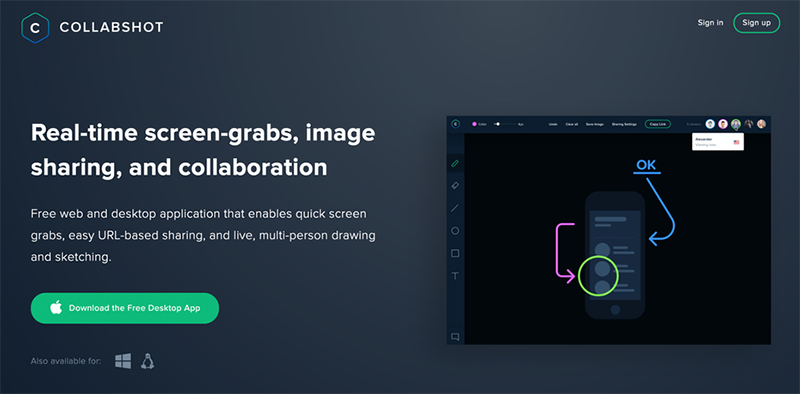 Image courtesy:https://bit.ly/3a5kT4N
Therefore, all the above tools compiled together will become a designer's magic wand with which he can create a visually stunning and impeccable designs for any purpose. The above tools are a proof that to create a good design one does not need paid or expensive tools. All that they require is a useful and rich in feature tools that can help them perform varied functions easily. Apart from these, you will also find more options on web that can be useful to you in designing, but the ones that are explained above are personally used and recommended by top designers.