Let's define 'making' with the reference to creating awesome catalogs.
When you make a catalog, you don't just stuff all that information in it, but you make it the most FUNCTIONAL and such a catalog showcases your business to your consumers, tells about its services or products to them, helps in engaging and convincing them through its offerings and finally…'sells' its services or the products.
You can call it 'getting the job done'.
According to the core rules of catalogue designs, you call it 'making' something.
So, the target for a really functional and effective catalog that would always keep your salespersons engaged to manage swarms of buyers (and the ones yet to purchase) is to make some improvements in it so that it attracts good sales. When there's still time, all you CEOs and marketers should start thinking about making a compelling catalog design to boost up your sales rates.
So, without more ado, it is time you search for some quality assistance about designing your product catalogue in the most special way possible…
Go 3D
The Idea
Time for some modern age innovation! Traditional two-dimensional images are certainly great. But in terms of engaging customers at the very first look, 2D images just don't stand a chance against the 3D ones.
How You'd Do It
3D graphic designing is a tough thing and you will require some assistance. One of the effective ideas about compelling 3D graphic designs for your catalog is to use vibrant colors. If possible, create illusionary images that would help in gluing viewers to your product catalogue for a certain period of time.  Add a bit of what we know as artwork.
A Live Example
Look at what SuperCool Group – Viper has done with its product catalog. With the skillful blend of information and 3D product images, they have been able to present their business in a livelier way. Hats off to that!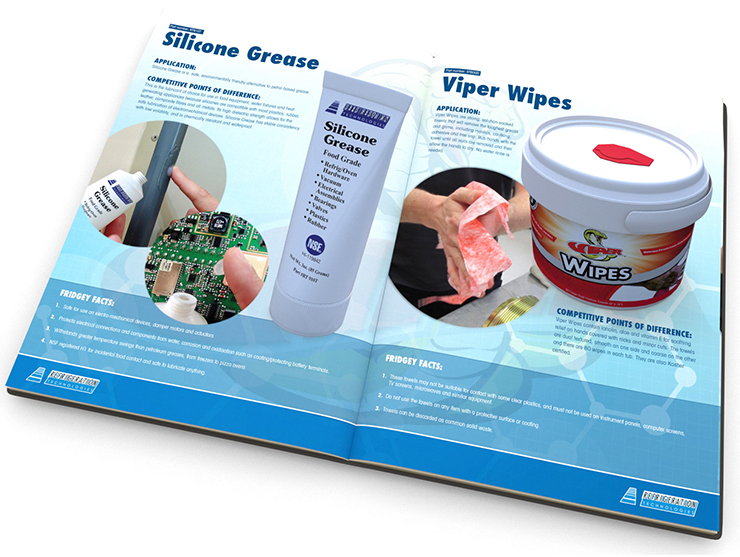 Image courtesy: https://bit.ly/2UvBFTS
What You May Get
To be certain, you'd get an increased viewer engagement at the initial level. The sheer force of customers' favor for your products or services and their curious adherence to them may ultimately help in getting a product sold!
Turn Still Life Photography into Sales Magnets
The Idea
Photography can always 'sell' your products or services when they use art to fetch the attention of customers, eventually gaining their admiration.
In this case, a simple yet attractive collection of still life photographs of your products or services coupled with carefully distributed description can make things work!
How You'd Do It
Snapping photographs in the right resolution and lighting matters.
Try to amply capture the vividness or the details in photos. Often, you may gather a series of your products and snap photos of them together in a single frame or shot. Try to add your business mascot or logo with the images to make them appear more professional.
A Live Example
The best things about the Magnolia Home collection of rugs are probably reflected when you witness the elegance they radiate by their still photography. They are detailed, intense and appealing to the eyes of a buyer at the same time.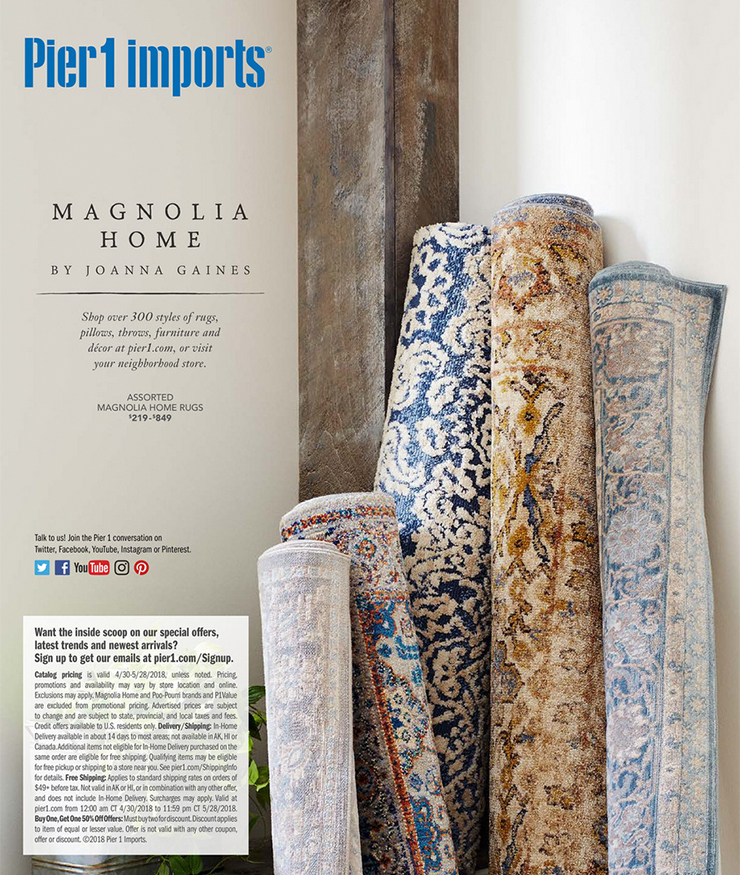 Image courtesy: https://bit.ly/2CfqzeH
What You May Get
At a first glance, it saves the valuable time of your customers since they get to view all of the products in a page or two.
Plus, they naturally get to understand the visible detailing of a product they seek when they consider it visually.
Use Flat Designs
The Idea
There are some things, which win over time. Flat design is one in them. The most fascinating thing about flat design is that photography brings it to a level of expositional perfection with a central focus on both details and features of products.
Besides, its bird's eye view style is still popular.
How You'd Do It
Well, you have got to keep in mind about the recent changes that has come into the scenario.
Firstly, the background fused a bit of reality in these designs.
So, outdoor photo shoot is pretty important.
Reflecting the previous point, you may also snap photos of a series of your products with some similarity…
…and don't block the panoramic view of the product by descriptions. Use it tactically.
A Live Example
The shirts from the house of Tommy Bahamas create a wonder when viewed in flat designs. The clothes are again highlighted in the embrace of reality (the sand). It intensifies the vividness of them.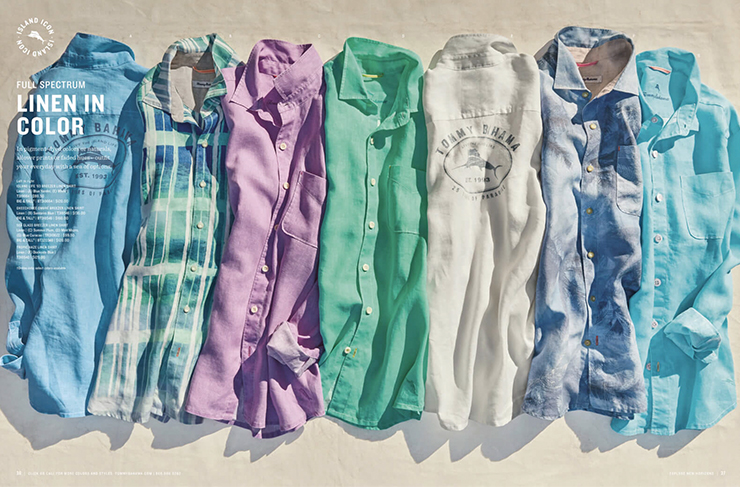 Image courtesy: https://bit.ly/2NWypOX
What You May Get
The fresh appearance of the products can keep viewers glued to the catalog. Moreover, it has been estimated that flat design always offers an intriguing looks to products. This effect succeeds in making that lasting impression you (and any business owner) always want.
Fusing Some Illustrations
The Idea
Illustration combined with skillful photography helps your product catalog be vibrant in its appearance. Plus, it highlights those products resulting in fetching an increased customer attention.
Moreover, the presence of illustrations indicates the sophisticated taste of a company's professional image. In a commercial view, that also counts.
How You'd Do It
Skillfully blending reality with illustrated artwork would do. Try not to make the illustration too loud or demanding in the catalog. Help it to bring light to the products and product descriptions. Use a variety of illustrations to prevent monotony in the design. Added to that, align it with the theme of your brand. It would help the illustration be more subjective.
A Live Example
Chaco Footwear has made a splendid deal out of its multicolor illustration complimenting the background of a variety of their products. They have also adhered to take the help of only three colors, which, doesn't suffocate the visual appearance of the catalog yet present a charming and soothing prominence to the footwear and accessories.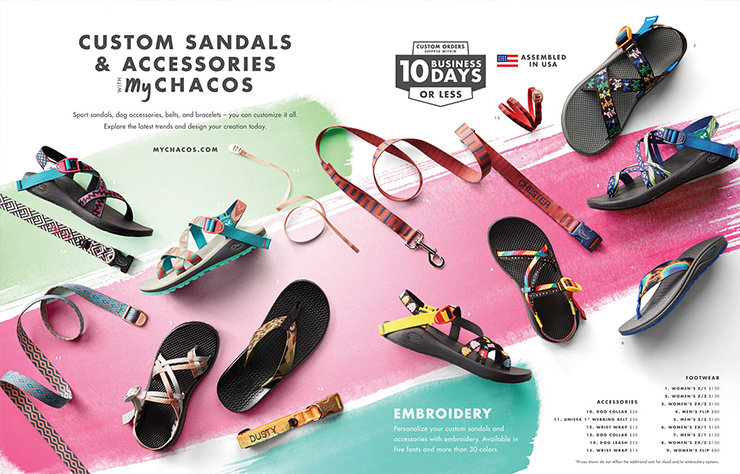 Image courtesy: https://bit.ly/2Ht5PDs
What You May Get
The more attractive the catalog, the more customer engagement!
Besides, illustration may interest a customer to make further investigation about the catalog, which eventually serves your purpose.
Let's Turn Natural
The Idea
The thing is pretty simple actually. A product description, a proper focus on product and intensely natural photos without a single inclusion or edit – that's what you need for igniting the interest of viewers with such a catalog.
How You'd Do It
The best thing about these catalogs is the photos. In order to make them the most natural, what you need to do is to snap them by a pro in a very good resolution so that they authentically look NATURAL.
Tone the color down if you need to as too vibrant color votes for a bit of artificial addition in the photos.
A Live Example
To be precise, you need to draw inspiration from Nature Baby and take your 'baby steps' to design a catalog with natural photos. The brand has successfully coupled the product description with a wholly original photo of a cutie pie wearing a woolen cap, i.e. the product.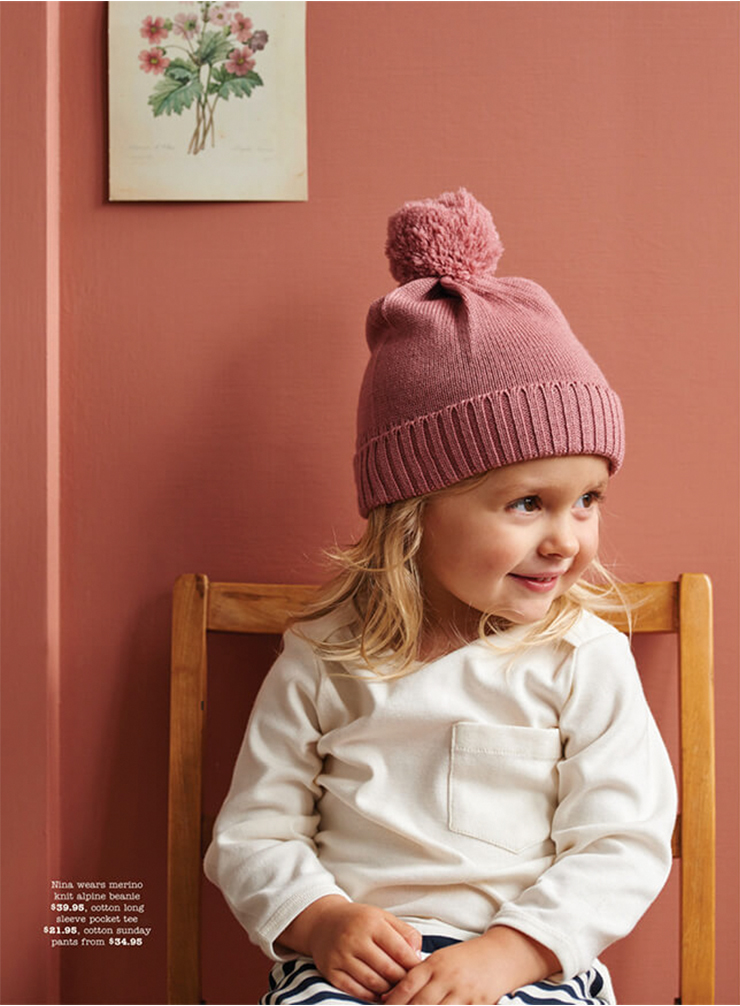 Image courtesy: https://bit.ly/2VQ0ava
What You May Get
The thing about natural things is that they always evoke curiosity. If the photos are taken in the right way, then your customers may look for more as the naturalism in those snaps can help them relate themselves to the products emotionally.
Innovative hand-Drawn Imitation
The Idea
It's about putting the artistic side of the hand-drawn feel, to work for enriching your product catalog.  Surprisingly, it looks professional if you couple hand-drawn images or fonts with real stuff at the background. Plus, it's a really popular trend nowadays.
How You'd do It
Use your mind and make out both fonts and images. Use them in the backdrop of your product. Often, you may use these imitated hand-drawn images as pointers to highlight your products. The design must be playful and fun to look at, otherwise you're ruining it.
A Live Example
Vitacost has done a really compelling work where the food items have been admired by both the imitated hand-drawn images of onions, garlic and carrot along with the word art: 'WINTERKOST'. Hence, the entire product catalog is well…tempting.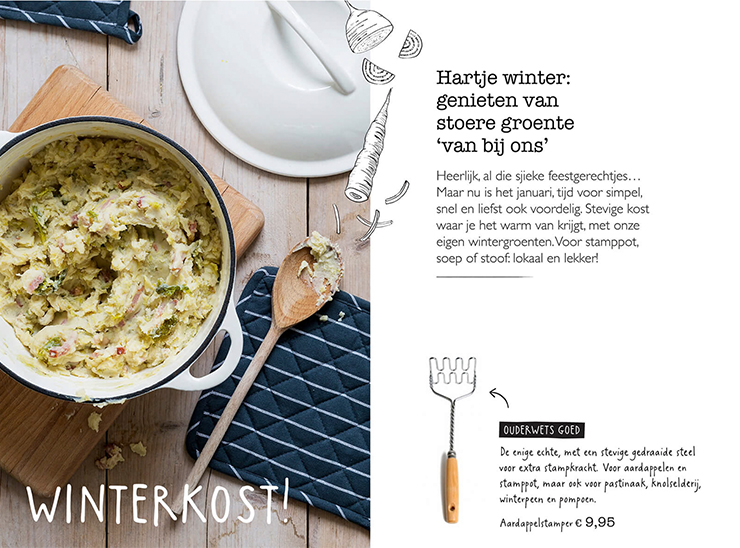 Image courtesy: https://bit.ly/2SZBtKM
What You May Get
Handwriting and hand-drawn images are the things that have always been a subject of human liking and interest since the earlier days.  It's natural for such an appearance in your product catalog to make a difference in getting customers glued to products.
The Greatness of the Writing
The Idea
…and the thing means the product description.
The more compelling the product description is, the more customer engagement is going to happen! A really interesting, subjective yet a bit unconventional product description not only holds the minds the readers onto the content, but may also sell the product ultimately.
How You'd Do It
It's not so tough. You need not play extensively with words. But, find out a different way in order to tell the story of your brand and products (or services). Don't make these descriptions too long. If possible, add a series of writing and create a suspense when you end a particular description. Be informative though and don't be too artistic (although you need art in writing).
A Live Example
The work of Cole and Mason Kitchenware, England is a thing of prominent relevance when it comes to the most detailed and the clearest images with ample but calculated product description.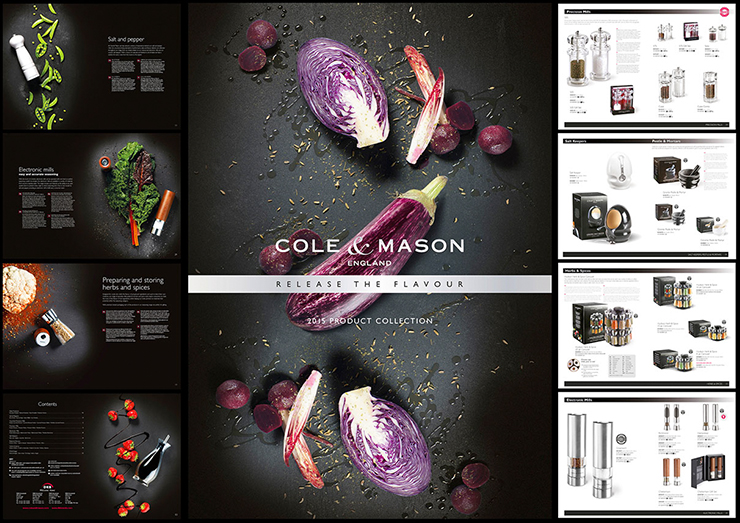 Image courtesy: https://bit.ly/2u4JiVA
What You May Get
It is a universal fact that a compelling product description has a much active influence in the minds of the readers.
When you write it in your product catalog with catchy images, you do a complete work about making the catalog.
Fuse
The Idea
It's all about photo snaps, edit and balancing the images of the products in a professional way. Technically, this is an effective process since it gets 'more' jobs done at little effort.
How You'd Do It
You need to think about the products and how well they blend with each other. You may need a very good work of photo editing along with symmetrical formation.
Whatever you do, you mustn't forget to make sure this fusion works in the commercial context.
Your viewers must get details in the products. Plus, you get to make some room for product description both strategically and aesthetically.
A Live Example
What The Museum of Modern Art has done is pretty praiseworthy. Look how they blended a colorful cup with some artifact in a symmetrical ratio.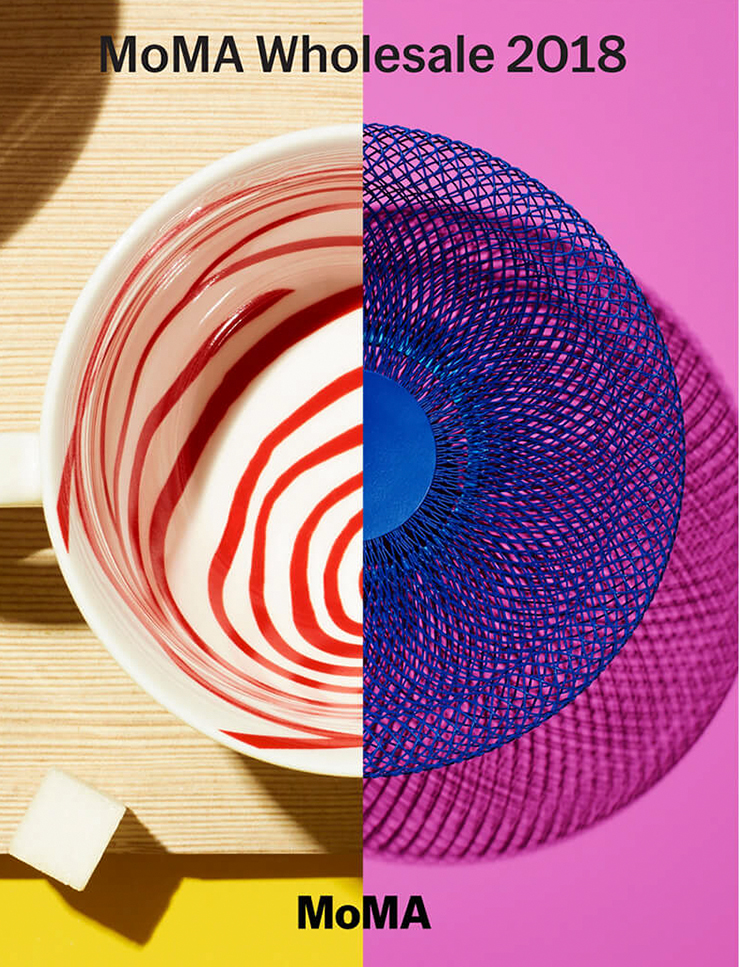 Image courtesy: https://bit.ly/2TyViOu
From Catalog to Orders
The Idea
Why don't you make your catalog a bit more functional?
To do that, you can help your customers order a product directly from the catalog. This would help your catalog turn into a sales machine.
How You'd Do It
What you need to do is to add a QR code, which will help the viewer to access more details online once he or she scans it. You may also put the bar code of a product. Include interesting content in the additional information online, which would include videos or slideshows etc.
There's another interesting way!
Why don't you create a retailer engagement portal? Such a portal is designed and maintained to drive engagement in collaboration with the retailer engagement team, which will continuously be promoting your product.
A Live Example
Here is a trade catalogue from Scott. The QR codes are offered below each page and are also color coordinated to make their appearance more interesting.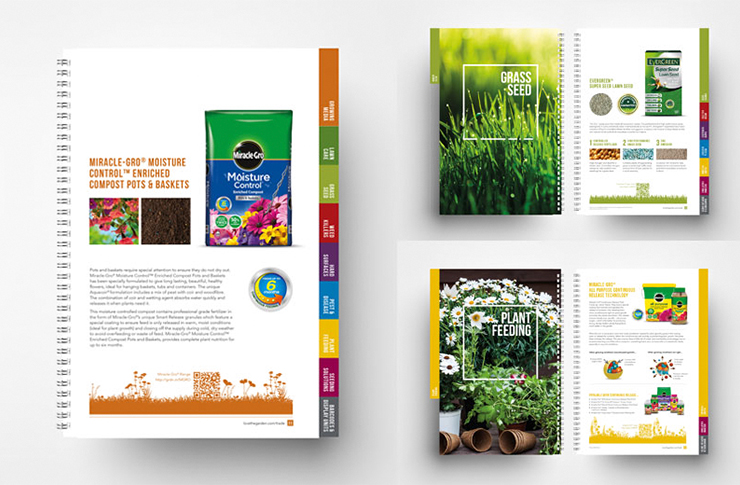 Image courtesy: https://bit.ly/2F5K1wj
What You May Get
The most effective factor about a catalog like this is that it can ultimately sell a product or service offered by your business.
Isn't it good to help your customers make a purchase decision directly from the catalog?
Use Multilocalism i. e. Different Cultures as Background
The Idea
Don't worry about that complex term. It's not so heavily philosophic. It means using the photos, visual presentations and images of cultures as the background when you showcase a particular product of your business.
How You'd Do It
You need to search for a lot of visual content that reflect different places exposing a variety of cultural aspects.
Don't use conventional nature photography or plain backgrounds. Instead of that, take snapshots of multicultural backgrounds and use them to turn the presentation of your product much livelier.
A Live Example (or Examples)
The first one in these specimens comes from the house of Tommy Bahama.
The background is far from what you call traditional. It rather captures the life of a culture with the help of revealing a marketplace.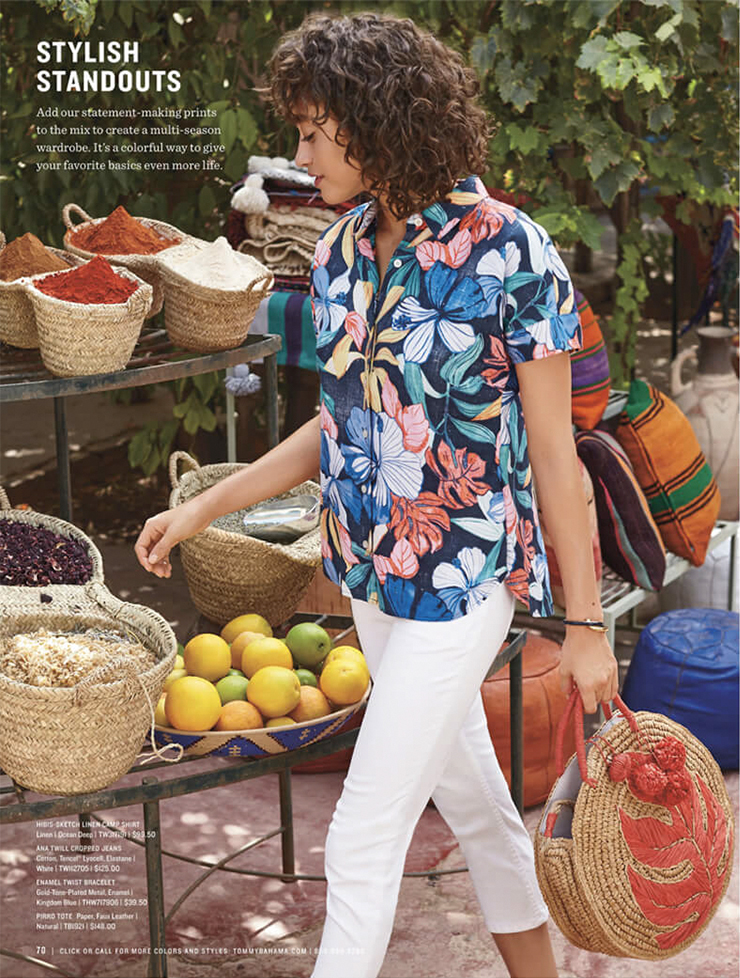 Image courtesy: https://bit.ly/2VUGZk2
The next one hails from La Redoute, the UK featuring their products visually offered by an abstract background.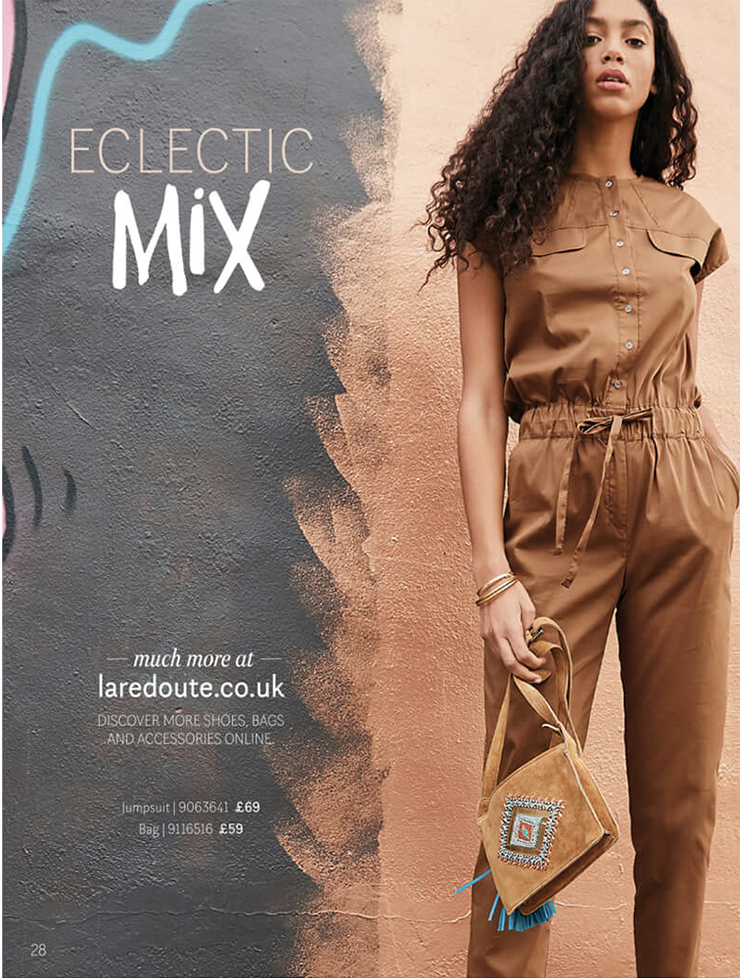 Image courtesy: https://bit.ly/2VUGZk2
The ultimate one is from prAna that brings life to the products along with the paintings or drawings printed on the garments suspended from a fence at the background. The drawings certainly tell the story of a culture.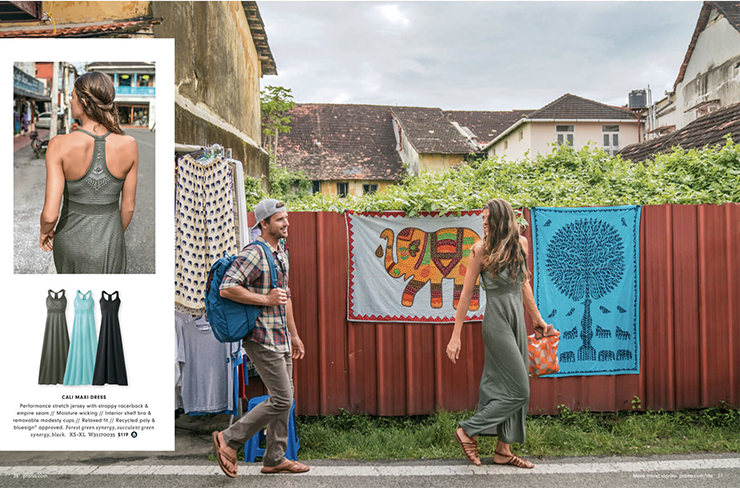 Image courtesy: https://bit.ly/2VUGZk2
There's more to this technique.
It highly suggests the point of global connection. It also helps your brand be a socially conscious agent, which is a plus side for your trade.
As Adobe says:
"We'll explore how artists and brands are embracing a mosaic of cultural experiences, and addressing consumers' deepening global consciousness."
So, that was a lot of it, right?
All of these ideas may bring the sales of your trade into the next level.
But, here's an advanced formula for more success.
Just don't stop REINVENTING…enough said!