Given the current ongoing pandemic scenario across the world, marketing investments and pertinent ROI is something that brands, irrespective of size and stature, are closely looking at. With offline activity taking a hit due to COVID-19, the focus almost entirely has again shifted to the digital medium. In more ways than one, the digital medium is the last resort for many brands as they try and revive lost territory.
What this means is that brands need to be even more clinical and precise with regards to where they advertise. There is almost no room for any trial and error methods of advertising anymore. While it might appear that these unprecedented times call for an all-pervasive, heroic strategy that will pull out a brand from the doldrums, it is actually doing the basics right that will hold them in good stead for the future.
So, what is the first call of order? The first thing that brands must try to nail is find the right social media platform for their business. This article focuses on 4 platforms – Facebook, Instagram, LinkedIn, and Twitter. Other platforms like YouTube, TikTok, Pinterest, and Snapchat will be discussed in the next blog.
How to choose the right Social Media Platform?
It is one thing being in complete admiration of a platform. However, when marketing for your business, giving in to personal favorites can be a fatal mistake to commit. For getting the best return on marketing investment, brands and businesses must choose the platform that is best suited for them. Now what are the metric indicators that will help a brand freeze in on the correct social media platform? Let us have a look.
Type of business: What social platform to leverage depends completely on the type of business at hand. If we are talking about a B2B operator, then LinkedIn can be an excellent platform to market on if done properly. On the other hand, Facebook and Instagram are platforms that provides better results in terms of ROI to B2C businesses. YouTube again is a platform that caters to all kinds of businesses.
Type of Audience: A basic understanding of where a brand's customer base lies can go a long way in choosing the right social media platform. For instance, if the target audience of a brand is elderly people (above the age of 60 years), then it makes little sense to try and market to them on a platform like Snapchat. Say for instance the target audience is teenagers. In such a scenario, platforms like Instagram and Snapchat can be looked at.
Type of Audience by recent data: While having a basic understanding of platforms and their audience is beneficial, going through recently conducted research will put brands in a better place to make a more informed decision on the choice of platform. For instance, we all know that Facebook is a great platform to advertise on for any kind of B2C products across age groups. While this is correct and can be banked upon before making that eventual choice of platform, there are a couple of things that marketers are not privy to.
Recent data show that there has been a huge surge in elderly people visiting Facebook and a considerable dip in the number of teenagers on the same platform. More and more teenagers are now shifting base and focus to Instagram. Now this is a priceless set of data to procure for marketers, especially if the brand deals with teenage products. This information can almost be the deciding factor between choosing Instagram or Facebook as the primary advertising platform.  This intelligence can only be acquired by analyzing audience by recent data.
The above-mentioned points are just an indication of what brands must know right from the outset. However, a detailed analysis of where each social media platform stands and what each of them entails will empower brands to make highly informed social media platform choices.
Facebook
Facebook continues to grow rapidly with around 2.45 billion users tuning in monthly. The platform continues to evolve at a very rapid pace. Hence staying abreast of demographics, usage and platform trends can be difficult. The following points should help brands form a sound Facebook Marketing Strategy.
Shift in Demographics Base: We all have an idea that Facebook is all-encompassing when it comes to demographics. While this has been true for a long time, recently there has been a surprising change in dynamics to say the least. There has been an unforeseen surge in the older generation joining Facebook. As per study conducted by the Pew research Center, 37% of people belonging to the "Silent Generation" (born before 1945) are now on Facebook in comparison to 21% in 2012. The same surge has also been noticed with regards to Baby Boomers as 60% of them have accounts in 2019 as opposed to 43% in 2012.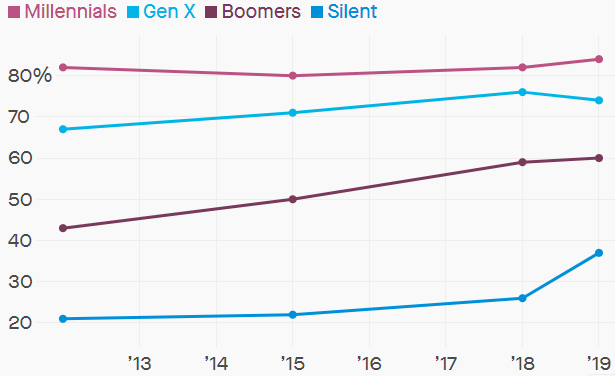 Another shift in trend currently underway is that teenagers are not that frequent on Facebook anymore. As per data by Pew research Center, 71% of teenagers were active on Facebook in 2015. The numbers have drastically fallen to 51% in 2019. YouTube, Instagram, and Snapchat are platforms that are currently being well received by teenagers.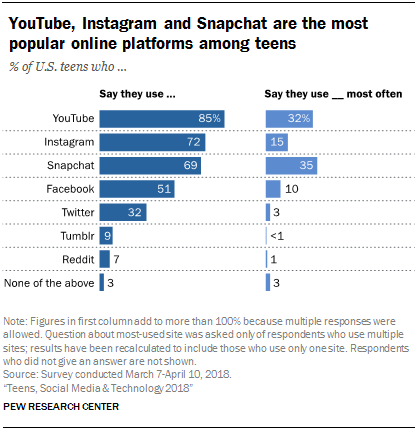 Still the preferred platform for advertising: The rise of many other social media platforms like Instagram, Snapchat, LinkedIn, TikTok, YouTube, etc. has meant that Facebook has kind of lost its' mojo, at least with the teenage crowd. However, that has had a very nominal impact on the advertising revenue that the company has been making. This just goes to show one thing. Facebook is still one of the most preferred advertising platforms for brands.
One of the primary reasons for Facebook being the go-to advertising platform for a lot of brands is the age of the platform. By far the oldest among its peers, Facebook has been drawing users ever since 2004 and can blindly claim to have one of the strongest customer databases in the world. Marketers know that with regards to reach, very few platforms can come neck to neck with Facebook. As per the Quarter 3 – 2019 Facebook report, around 48% of total advertising revenue comes from The US & Canada. Europe, Asia-Pacific, and the rest of the world contribute towards the rest of the revenue.
While the US & Canada spend way more than the rest of the world, the numbers have been steadily rising through the quarters, starting Q4 of 2017.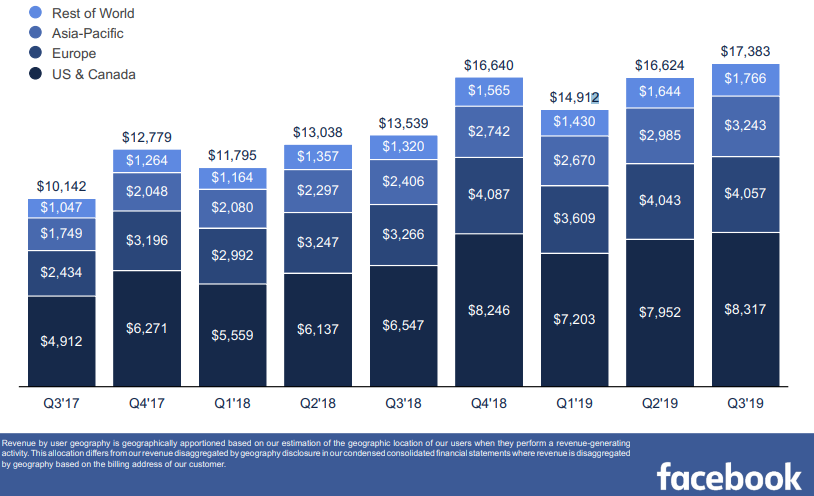 Steady Growth of Monthly Active Users: Despite of the advent of other social media platforms, Facebook has experienced a steady rate of monthly active users from 2017 Quarter 3 to 2019 Quarter 3. The rise in numbers is more favorable outside of the US & Canada. This re-emphasizes the fact that teenagers in the USA & Canada have for the time being migrated to platforms such as Instagram and Snapchat. Hence, monthly active users in the US & Canada experienced a marginal increase from 239 million in Q3'17 to 247 million in Q3'19. The bulk of the traffic comes from Asia – Pacific as the region has caused a serious surge in numbers from 794 million in Q3'17 to 1,013 million in Q3'19.
However, what this data also tells us is the amount of scope brands outside of the US & Canada have with regards to advertising on the platform. Only 10% of Facebook's monthly active users hail from within the US & Canada. However, this US & Canada contribute to as much as 48% of Facebook's total advertising revenue. This means that Asia-Pacific with the massive numbers on Facebook are under-spending with regards to advertising. Bearing in mind that the cost of advertising in terms of reach, placements, and impressions outside the USA is way lesser (especially in the case of Asia), there truly lies lot of opportunities that Asia-Pacific as a region and also the rest of the world can take advantage of.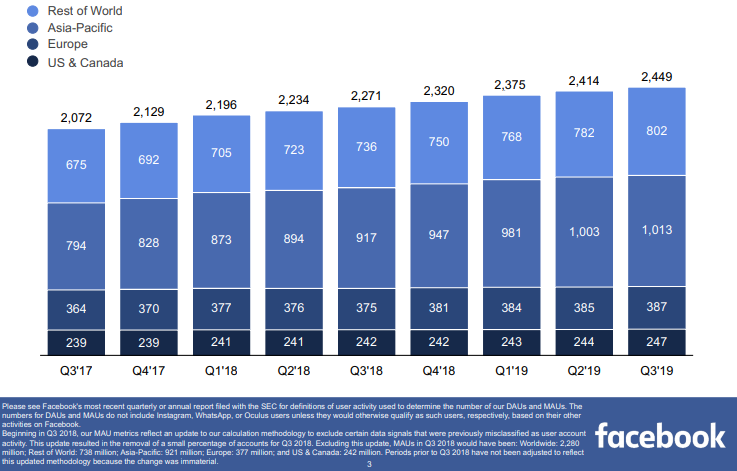 What is the reason to come to Facebook? While we do know the number of users on Facebook is massive, what we do not know is what brings them to the platform. The answer to that question might seem to be a downer for aspiring Facebook advertisers across the world. As per data on Statista, 88% of people in the US as of Q3'2019 come to Facebook to keep contact with friends and family. 17% come to follow and interact with brands and companies. Well, that begs the question, "Why waste time and money by advertising on Facebook?"
Firstly, marketers should not delve too deep into these numbers as they are kind of inconclusive to infer the fact that Facebook advertising is ineffective. Firstly, these are only people within the USA. So, people outside the USA have no relevance to these numbers. We also know that the USA contributes a major percentage of Facebook's ad revenue – which means that marketers do see value in advertising on Facebook. Does this mean that 88% of people who come to Facebook to connect with family and friends are lying? Absolutely not. A better question to ask them would be – "With what objective do you come to Facebook and what is it that you end up doing? This would give conclusive evidence to derive multiple inferences from. In this case, they are just merely stating their reason to come to the platform. Do their actions compliment their reason? Do they only bounce out of the platform after they are done socializing? Have they ever purchased anything from a Facebook Ad? These are questions that would be more pertinent to ask. Hence, it is easy to derive that while 88% of people on Facebook do come with a mindset to connect with family, that is probably not sacrosanct.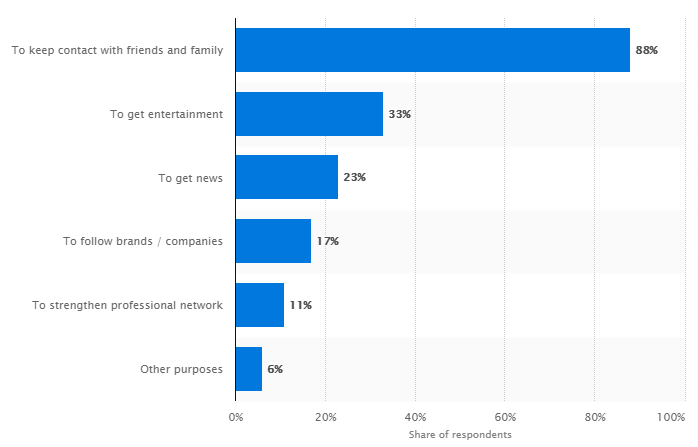 Instagram
It has been a decade now that Instagram was first launched. Although the platform is not as old as Facebook in terms of age, to think that it lags in terms of reach and effectiveness would probably be a mistake. Instagram surely has its' own set of audience prevalent across various niches. For B2C brands especially, it should not come across as a surprise to them if they are to discover that Instagram is more effective than Facebook. Let us delve deeper.
Highly popular social network: While Facebook is the most popular social media platform in terms of number of active users, Instagram comes in the second place if YouTube, and the renowned messenger apps like WhatsApp, FB Messenger, and WeChat are not directly considered as social media platforms. As of July 2020, Instagram has over 1 billion active users, which is impressive because the platform is roughly a decade old.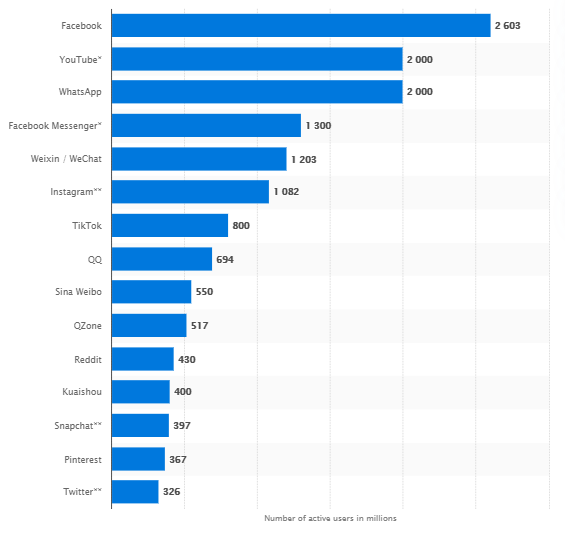 Even Gender Distribution & The Youth Society: Instagram is a very lucrative platform for B2C and e-commerce businesses. The platform being a video first platform enables brands to properly showcase their products to the customers. The icing of the cake is that the people inhabiting the platform are a wonderful and even mix of males and females. As of July 2020, Instagram is house to about 52% female and 48% male which is a highly favorable ration for most brands and marketers.
Further it is of great importance to note that Instagram as a platform is very popular among the young crowd. As per studies indicated on Statista, between the age group of 18 – 24, 13.9% are females and 15.5% are males. Between the age group of 25 – 34, 16.6% are females and 17.2% are males. Overall, more than half of Instagram's global population lie between the age group of 18 – 34. So, brands and marketers should take great notice of this aspect before furthering their marketing endeavors.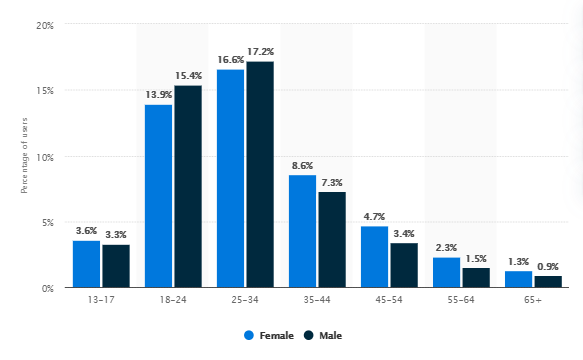 IGTV to continue reigning supreme:  Modern day brands would agree that videos are an excellent way to showcase products online. Not only is the engagement rate of videos higher than static images, the audio-visual medium makes story-telling a lot easier. Besides, users on social media love to engage with videos as they find it more interactive. Brands that aspire to market through videos can now easily imagine a world beyond YouTube. Not that YouTube is ineffective in any way, but IGTV (Instagram Television) is a very able alternative.
IGTV, when it was first rolled out, did come with its' fair share of limitations. There were also a few question marks about how it might perform. However, a few tweaks and updates meant that Instagram was alive and kicking. Instagram enabled features like adding an IGTV tab to the navigation of the Explore Page, and previews on a user's regular feed. This made it easier for users to discover accounts they want to follow, and long-format video content subsequently.
So, for brands who are looking to market through videos and want to look beyond YouTube, IGTV certainly is a great option.
Carousels – The King of engagement: Carousels have and continue to be one of the most popular forms of content on the platform. Carousels have always garnered more engagement and response from people than static posts. The whole "Swipe to find out more" mechanism probably works great with the psyche of a lot of people. Also, brands find it a very convenient way to display their entire spread of products.
As per a study conducted by SocialBakers, between May 2018 – May 2019, Carousel posts have performed the best with median level engagement of around 120. They are followed by images and videos in the second and third place, respectively. While Instagram is a great place to market through videos, this study shows that the videos must be well curated and targeted to the proper mass for it to enjoy high levels of engagement.  Carousels on the other hand are miles ahead in the race.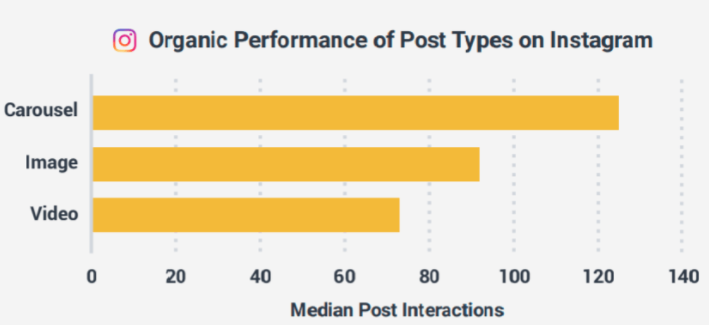 Instagram – The place for influencers: Influencer Marketing is not a novice concept anymore. In fact, brands now allocate a large chunk of their marketing budget towards influencer marketing for meeting various criteria. According to a study by (World Federation of Advertisers), 86% of marketers invest in influencer marketing with the objective of enhancing the overall brand awareness. 74% of marketers indulge in influencer marketing with the objective of reaching new audiences. Further, 69% and 46% of people do it for improving brand advocacy and increasing sales conversion, respectively.
Now it is one thing wanting to do Influencer Marketing, and something else to do it on the right platform. Instagram is the best platform to leverage the full scope and prowess of Influencer Marketing. At least, that is what was forecasted at the beginning of the year. The second place is occupied by Instagram stories, followed by Facebook and YouTube. Going ahead, not much is scheduled for a change really.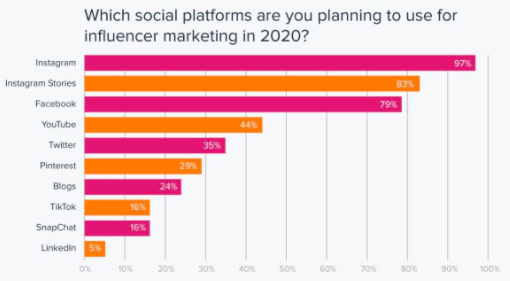 Source
LinkedIn
LinkedIn is one of the most under-mentioned, under-spoken, and perhaps the most under-utilized of social platforms. While this might not hold true for all the brands across the world, a lot of them would agree with this. While Facebook is synonymous for both B2B and B2C businesses, and Instagram mainly relevant to B2C only, LinkedIn is an absolute Gold-mine for B2B businesses. Let us take a deep look at what LinkedIn as a platform.
A rapidly growing member-base: LinkedIn has currently crossed the half a billion mark in terms of members. To be precise, the platform is well over 675 million users (monthly) strong. As many as 40% of monthly active users access LinkedIn on a daily basis. LinkedIn CEO Jeff Weiner recently stated that he would want LinkedIn to reach the 3 billion mark in the future. So, it would be wrong to think that the current number of 600 million odd is nearing saturation.
Inhabited by an elite league: As mentioned earlier, LinkedIn is the place to be for B2B businesses. The reason is that the kind of crowd is very corporate and mostly business-decision makers. As per data from LinkedIn, around 61 million users on the platform are senior level influencers and around 40 million are decision makers. Also, LinkedIn is officially the most used platform by Fortune 500 companies.
No wonder LinkedIn is the Go-to place for most B2B businesses. The platform provides ample opportunities to businesses to connect with prospective clients and customers.  In a study of over 5000 businesses conducted by HubSpot, it was revealed that LinkedIn as a social media platform, is miles ahead in front of Facebook ad Twitter. As per the study, LinkedIn generated the highest visitor to lead conversion rate at 2.74%, in comparison to 0.69% and 0.77% of Twitter and Facebook, respectively. So, if the nature of business is B2B and the marketing objective is to generate leads, LinkedIn is the platform to leverage.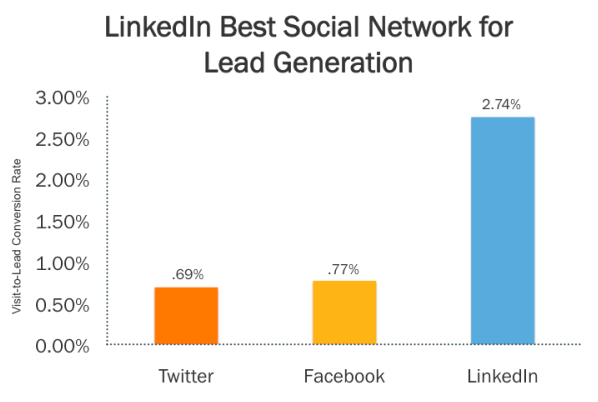 An even gender distribution and the B2B marketer's favorite: The amount of people on the LinkedIn platform are very much on the rise. However, brands and marketers might want to know the evenness of gender that is prevalent. What makes LinkedIn a great platform to advertise on is the fact that the scales are very even when it comes to males and females. There are as many as 57% male and 43% female users on the platform, thus providing a great gender-mix to brands to target to.
As per data claimed by LinkedIn, 6 out of 10 users on LinkedIn actively look for industry insights on the platform. As many as 280 billion feed updates are viewed annually. With regards to B2B websites and blogs, LinkedIn provides an overwhelming 50% of all social traffic. These are unbelievable numbers really. No prize for guessing what the go-to platform for B2B brands and marketers are.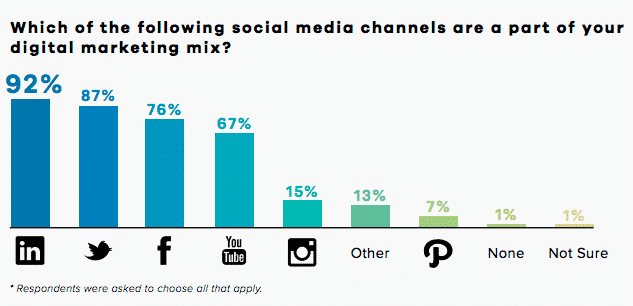 Twitter as a platform is very different to LinkedIn, Facebook, and Instagram for that matter. The kind of people on Twitter are not just restricted to a strata or nature of business. Most people generally visit Twitter for the purpose of news & information gathering and/or entertainment. However, the platform is also renowned for ruthless banter, brand/celebrity criticism, personal agenda & opinion presentation, etc. In such a scenario, does it make sense for brands and marketers to invest time and effort to leverage something out of the platform? "Yes "is the resounding answer.
A platform to be weary of if you are a brand: It can be said that Twitter is perhaps the most controversial of all social media platforms. It is also a platform where people find it easiest to voice their opinions and connect to their favorite celebrities and brands. In such a situation, brands must understand that having a presence on the platform is of paramount importance. The simple reason being the ease at which things can get viral. Twitter's hashtag philosophy makes it very easy for people to understand 'what is trending'. Hence, brands should be weary of this platform and absolutely ensure that they are present on it so they can be their own advocates.
A platform to spread awareness: Since Twitter is inhabited by close to 330 million monthly active users and 145 million daily active users, brands must understand that it is more than a reasonable number. Hence, it is important that they exercise some control and authority over their Twitter handles and try and portray the informational, aspirational, and humanitarian side of the brand on the platform. For instance, Twitter is a great place to promote CSR activities, product launch updates, new product information, brand identity, etc. This will enable a brand to spread awareness about the brand itself and its' product or services.
The right platform to perfect the art of Customer Service:  News, views, and opinions can escalate very quickly on Twitter. Often when that happens, the onus is on brands to respond to queries, comments, and mentions. Customer service means attending and responding to customer queries, grievances, complains, and providing technical help. Customers do not exactly respond well when they are not attended to. Besides, Twitter is one platform where people can really tarnish the reputation of a brand with their thoughts and opinions by tagging the brand handle and using a trendy hashtag. At such a time, brands should ideally be present on the platform to handle any backlash that comes their way. Relying on other people and hoping that they would stand up for the brand is not nearly enough. Hence, in an ideal scenario, brands and businesses should be present on Twitter.
Scoring good engagement:  Another way of making a user aware is by drawing his undivided attention. Now one universal truth is, if the story being shared is good, it will get engagement, given the right people and entities are tagged. However, on a practical basis, a few things can be done to ensure that twitter posts get more recognition. First, let us talk about the length of tweet. Late 2017, twitter increase the maximum number of characters in a tweet from 140 to 280.  Now one would think that the more the better, but that is far from the truth.
As per studies conducted by Track Social, tweets within 71 – 100 characters are the ones that get re-tweeted the most. Beyond 100 characters is not dismal either but a medium-sized tweet tends to do better. However, tweets very small in length (0 – 40) characters are the least engaging.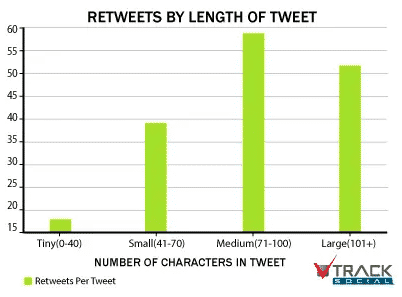 What is a good engagement rate? The best way to measure the success of a post is to associate it with an average rating. Engagement rates are a great indicator. As per studies by Rival IQ,  the median engagement rate across all industries is 0.048%. This means that engaging people on the platform is not the easiest. Hence, generating leads is an even more difficult proposition on the platform. Here is a look at the average engagement rate per post on Twitter across various verticals. Posts on alcohol, higher education, and hotels & resorts tend to perform the best with 0.080%, 0.079%, and 0.071% respectively.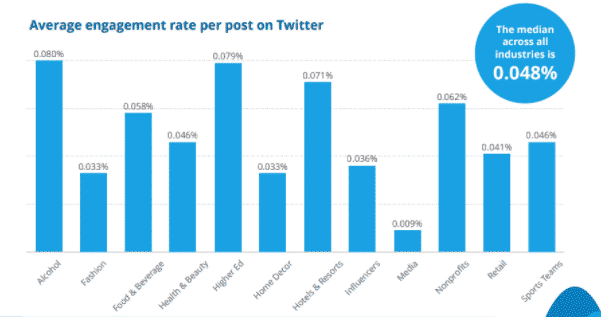 Invest in the right platform to get maximum ROI
Many brands have had a struggling experience with social media platforms. Time and again, they have complained that money spent on platforms did not yield expected returns. Well, the crux has always been to be very sure of what to do. The first call of order for brands is to choose the right social media platform. As elucidated in detail in this article, the nature of business should dictate the platforms that need to be targeted. For instance, it makes little sense for a B2B business to go all out on a platform like Instagram. LinkedIn should be the first platform of choice followed by Facebook. Similarly, for a B2C brand, LinkedIn becomes a very expensive and a far-fetched platform, especially if lead generation is the objective.
Facebook is one platform that has multi-dimensional audiences. It caters to B2C as well as B2B markets. One of the reasons behind this is the fact that it is one of the oldest social media platforms. Hence it has one of the largest customers databases in the world. Instagram on the other hand is a platform which is a little niche, at least in comparison to Facebook. Food, fashion, travel, and hospitality are the industry sectors that perform the best on the platform. LinkedIn obviously is a B2B Gold-mine and with every day that mine is just getting deeper. Again, Twitter is a platform that businesses irrespective of kind should be a part of. The platform is very hands-on, real-time, and open and keeps one abreast of all the happenings of the world. Brands especially have a reputation and image to exude. For them, Twitter is an absolute no-brainer.
Once brands are done choosing the right social media platform, they can automatically expect better results out of their marketing endeavors. However, it should be kept in mind that choosing the right platform is only one of the many right things that brands need to do to enjoy good return on investment. The many things include a defined communication strategy, a convincing brand-proposition, a defined target audience, advanced hyper-targeting capabilities, amidst others.