Imagine you have started a small business or a start-up. Now you are at the stage where you need to market your company and brand to the whole world. So you set out to plan your digital marketing strategy, which at the outset does appear to be a little challenging.
One of the foremost marketing channels you decide to focus on is, of course, SOCIAL MEDIA. Then you head over to all the social networks, create an account and start posting. Right?
Wrong!
If this was your social media marketing strategy, then I am sorry to say that it is bound to fail. Believe me, if social media marketing was that easy, then everyone would have done it.
So even though, it is not rocket science, it does require a plan.
That's why before you head on to start your posting automation on social media – WAIT. THINK. PLAN.
Begin by creating an effective social media strategy for your small business. Write down your social media goals and objectives and then choose which social networks work best for your business.
It is with this last step of choosing the right social network in mind that we wrote this article. As you will read on, our research will provide you with extensive knowledge to help you discern the right social networks you need for your business.
Now you may ask: why choose one single network in the first place when you can have all of them?
True, you can select all social networks for your business. But being a small business who is just starting out on marketing, first, it will take a lot of time to create a strategy for each and every network and second, it will be a waste of time if your target customers are not present there.
So it is much better to do a proper research on the social media channels and then head over to the actual implementation part.
So let's begin. There are various parameters to choose the best social media network for your business. Let's go over them one at a time.
Choose A Social Media Network Based on Size
When we talk about the size of a social network, we don't mean how big the social media looks on your computer screen. What we mean is the number of users using the network. In that too, we cannot look at just any number of users, but specifically, the number of active users using the channel.
Statista carried out a research and provided the statistics that ranked all social networks on the basis of the number of active users: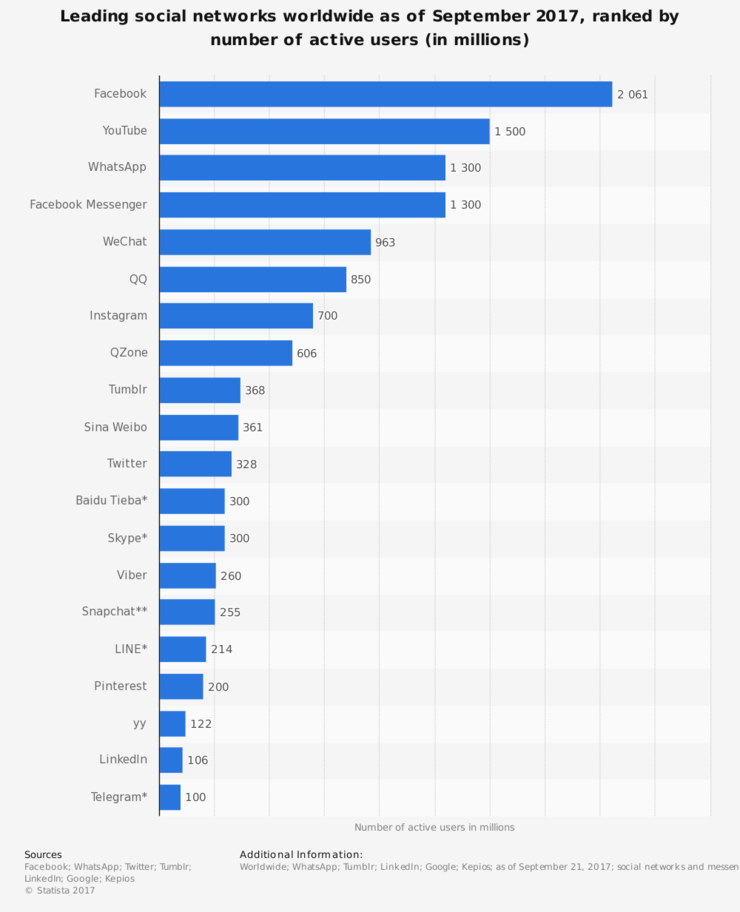 As per the chart, we can see that Facebook rules with 2 billion users, followed by YouTube with 1.5 billion users. Facebook-owned Instagram too has a considerable market share with 700 million users, followed by Twitter at 328 million users. Snapchat and Pinterest follow close at heels with 255 and 200 million users respectively. LinkedIn comes at the end with 106 million users.
This statistic gives us a clear picture of the social media scene.
So now the question comes – Should you follow this blindly? Should you focus your attention completely based on this statistic?
The answer is both Yes and No. Yes, because this should be your first step in discerning the right social network for your business. Knowing the size will give a great deal of information about where each social media network stands.
However, seeing the statistic and understanding what it means is completely different. What these statistics tell you is where the majority of customers may be, not who they are. So even though Facebook, for example, may have a lot of active users and a diverse user base, but it will not help you reach the right audience without proper targeting.
So while size will guide you towards the influential social media network, other parameters will guide you towards the most relevant social media network as per your business, which brings me to my next parameter.
Choose A Social Media Network Based on Your Audience
Understanding who your customers are will go a long way in helping you determine the right social network for your business.
So how do you find out who your audience is? The easiest way to do that is by creating a buyer persona for your business.
Once you have done that, you can take a look at the demographic data of various social media networks and this will tell you which of your customers are using which social media networks.
A look at Pew Research Centre's report gives you a comprehensive idea about the demographic data of social media networks.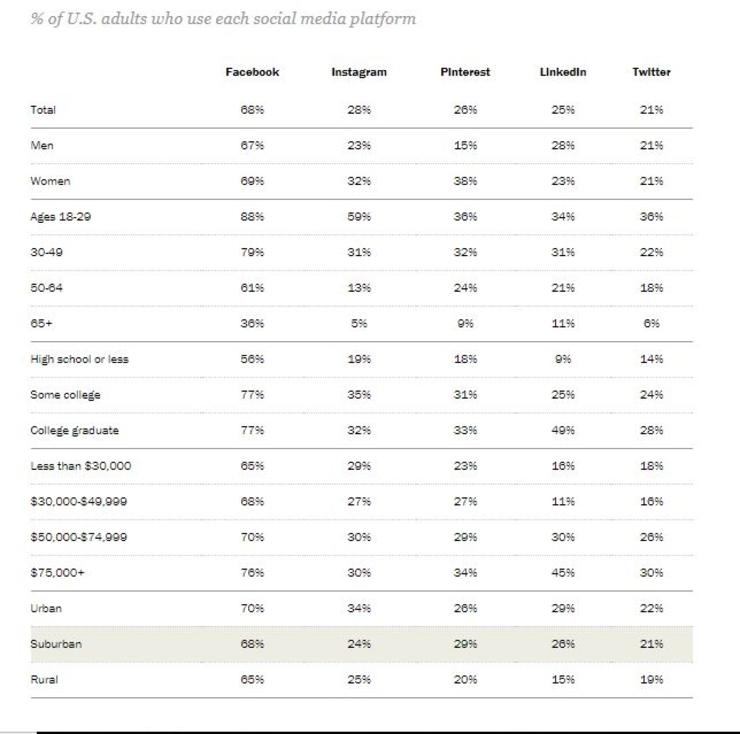 If this data looks boring to you, you can check out this infographic that segregates the global user base of each social network in a visually appealing way.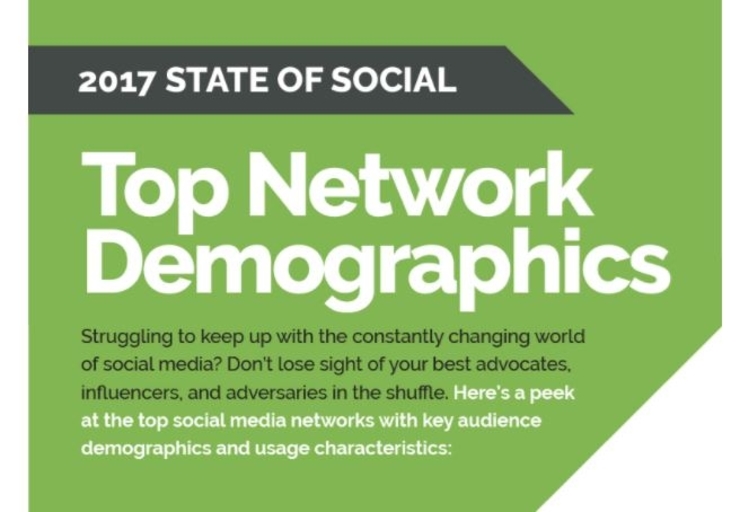 Once you match these insights with your buyer persona, you will come up with the data as to where your audience spends the most amount of time.
Choose A Social Media Network Based on Your Content Strategy
Once you have figured out your audience, the next question that comes is what to share with that audience.
But isn't that something I decide after I select my social media network?
No. This is what many people go wrong. They plan their content strategy after finalising the social media channels whereas, in actuality, their content strategy will determine their choice.
Let me explain.
Your content strategy is dependent on your business objectives. So the first step is to set your business objectives (we will come to this in the next point). Based on your business objectives and your company ethos, you will want to produce certain types of content for your brand. You can match these with the kind of content that your audience will like to consume and then with the social networks which will be right to share these types of content.
You can classify all social media channels on the basis of the type of content you want to create. PostPlanner in their article creates a fun and apt classification of all social media channels. Let's take a look at them.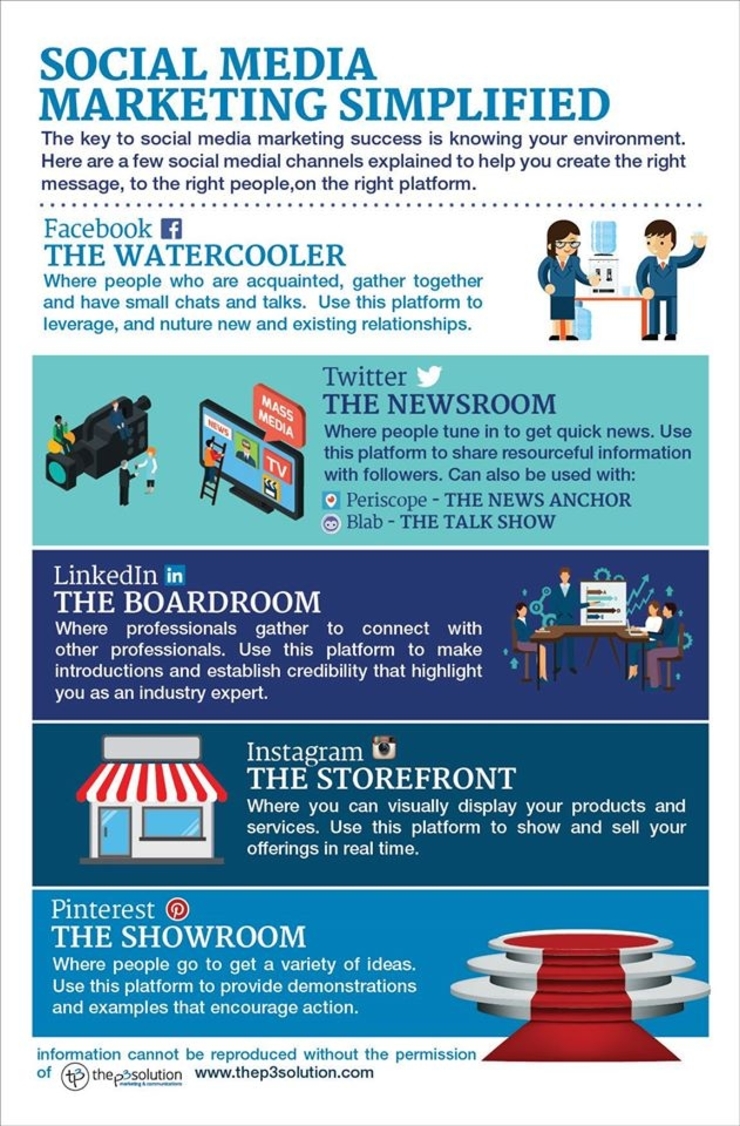 As per the diagram, Facebook i.e. the "Watercooler" is the hang-out place for most people promoting mostly informal conversations. Thus Facebook can be used for gaining new followers and tapping the large customer base that it attracts. In this setup, personalised content creates the greatest impact.
For Twitter, the scenario is completely different. Aptly called the "Newsroom", Twitter promotes bite-sized information of global happenings. It is where people come to consume news. Since the attention span for people is short here, brief and to-the-point, content shared throughout the day works the best.
LinkedIn shares Twitter's professional tone, hence is known as the "Boardroom". Filled with professionals from various industries, this is the place to have all business-related discussions. It is the best place to share content relevant to your industry, meet influencers and grow your business network.
Instagram is all about pictures. It acts like a "Storefront" where you can showcase your products, services and offers. Visual content rules the roost here. So you need lots of stunning photography to attract your consumers.
Pinterest or the "Showroom" is more of a lifestyle social media app focusing on DIY content. This is also an image-based platform and is great if you are into travel, food or fashion. The Pinterest user base is dominated by women, so you can plan accordingly.
If you are more into videos, then YouTube should be your pick. This is where you can share all your broadcasts for your brand to your customers. Content like behind the scenes videos, how-to videos and product videos work the best for this medium.
Choose A Social Media Network Based on Your Social Media Strategy Objectives
As discussed above, to plan for an effective content strategy, it is important to lay down specific social media strategy objectives. Based on them, you will be able to create specific content to suit your specific audience in relevant social networking channels.
Let's look at an example. If your current social media strategy objective is to increase brand awareness, then your content strategy will be to create strictly branded content. Considering this, your ideal social media choice will be ones with lots of active users to get the maximum possible exposure. Your social media strategy will be to use paid advertisements to reach out to a wider audience. So maybe you will end up choosing a popular social media channel like Facebook and Instagram.
Again, if your aim is to get more leads, then your content strategy will be different. Maybe you will want to create high-quality content for your niche audience, create groups and communities etc. In this case, choosing networks with strong lead-generating capacities like Twitter and LinkedIn will be advisable.
Choose A Social Media Network Based on Its Unique Attributes
Before choosing a platform, you should also take into account the unique attributes of each social media network. This will help you to utilise the strengths of each platform and extract the most benefits out of it.
Leverage New Age Media presents a brilliant comparison of all social media networks in this infographic.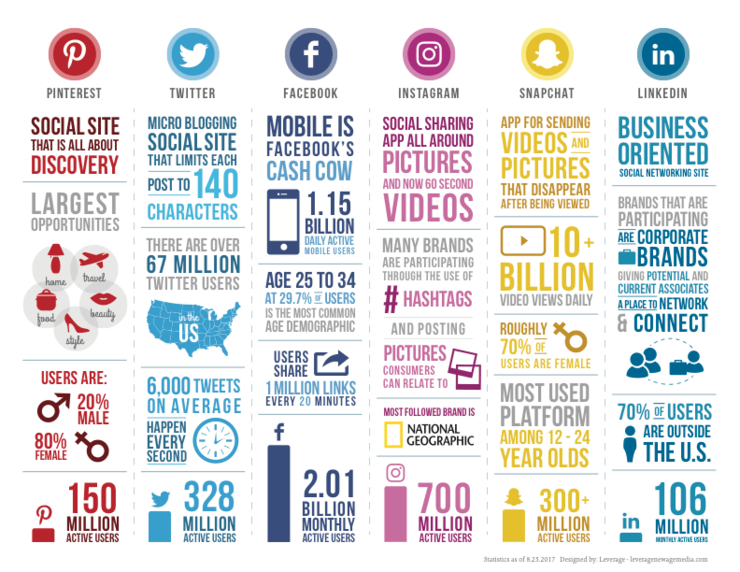 Each social media network has its unique strengths. The best social media strategy identifies this and creates content based on this. There are several tools of a network you can use to get the best results.
Impact in their article explains the benefits of each social media platform from a marketing point of view and also identifies the tools unique to each which can be used to leverage them.
From the article, you can gather these insights about each social media channel:
Facebook
With a huge user-base, Facebook is one of the popular channels that can be effectively used for brand awareness and engagement. Being a personal network, the type of content to share should also be in line with the mood of your customers. Sharing personal stories and revealing the human aspect of your business is ideal for this platform. Facebook Ads is an effective tool to get desired results.
Twitter
Twitter is a platform that promotes bite-sized information for the fast-paced generation. The type of content that predominates this platform are news, company updates, product feedbacks, event updates etc., all within 280 characters. Since people come here for information and have very less time, so concise content that provides value is the best option for marketers. To find your way through this jungle, you have an effective tool called hashtags.
LinkedIn
What sets LinkedIn apart from other social media is its professional tone. This platform is strictly for business professionals. Ideal for B2B interactions, it is the haunt for people looking for a job or professional people sharing industry insights. So sharing relevant content from your own industry is the right strategy to opt for. It is also a great place for networking and lead generation. To leverage the power of this network, you can use the LinkedIn Groups tool.
YouTube
When it comes to sharing video content, the most widely accepted network that comes to mind is YouTube. This is where brands share exclusive videos with their audience. Hence this is a great place to share quality company videos like behind-the-scenes, explainer, events etc. Since many people visit YouTube to learn, sharing educative and informative videos from your industry is a valuable tool.
Pinterest
Pinterest is a niche platform for a very specific audience. It is an image-heavy site that relies on photography and graphic design. It is an ideal place for products and services like fashion, food, lifestyle etc. It is a great place for lead generation since every post links back to the original source like a website. Boards segregate all posts into categories and is an important tool for searching content.
Although it is not mentioned in their article, Instagram too is an important network.
Instagram
Instagram is another image-based social media platform. Here too, photography rules the roost. If you are into product or service, then this is the best place to showcase them. Short videos, behind-the-scenes photographs, product images work really well. Instagram also has a great marketing tool called Stories which you can use to your advantage.
Related to these unique attributes, there may be other important statistics that will guide you in your decision.
Smart Insights in their article combines some important statistics that answer essential questions pertaining to choosing the right social network.
Here are some of them:
Apart from the size, an important parameter is also how fast the network is growing. This will help you to discern which platform to invest in to keep on getting the returns in the future as well. According to the diagram, Facebook turns out to be the fastest growing platform.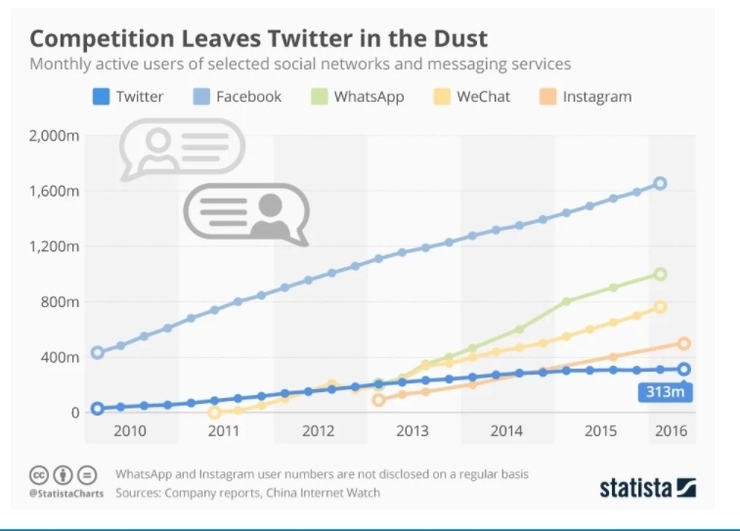 Since most marketers use social media for engagement, thus engagement is also a major parameter. Here, too, Facebook is way above the other platforms.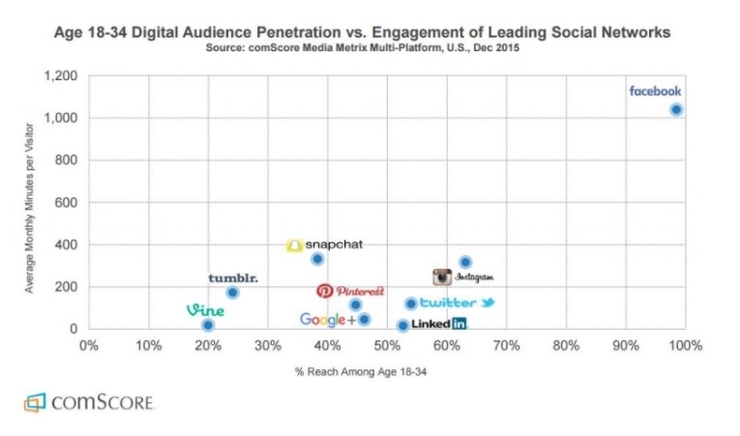 Choose A Social Media Network Based On Your Competitor
Now that you have decided upon your channels, it is also important to analyse what channels your competitor is active on. Not only will this serve as a benchmark but also act as a guide as to what works and what doesn't.
To do this, head on to your competitor's website, find out their social media icons and check out their profiles. Analyse the type of content they are posting, their posting frequency, the kind of engagement they are receiving. With a bird's eye view, also analyse how these brands are using each social media channel and what their strategy and campaigns are. If you do not want to do this more professionally, you can use a tool like BuzzSumo to keep track of your competitor activity.
Learn, and not copy, from these insights and effectively implement them in your own networks.
Choose A Social Network Based on Your Resources
Although research may tell you a lot of things, however, your final consideration should always be the resource you have to actually operate the social media networks. Ask yourself these questions:
Do I have enough manpower who can operate each social media network?
How many channels will I be able to handle?
Do I have an advertising budget for my social media platforms?
Do I have enough resources to create high-quality content for all social media channels?
Will the social media channel give me a good ROI (return on investment)?
The final decision of choosing your networks will depend on answering these questions. It is important to remember that it is better to be fully involved in one network than being inconsistent on all together. The key is in consistency. If you feel you can create consistent content, engage with your followers and be active regularly on 2 networks, then select just 2 based on the other parameters. The worst thing you can do is create accounts on every platform and leave them empty or completely ignore them.
Over to you now!
Have I missed out on anything? Do you have any other parameters for choosing the right social media network which you would like to share?