Did you think Artificial Intelligence is just some overhyped viral fever that will subside with time? Well, think again. Here are a few unadulterated statistics that you just can't ignore.
The Artificial Intelligence market has grown at a favorable rate over the years. Findings indicate that as on 2018, it was worth US $7.3 billion and a whopping growth is expected over the next decade or so, catapulting the worth value to as high as US $89 billion. (Source)
57% of organizations have projects involving AI for Quality Analysis and Testing for the next 12 months. 36% said they are utilizing AI for predictive analytics in testing and 35% using it for descriptive analytics. (Source)
The below diagram provides a clear indication about the point made above.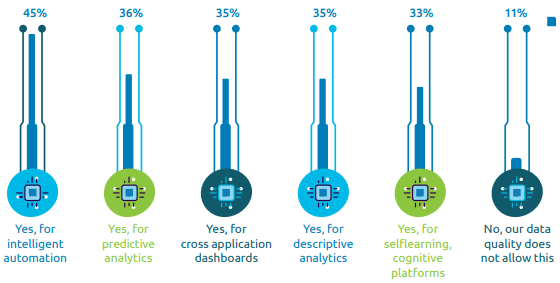 (Source)
85% of all customer interactions will be handled without a human agent by 2020. (Source)
Note for all tech savvy design and development organizations: When it comes to customer support, chatbots can save up to 30% Bots can also reduce customer service costs by answering 80% of routine questions. (Source)
Web developers and analysts; please refer to the following diagram indicating the Predicted Use Cases for Chatbots as per a recent finding.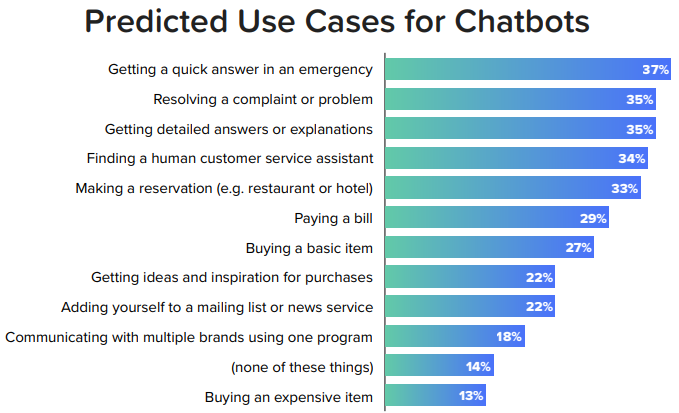 (Source)
47% of digitally mature organizations say that they have a defined AI strategy. (Source)
An inspiration for all AI design and development tools currently in testing phase: Studies estimate that AI enabled tools alone will generate as much as US $2.9 trillion in business value by 2021. (Source)
46% of digitally powered companies will invest in AI based tools in the years to come to automate various web design and development processes. (Source)