Building a website is the primary thing when it comes to owning an online worldwide presence. When you think of website designing, you are left with two choices. The first and the easiest option is to build it on a provided pre-built template on any open-source platform like WordPress, Wix, or others. On the other hand, design a customized website that suits your offerings and your work culture.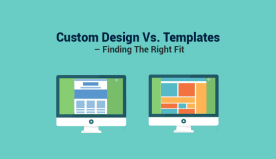 Credit: Innovins
If your business is small and there is a shortage of funds, then a template-based website might be a good option to consider. However, as and when your scale of business grows to a certain volume, you will realize that a custom-built website far outweighs a templated one.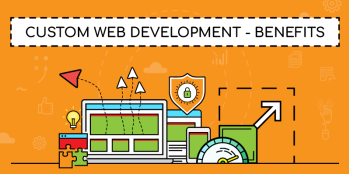 Credit: DQ Media
In this article, we will focus on why a custom website design is much more effective for your sales than purchasing a ready-made template.
1. Eye-Appealing Design: A customized website design gives you the option to make your website more appealing, intuitive and in sync with your offerings. Website Templates are often based on the principle of the common good, meaning they can hold good for every industry. However, a customized website will let you handle the visuality as per your offerings. For instance, ferns n petals, a popular gifting website has a very engaging appeal. All that you can think of gifting is displayed in separate sections. The color theme is taken as light green, to match it with the logo of the company.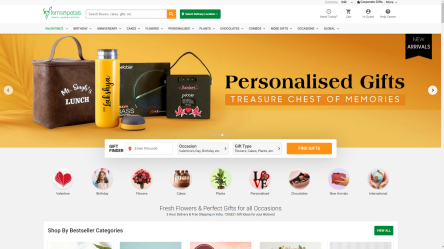 Credit: fnp.com
Such designs hold on to your audience's attraction, which in turn generates better sales.
2. Consistency in Design: Customized design will help you in creating consistency across all the sales verticals. Online Stores, Offline Stores, Franchises, Partnerships, all your sales verticals can be consistent. This will help in building brand recognition and better brand retention in the minds of your audiences. When customers can easily associate with your brand, you are assured of getting positive sales results.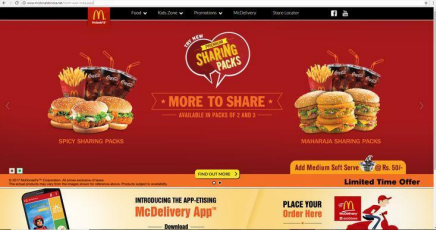 Credit: Pinterest

Credit: Restaurant India
Take, for instance, the brand McDonald's. You can notice sync across its website, its offline outlets. Both have the same color-coding of yellow and red. Wherever a customer will see an "M" with a yellow font and a red background, the person will understand that there's a McDonald's store nearby.
3. Search and Navigation: Websites should always have an integrated search bar to enable consumers to search for their particular offerings. The search bar is essential for businesses that offer multiple products/services to their customers. The search bar should be integrated with proper keyword optimizations. The customers are shown the closest matches for their searches to generate any possible opportunity sales.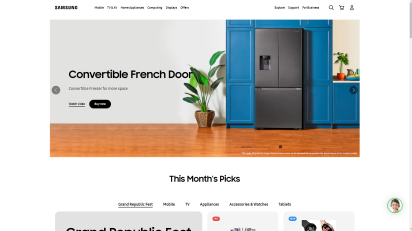 Credit: samsung.com
4. Calls to Action (CTA): The most important advantage of a custom build website is that you can insert as many CTAs as you want. CTAs increase customer engagements by a whopping 52% as per research. They are the sales drivers for your website.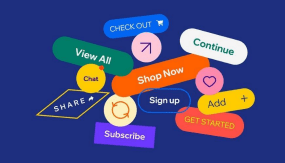 Credit: Wix.com
These CTAs can be incorporated in any form or word. CTAs can be feedback, special discounts for that day, pop-ups, and much more. Some of the most popular and results-oriented CTAs are," Shop Now", "Download", "Sing Up", "Book Now" and much more. These CTAs will not only increase user engagements but will also attract new users to your website.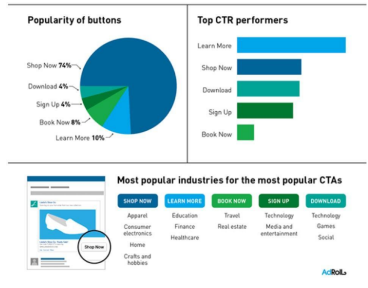 Credit: Campaign Monitor
5. High-Resolution Visuals: Most of the open-source free template websites do not support very high-resolution images. Custom Website Designs can help you upload high-quality photos, videos, and engaging infographics for your offerings.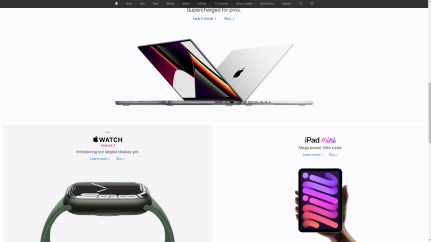 Credit: Apple.in
High-Resolution images help in two main ways. Firstly, customer engagement duration is increased. Secondly, high-resolution images are often shown on Google's Image Search platform, which acts as a backlink for the company's website. This is a great sales booster a company can think of.
6. White Space Utility: The best utilization of the white space (blank canvas) of a website is to leave it blank and white only. This helps in reducing distractions and increased focus on the products. Cluttering your site all around with ads and products is counter-productive for your sales growth. These distractions can also wipe out your potential customers from your offerings.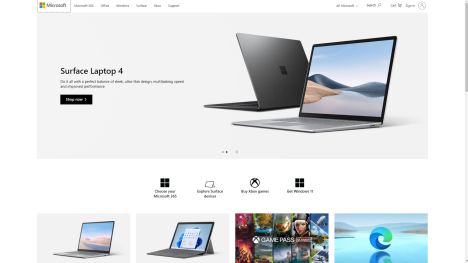 Credit: microsoft.com
The fact is the more minimalistic is the website design, the greater is the perspective of sales.
7. Mobile Friendly: Most internet users are on mobile and small screen devices. Your website should be designed to facilitate the same viewing experience and intuitiveness on the mobile, as it is on the bigger screens.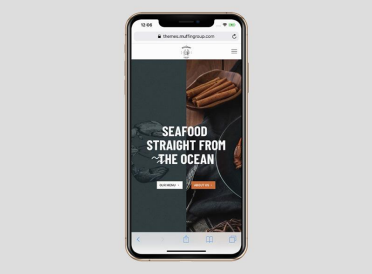 Credit: CoDrops
You should know that the maximum cart abandonment rates are for mobiles and small screen devices. So, it becomes essential to optimize your website as per the mobile screens.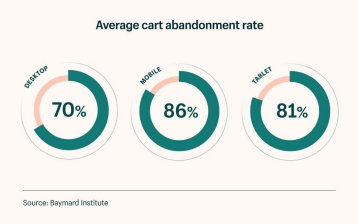 Credit: Shopify
8. Fast-Paced: Customer satisfaction depends a lot on the website loading speeds. Both small and large screen users are going to be viewing your website. Therefore, the servers on which the website is hosted should be blazingly fast and responsive. As per research, around 47% of the customers expect a site to load in approximately 2 seconds. And, 52% of the customers will remain loyal to you only if your website is fast and capable of enabling faster check-outs.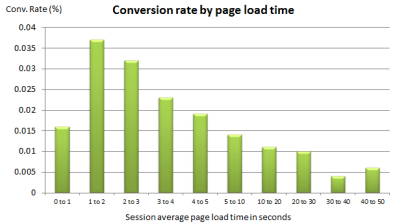 Credit: Tribes.no
The faster the website, the greater is the sales conversion ratio, and the minimum is the cart abandonment ratio.
9. Better SEM: Search Engine Marketing (SEM) techniques can be deployed for almost any website. But a customized and adapting website will be automatically pushed up by the search engine's Artificial Intelligence (A.I.). Most of the free website templates are having the same inherent code running along in the backspace. Thus, launching a website based on these templates can garner you impressions initially, but not in the long run.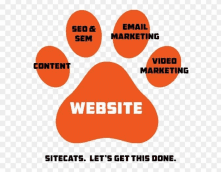 Credit: PingFind
10. CMS Integrations: Website building helps in deep integrations of the Content Management Systems (CMS) on your offerings. CMS acts as a database for all your current and future marketing strategies. These help in getting you the perfect stats relating to the customers and the sales being generated for ongoing sales campaigns.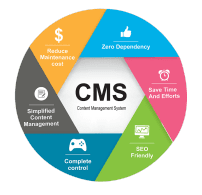 Credit: MeritZeal
These insights are very helpful for generating future sales via optimized customer-centric ad campaigns.
These were some of the reasons why a customized website design is far better than a ready-made one.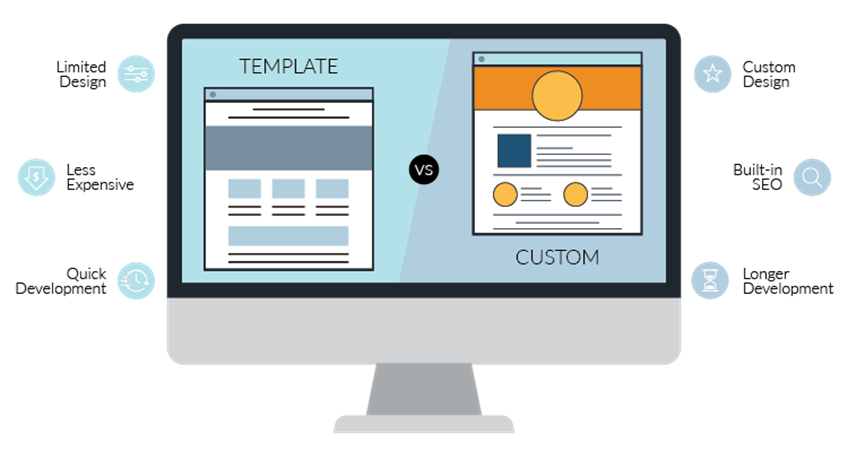 Credit: Prime Design Studios
However, you as a business owner will need to assess your company's finances and offerings before making a solid decision. Template-based website designs are advantageous in the following ways:
Affordable: These websites are very pocket-friendly and can be considered if your company is on a tight budget.
Easy Availability: There is a variety of options (templates) to choose from. You can use any of the templates as per your industry type, product offerings, and other factors.
No Need for Hiring Professionals: You do not have to pay a hefty amount for the designing of your website. Neither you need to be a nerd, in case of buying a template design.
Fewer Issues: Initially businesses are small and have limited offerings. A small and simple website can be your base for further acceleration. The simpler the website design the lesser the technical issues you will face.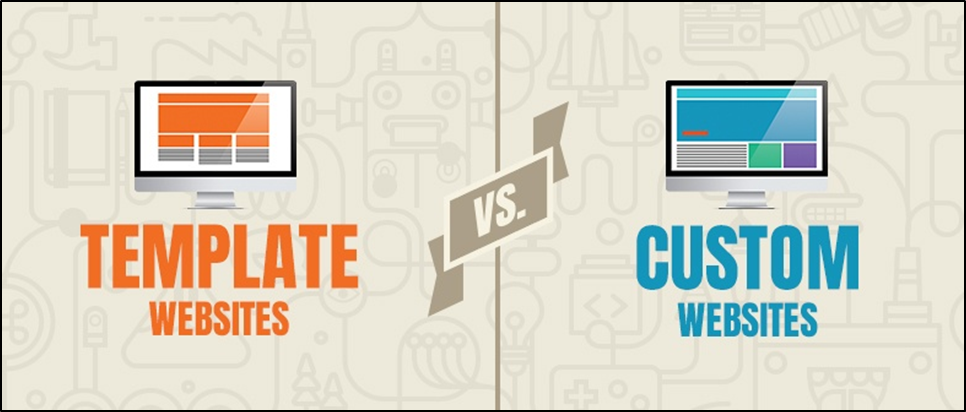 Credit: Mastertej
Template or Custom, the final choice is always going to be yours. You have to judge the pros and cons and choose accordingly.