The concept of white paper actually originated with the British political administration where it implies a legal piece of document or report explaining any specific political issue and providing a solution to it.
But this is an old-school definition. Since the mid-1990s, white papers have entered the world of marketing and is now considered as a powerful sales and marketing tool to grow a business.
Now you may think is this really true? Do white papers really affect your business sales? If yes, then how? Do I have a genuine proof to what I am saying right now?
Sit back and relax as now I am going to discuss with you some of the most important facts about white paper marketing and what are the compelling reasons to use it for your business too. (if you haven't incorporated it into your content marketing strategy yet)
But before we go deep into the discussion of the key benefits of using white papers in marketing, let me give you a short brief on what is the white paper and what are the industry standards of creating a white paper.
Wikipedia says "The term "white paper" has been applied to documents used as marketing or sales tools in business. These white papers are long-form content designed to promote the products or services from a specific company."
So, you see it is a very simple concept. Marketers use white papers to provide vital information about their products and services to the target audience. They are mostly distributed via email and are printable files (mostly in PDF format).
Now you may argue with me on this point, that website also serves the same purpose. It not only educates the visitors about your products & services but also plays an important role – Conversion. So what's the point of investing extra bucks on white papers?
But no you are wrong. Let me explain to you why!
Unlike websites, white papers are not meant for self-promotion of your business. Instead, it acts as an advanced guidebook to any kind of problems that is related to your business. They should have the capability to influence the readers, with information entirely based on established facts and verified evidence.
What I just explained to you might seem contradictory to the definition given by Wikipedia. The trick lies here only. You have to master the skill of presenting a white paper that serves the two purpose – Educates the readers & Generate leads by promoting your brand.
Industry Standards of a White Paper:
1. Length – A white paper is not generally less than 6 pages. (Sometimes it may be above 50 pages if the topic demands such detailed description)
2. Content Structure – Similar to that of an eBook. Contains title page, table contents. Introduction, problem, its root cause, solutions, evidence or proof that how the company has benefited from those solutions, and lastly a conclusion.
3. Data type – You can use statistics, data, illustrations, charts, tables, and references to establish your facts.
4. Density – Denser than eBooks. Readers generally require reading a white paper more than once to extract and absorb every piece of information out of it.
5. Format – PDF [portrait orientation (8.5″ X 11″)].
6. Style – It should have a professional and serious tone in its design layout as well as content.
Coming to the question of whether to use White Papers in content marketing or not, then the Answer is Yes, Of course. They hold a lot of benefits and this post gives you some genuine, fool proof reasons why you should also start publishing white papers right away.
1. A POWER-PACK TOOL FOR LEAD GENERATION
Well, the first thing you need to consider while creating white paper is whether they are worth the investment? Do you actually need white paper and is it okay spending hell of a lot of time in creating a one. Your point gets clear if you take a look at the statistics of the average conversion rate for white papers. According to research, 59% of total leads are produced by White Paper & eBooks.
Phew! That's quite an incredible percentage! Isn't it?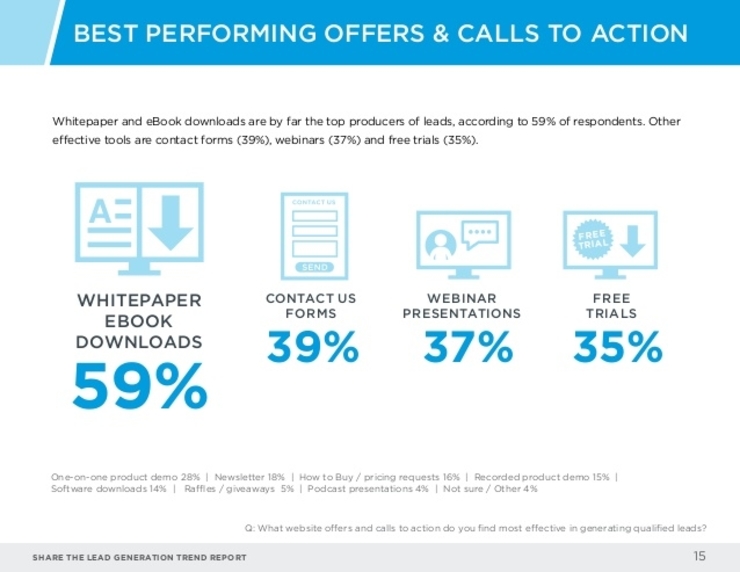 Among all types of content, white papers have influenced the purchasing decision of the customers in the last one year by 82%, followed by webinars (78%) and case studies (73%).
So, white paper is a clear winner here and hence you should immediately include white papers in your content marketing strategies if you haven't done it yet.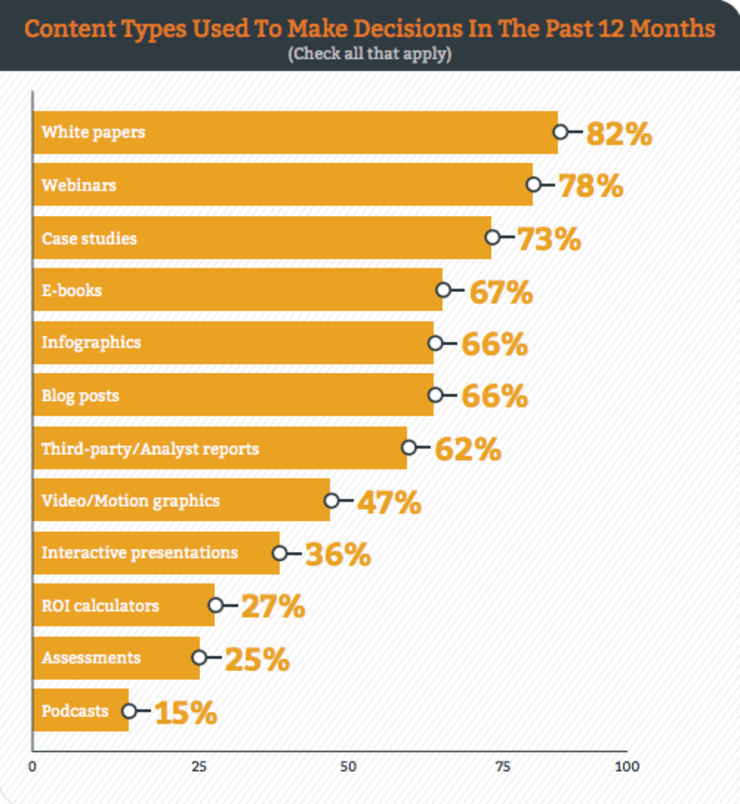 Mark Roberge, Former Chief Revenue Officer and an advisor at HubSpot and Mike Volpe, Chief Marketing officer at HubSpot did an interesting research by segmenting Marketing Qualified Lead(MQL) data by four types – Demonstration, Free Trial, Contact Sales and White Paper. They further subdivided the MQL to customer close rate and average revenue per customer. And the result was fantastic! See here:

But to get the above result, you must create such kind of white paper which has the capability to generate leads. You need to provide heavy educative content as well as insert some marketing material into it in order to have a high conversion rate. The blend of knowledge and persuasion in one single document makes it an ideal marketing tool.
But to achieve this you need more and more people to sign up and read your paper. So what are the crucial steps to get the desired leads? Let's take a look:
Craft a perfect "Subject" to compel viewers to read it. Just mentioning the particular topic you are going to discuss in the paper is not a great idea to craft a headline. Mention your goal, state your objectives and provide an ideal solution to it. If you are writing about any new product of your company, then first chalk out an outline of the cover page including the below points:
1. Address the difficulties and struggles people have if they do not use that product.
2. Provide comparative advantage of that product over its substitutes available in the market.
3. State the utility and benefits of the products in customer friendly language.
4. Provide a speedy solution by using a bit of promotional language in your content.
5. Provide an instant Call-to-Action button for fast conversion.
See the Navicure example below: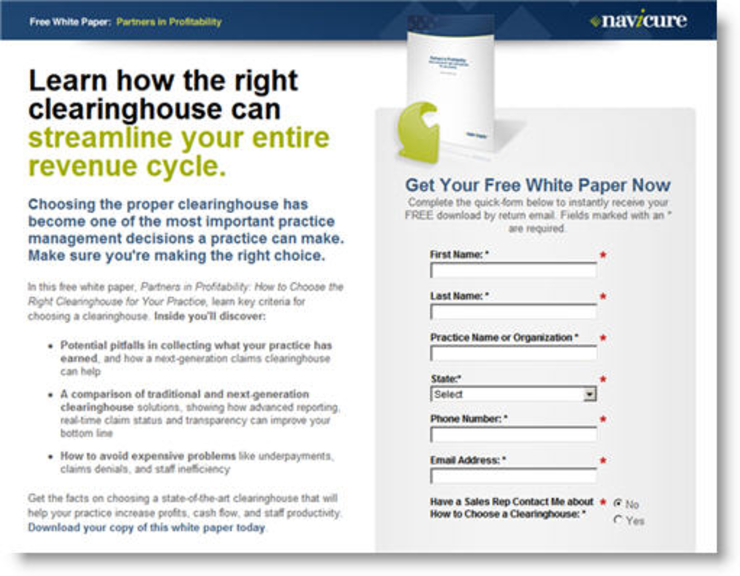 Other top best examples are Oracle Marketing Cloud, Pardot, Mediative etc. By going through a couple of good examples you can definitely get an idea of what to include in a cover page to make it extraordinary.
2. BUILDS A CONSCIOUS BRAND IMAGE BY SHOWCASING YOUR EXPERTISE
Though basically generating leads is the most important role of white paper, you cannot ignore the branding part completely. Yes! The White paper does help a lot in building a consistent brand image by spreading your expertise in the market. This is the reason why marketing experts always stress on writing educative and informative content in white papers instead of focusing only on promotion. They have clearly understood how white paper can establish your company as a leader in your industry and therefore always recommend to provide guideline-based valuable content to the targeted customers.
We all love to work with experts. Right? Imagine if your white paper topic becomes viral then who are going to reap the ultimate benefits? It's you only! Even your competitors will look up-to your paper to seek ideas and suggestions. The short description of your company that you have provided in the last section of your paper will give your brand the ultimate exposure. This section will impart knowledge to the world about your company, your services and help you to display company credentials in your industry.
Given below is the proof how white papers can give your brand a lot of publicity and attention and help you establish as a "Boss" in the market. Everyone, starting from large enterprises to small businesses rely on white papers mostly for their product purchase.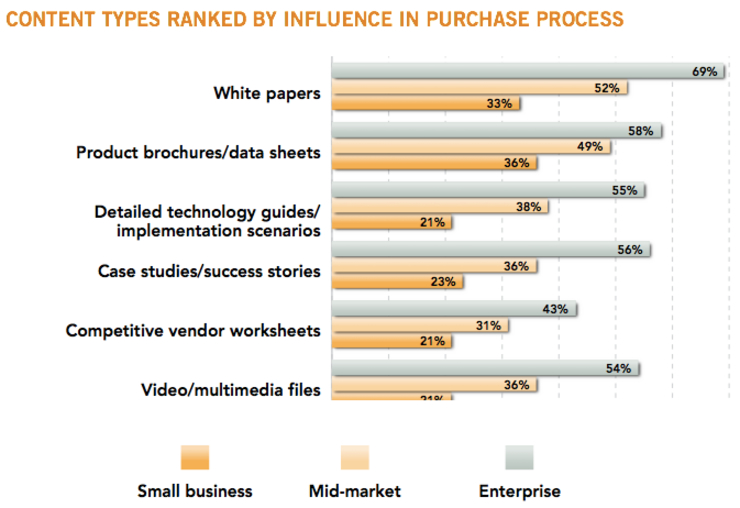 3. BOOSTS YOUR SOCIAL MEDIA MARKETING – MORE FOLLOWERS & MORE LIKES!
Yes! You heard that right. A challenging and influential topic grabs all the necessary attention of the readers, especially your target audience, which in turn shoots up your popularity in all your social media accounts. It is always recommended to share your white paper on every platform as soon as you publish it on your website.
Don't forget to add the social share buttons to your white paper. This will not only encourage the readers to share the paper instantly on their platforms but will also give your white paper the desired social proof. You can learn here how to add social share buttons to your documents.
Research by BrightEdge Technologies has revealed that websites that have social share buttons get 7 times more shares than websites with no buttons.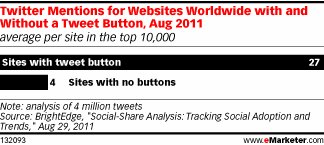 According to Human Psychology, when a viewer sees too many shares on a particular white paper, then automatically it excites him to download and read to find what is so extraordinary in the paper.

Adding "Download" tab on your Facebook Timeline will not only help you earn a lot of genuine likes for your page but the number of downloads for your paper will increase manifold. See how Pam Moore, a marketing specialist, is utilizing the Download Tab of her Facebook page efficiently for her white paper promotion.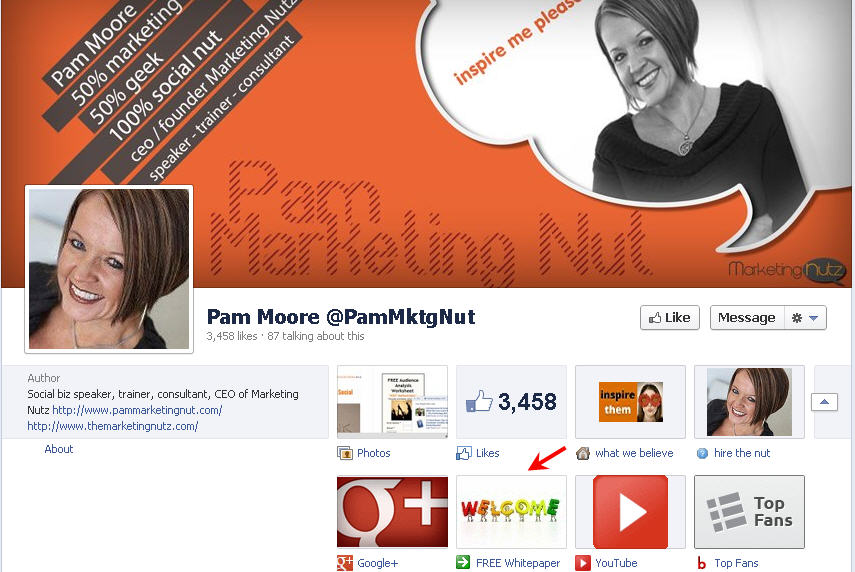 Apart from Facebook and Twitter, you can use the LinkedIn platform extensively to engage your target audience. As we all know LinkedIn has an option of posting question and answers, its time you too utilize this feature in the best possible manner to promote your white paper.
Let us see how to create groups and start discussions about your paper on LinkedIn!

This feature of LinkedIn also allows you to add the link to your landing page which is a very smart way to drag LinkedIn users to your website directly.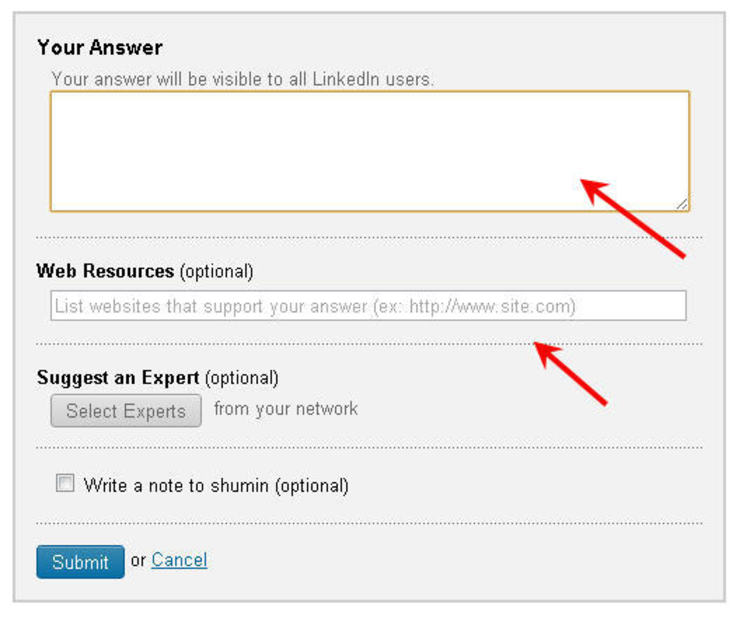 4. A SMART WAY TO EXPAND YOUR EMAIL SUBSCRIBERS LIST
We all know that persuading people to sign up to your newsletter is quite a daunting task. It is difficult to make them understand why they need to sign up just to get regular updates. But offering your white paper as a free gift to all those who subscribe is a clever trick to grow your subscriber's list.
To make sure that more and more people will add to your mailing list, you need to make the topic of your white paper intriguing and the content must appeal to the interests of your potential subscribers.
Point to Remember: Picking a unique topic and writing high-quality content will ensure that your white paper is sure-shot downloaded by the recipient.
Margaret Herndon, TruLogica's Field Marketing Director has wisely used their white paper to engage all the potential clients she met at a trade show and ensured high conversion. And it worked wonders! Read the case study below.
A case study – TruLogica Inc.
Challenge: Getting 100% of hot prospects to download a Whitepaper sent in a trade show follow up email
Email sample sent to the prospects by the sales team is below: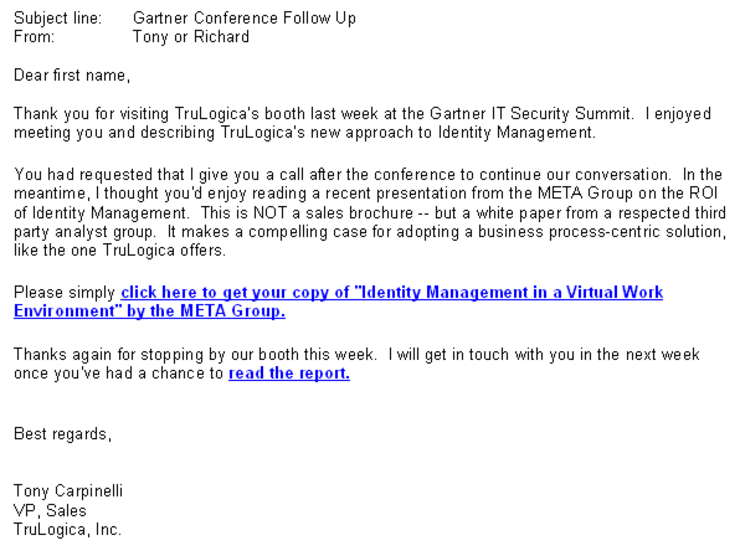 Campaign: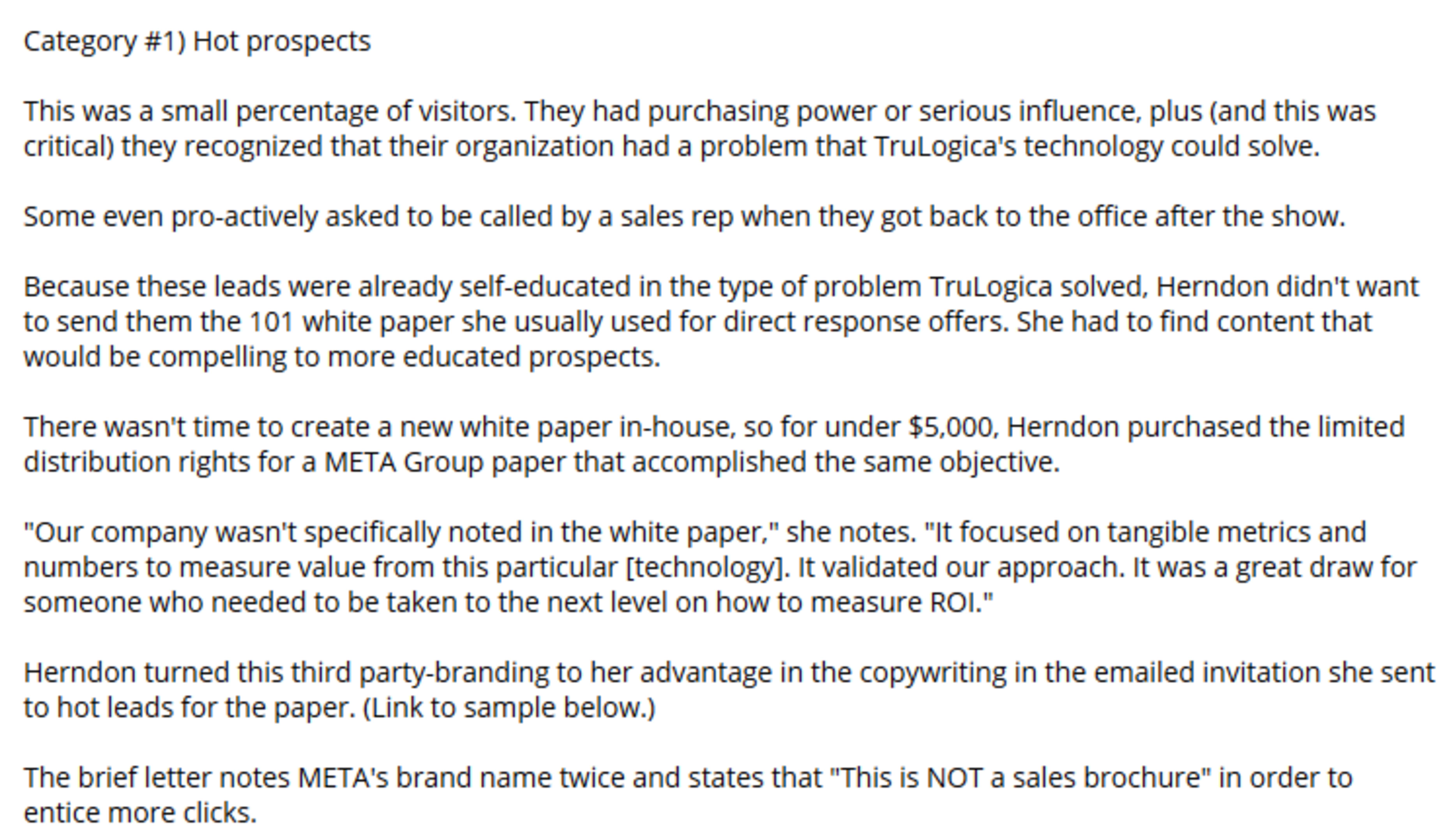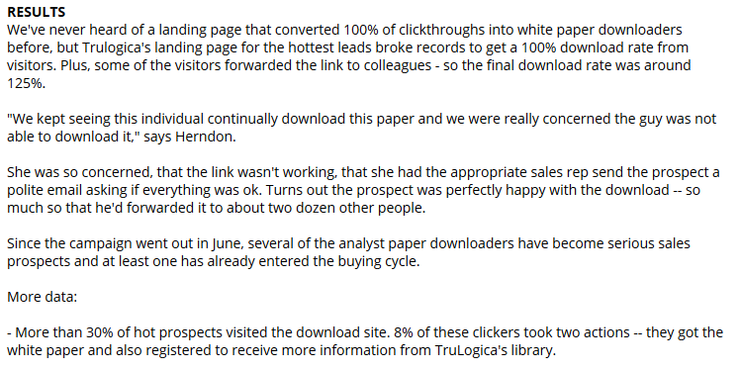 5. BUILDS A STRONG AND EVER-LASTING CONNECTION WITH YOUR CUSTOMERS
Addressing the difficulties and needs of the customers arising from your industry products and simultaneously providing some quick and handy solutions to those problems is a great way to earn the trust of the customers at one go. Writing trustworthy content backed by enough authenticated data and statistics is necessary to win their trust. Further, encouraging discussions on all the social media platforms will make the audience happy and they feel valued.
Gradually if a customer finds that from your content he/she is gaining insightful knowledge every other day, he/she prefers to stick to your website and social media pages for the next worthy content. On the other hand, every individual is a wonderful innovator and therefore continuous engagement of such individuals will be a boon for your company too.
A Case Study :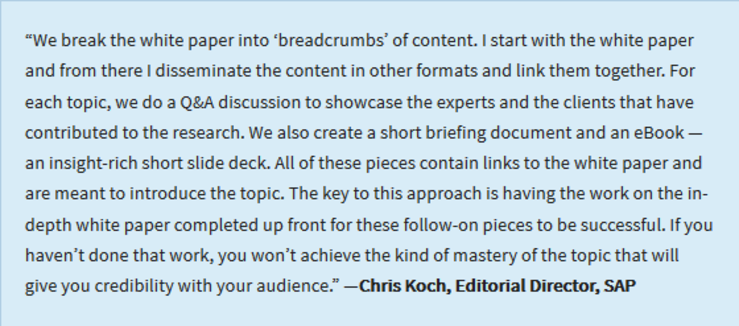 Now that we have discussed the key benefits of including White papers in your content marketing strategy, let us see some best white papers released by top companies from various industries. See how they managed to convince the visitors to download their papers with their powerful landing pages.
1. Oracle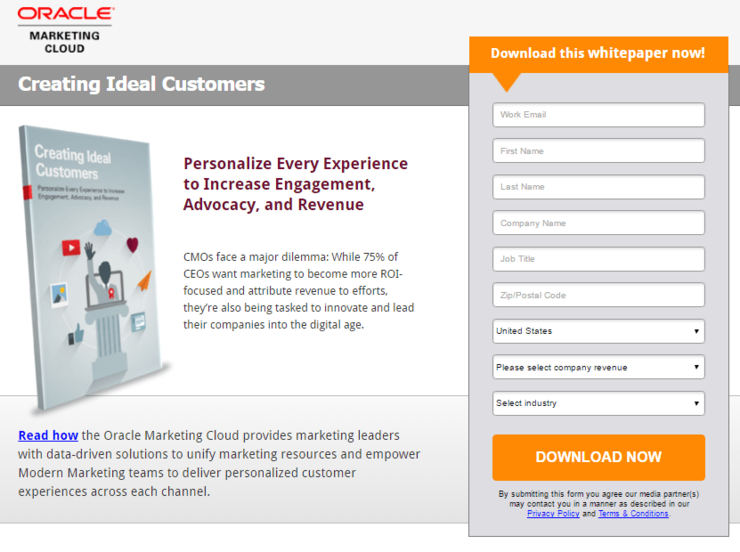 2. Tableau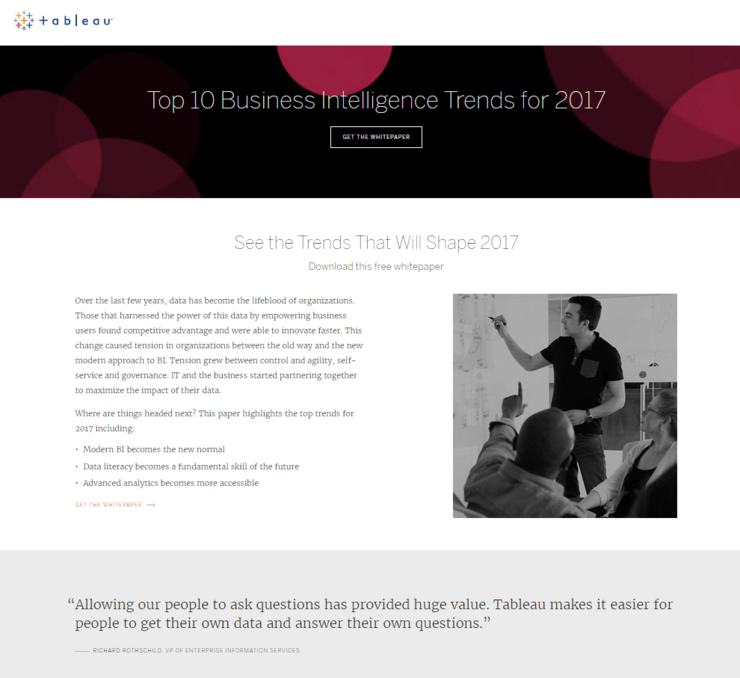 3. Motorola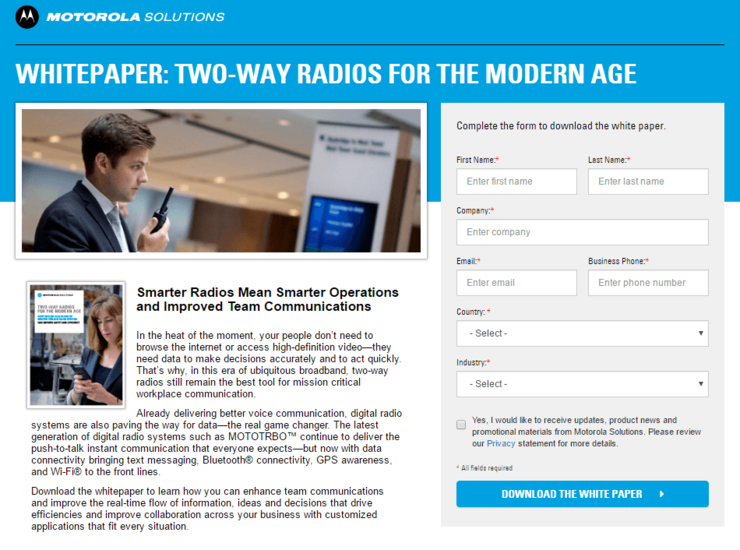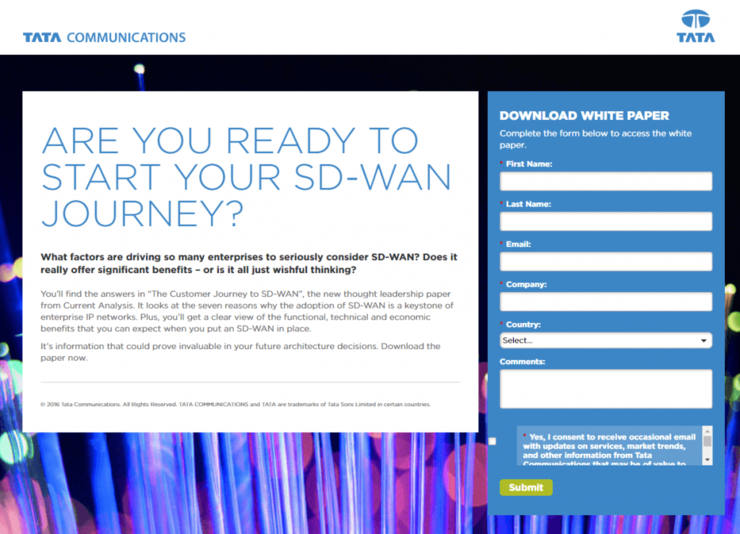 5. NetSuite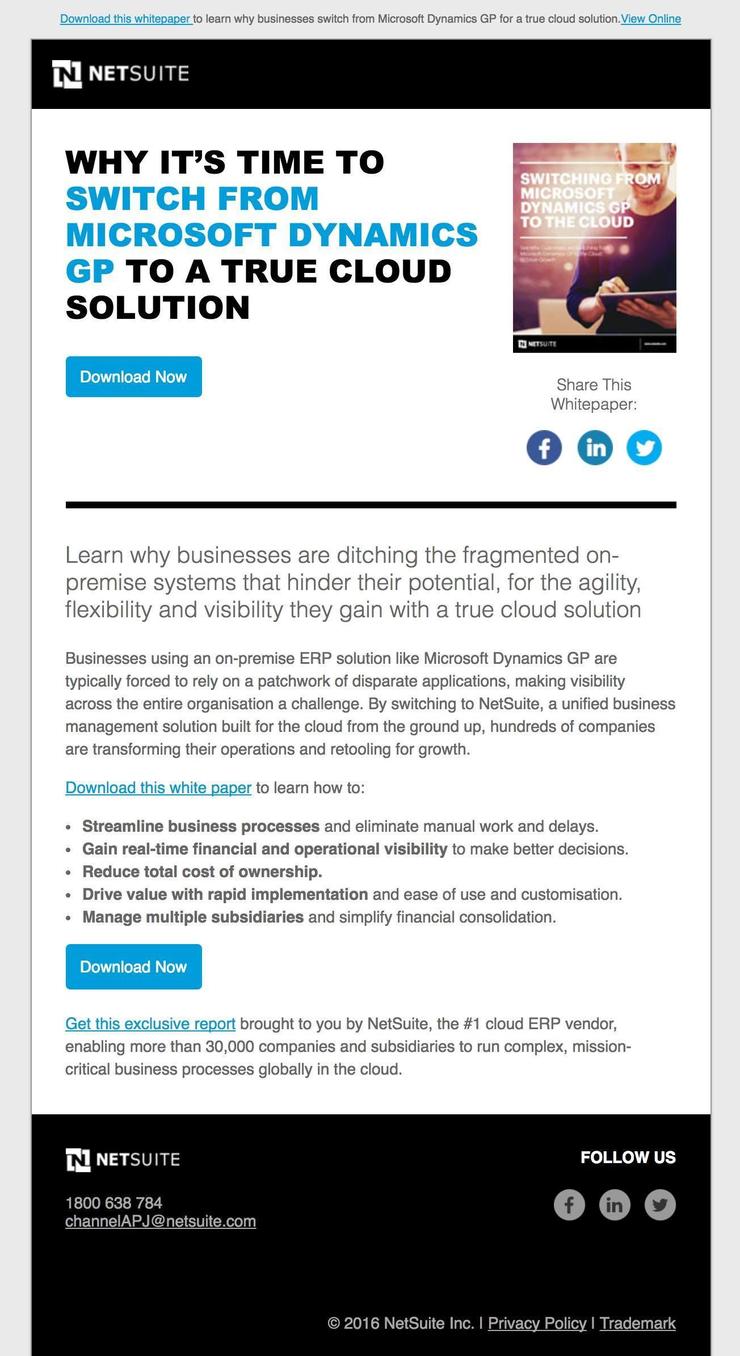 FINAL THOUGHTS
"A good white paper will respect the following points: Discuss a relevant topic for the targeted reader • Include unbiased and objective reasoning • Contain adequate technical details and illustrations • Quote credible and verified references." – DecisionNewsMedia
Thus, by now hope it is very much clear to you that white papers have a great impact on business marketing and branding. If you are still in a dilemma and thinks that writing, designing and promoting a white paper is a complete waste of energy, money, and resource, and you have brochures, website, social media to do the job of marketing efficiently then you are absolutely wrong.
In this 21st century, where most of the consumers make their economic decisions online, seek for content that consistently offers them tips, guidelines, tools and ideas to cope with their day to day lifestyle. In such a situation, solving their common problems and helping them to explore new products and pick the best for their needs through your spellbinding white paper is like hitting a bull's eye on your first shot.