LinkedIn is the most professional of the major social networking websites and used by over 450 million business professionals worldwide.
Since it is largely focused on business connections, LinkedIn should be a big part of your social media marketing strategy, don't you think?
More so since a whopping 92% of all marketers prefer LinkedIn over all other social media platforms!
Now that's inspiring, isn't it?
LinkedIn not only gives you access to your potential employers but also your most precious clients!
Millions of professionals use LinkedIn every day to grow their networks and their careers. Did you know that about 40% of users operate LinkedIn every day?
But the best part is you can use LinkedIn to grow your business too!
From making connections to generating leads, establishing partnerships and creating better brand awareness, LinkedIn makes an invaluable addition to your digital marketing strategy. Statistics say that 2 new members join LinkedIn every second, so why not you?
Want to reach a large group of untapped clients for your business? Want to grow your limited operations through networking with fellow industry suppliers? Want a larger audience to care about what you're saying? Well, make LinkedIn your best friend and learn how to use it effectively!
To help you navigate LinkedIn as a marketing platform, here is a comprehensive list of LinkedIn marketing hacks you can use to find new customers, create new contacts and ultimately grow your business.
1. Complete your personal profile
Starting with the basics, your profile is one of the foundations of your business page and people often check your resume to determine the credibility of your business. When others do a search for your name to learn about your product, service, company, or previous work experience, you'd better have a rock solid profile or that first impression could drastically tarnish your value.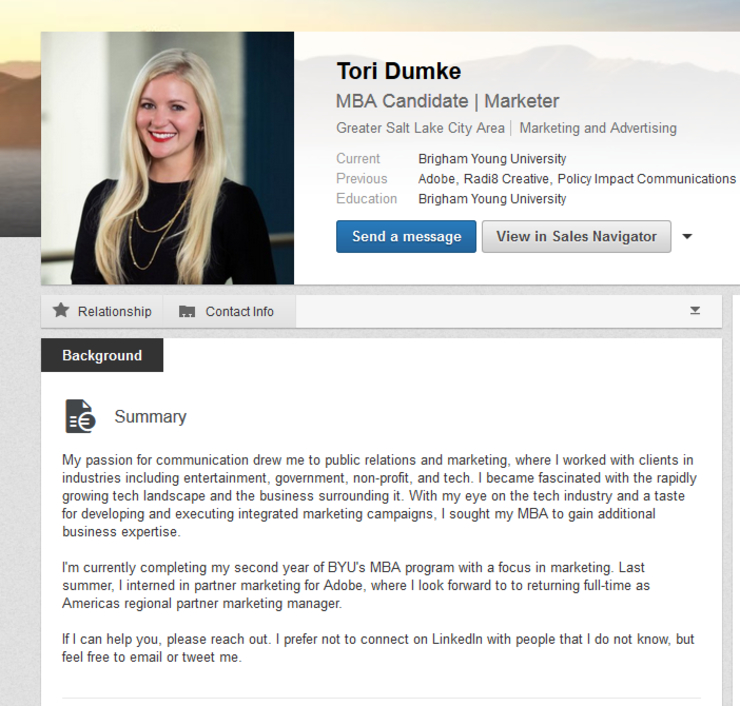 Complete your profile and fill in as much credible information about yourself as you can but keep it direct and relevant. Make sure to show how you as a person are central to your business and how you qualify for the same.
For example, think of innovative ideas to capture attention towards your "Bio" area. Be funny, be outrageous but also add value at the same time.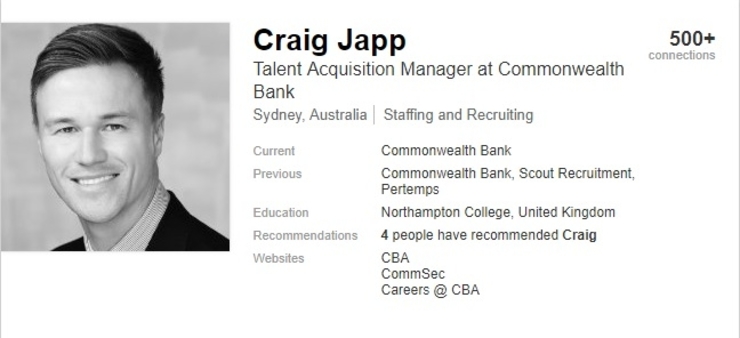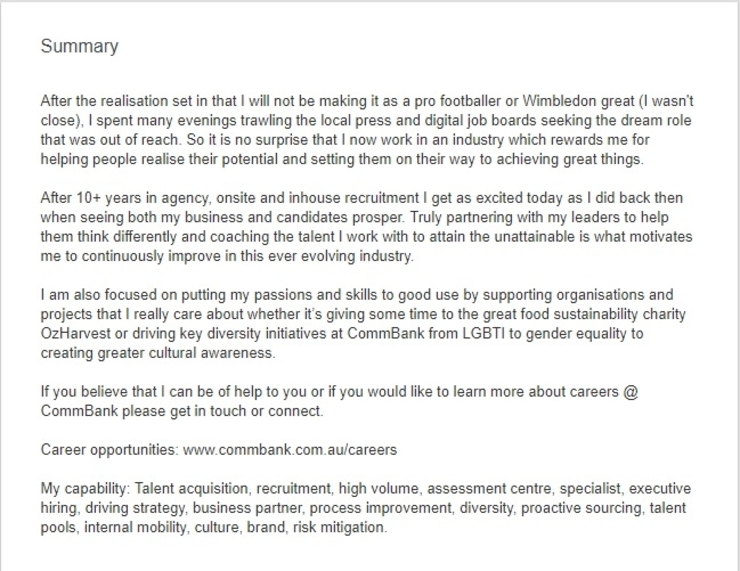 Look at the bio in the picture above and one can see why it's so good. Not only is it full of important details and achievements, it's humorous and fun!
Don't forget to upload a picture of yourself as studies show that LinkedIn profiles with photos get 21 times more profile views and 36 times more messages. Make your picture professional and appropriate as it directly affects your chances of getting hired.
In fact, LinkedIn profiles with professional head-shots get 14 times more profile views. So go ahead and add that picture of you in a suit against a white background.

In fact, if you are wondering how to take that perfect headshot for your LinkedIn profile, this Inc.com article will tell you how exactly to do it.
Keep updating your profile and stay as interesting as you can. Upload as many documents as you can but keep it relevant. Apart from work credentials, add a few that may pertain to a unique hobby.
As per statistics, your profile can expect a 13x surge in views if you add skills to your LinkedIn profile.
For e.g.: Adding your Karate black belt certification may not help with your sales job directly but it sure adds colour to your profile. The more interesting you seem the more people want you. That's the bottom line.
2. Status updates
These are brief statements that you feel your connections will find useful. In addition, they can include links to related content on your website or third-party websites. To appear active in the LinkedIn community, post useful and actionable status updates on a regular basis that are useful to your audience and informative about your business.
For example, your status could promote your new product OR tell people what you think about a new product in your industry. This makes you look like less of an annoying salesperson and makes the reader stop and read what you have to say. Throw in your personal views now and then but do not act unethically.
For example, HubSpot creates a lot of value for its connections by sharing this insightful status update.

3. Posts on LinkedIn
Posts allow you to easily publish articles or posts to your profile. This is a great way to establish yourself as a leader and enhance exposure to your LinkedIn community. Posts are much like statuses but like when you use Facebook, a post in comparison to your status has more information and is directed towards a particular audience. According to statistics, 94% of marketers use LinkedIn to share content.
According to stats in 2017, 1 million professionals have published a post on LinkedIn. Posts are normally used for promotion and to do this effectively, use engaging words, showcase your pitch in a well-designed manner by adding good pictures or throwing in big names you might be working with and making sure you know your target audience. You can also post about something not directly related to your business to add more eyes to your content but avoid doing this too often in danger of seeming too generic.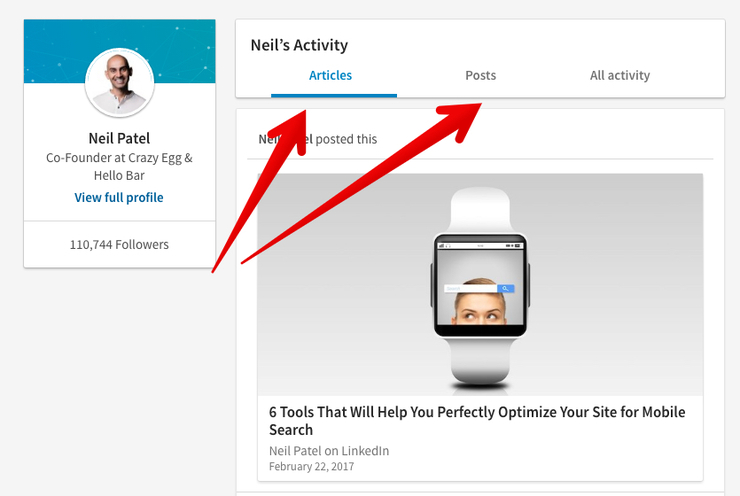 4. Recommendations and Endorsements
Do this on LinkedIn and gain an excellent way to showcase your skills without directly blowing your horn about them. A collection of glowing recommendations that underscore your expertise will significantly enhance your profile.

In 2016, LinkedIn endorsements crossed a total of 10 billion worldwide. In fact, it's quite popular among job seekers and employers look for this when they pick candidates. On the other hand, endorsing others can not only build relationships but also generate more endorsements and personal connections with others. So don't hesitate, go on and help out a friend!
5. Successful projects
They highlight your efficiency and are an ongoing report of your endeavours. To keep clients marvelling at your profile, post your projects including a description, link and the team members you worked with.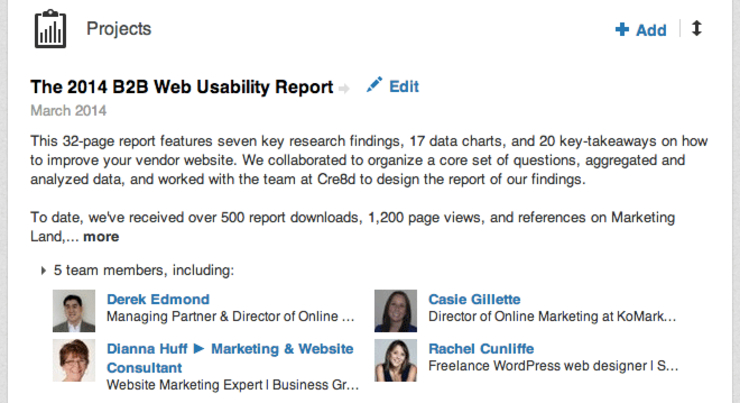 6. Publications
Are you a published writer? An e-book specialist? Have a closet flair for the written word? Use it to promote your business! Statistics in 2016 showed a marked increase of 23% in customer retaliation when approached by a published individual.
This is another way of highlighting your literary, marketing or business material in order to make them look more legitimate. If you wrote and published traditional books or e-books, you can highlight these publications with active links so connections can view and purchase them.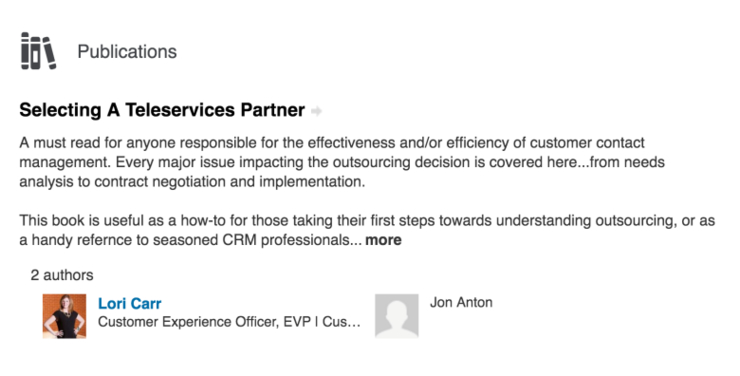 7. LinkedIn Groups
LinkedIn Groups help you stay informed and keep in touch with people that share your interests. You can create your own LinkedIn groups or join any number of groups that focus on your area of interest or expertise.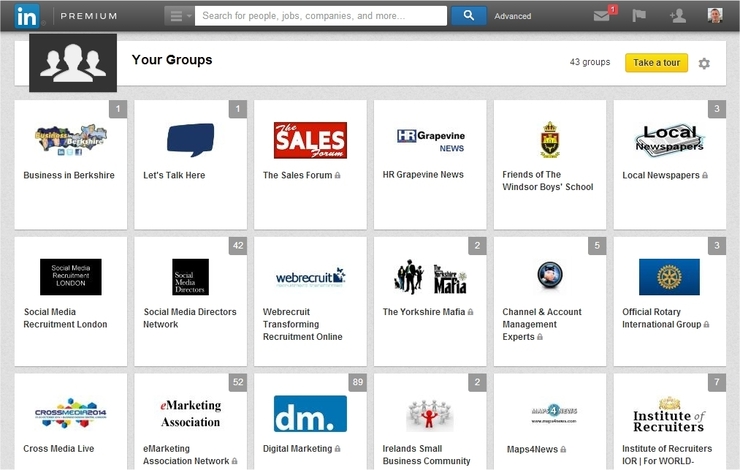 I know of a writer friend of mine who not only generated his income through networking in groups but also created one to create a community of freelancers who passed on their recommendations to him. This is a two-way street and just like life, groups on LinkedIn tell us that we're never alone!
8. Company Pages
This is a powerful research tool that you can use to find companies to do business with or research competitors. In addition, you can create a Page for your company to showcase your expertise. You can publish your company's description, headquarters address and website address. To further your company page's value, you can post targeted jobs, recruitment videos, information about products and services and company images.
Company pages are becoming increasingly popular day by day and if you're into statistics, know that the use of LinkedIn company pages grew from 24% to 57% YOY. The same rules apply for such pages as for personal profiles and there's no other way to tell the world about your company and its objectives better than a beautifully laid out LinkedIn company profile.
9. Find highly targeted customers and connections
One of the best features about LinkedIn is its command over the professional online world. According to research studies in 2016, 200 countries and territories were under LinkedIn's search menus and this tells us enough about the area covered by this potential marketing portal. In 2017, it was found that 79% of marketers find LinkedIn as an effective source for generating leads.
The targeting on LinkedIn is unparalleled in the realm of digital advertising. Small businesses can zero in on the exact industry, company size and job role that they know typically would buy their product or service.
By using efficient filters and screening process, it is possible to reach your exact customers simply by focusing your search according to your client preferences.
For example, if you're looking for oatmeal biscuit suppliers in Atlanta, your target search tool can connect you to the required individuals through its resources. So you wanted to sell to a remote location that cannot be reached through your current contacts, the world just got smaller through LinkedIn!
10. Grow your email marketing list through direct messaging and Inmail
InMail is a premium feature, which allows you to send messages to people you don't know. Even if you have a free account, you can send InMail messages to people who allow anyone to connect with them.
LinkedIn lets you message 50 people at a time when marketing directly to clients via messaging. Include in your email a direct link to the email signup.
It is imperative that you have reciprocity in the message: Firstly tell them what they will receive by signing up for the email list, and secondly offer to look at something of theirs, which is a fairly non-committal method to garner goodwill. Using the direct messaging outlet can add a surprising amount of people to your email list. In order to not seem like spam, personalize your email and make sure you send to people you know have shown interest in your industry.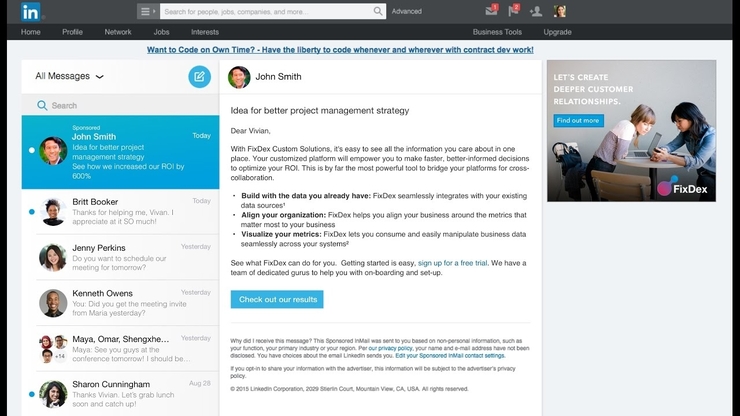 11. Become a Recognized Expert
By actively participating in LinkedIn group discussions and publishing thoughtful posts on a regular basis, you have an opportunity to establish yourself as an expert and thought leader.
When you carry this credential every time you advertise on LinkedIn anywhere, it'll hold immense importance and will ensure that clients give you a second look.
12. Use Sponsored Updates
With Sponsored Updates, businesses pay to push their post onto an individual's LinkedIn feed. This "pay-per-click" or "pay-per-1,000" impression feature offers demographics similar to other social platforms (location, gender and age), but one key differentiation is the ability to customize based on company name, job title, job function, skills, schools and groups.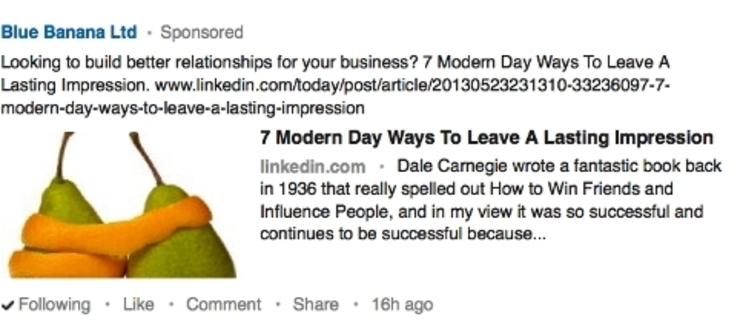 People don't want to see pure advertising anymore and want something useful for free. By promoting a firm's through a LinkedIn Sponsored Update, a firm can target a niche audience, increase website visitors and, if the content is compelling enough, it can lead to sales generation.
This step takes your online marketing to a new level and to make sure you're using this tool to your best, sponsor in such a way so that you're attractive not only to your targeted individual but also to a general audience. This is because you never who'll read your ad and effectively respond.
13. Connect or link with Twitter/Facebook
Sometimes you can get more comments and interaction on LinkedIn from the same update that is published on Twitter.  The updates (even when synced from Twitter) seem to "stay on top" longer than they would in your Twitter stream.
The more interaction you get, the more others see it as well (it's similar to Facebook in this regard). Linking accounts can also be an easy way for your clients to stream over your profile and choose their preferred outlet of social media communications. So link them and stay updated.
14. Add Advanced Applications
LinkedIn has rolled out a number of applications to help you promote your business or your personal work better. It doesn't matter what industry you are in, there is an application for everyone that can help you get your message across better, and improve the overall experience of your LinkedIn profile.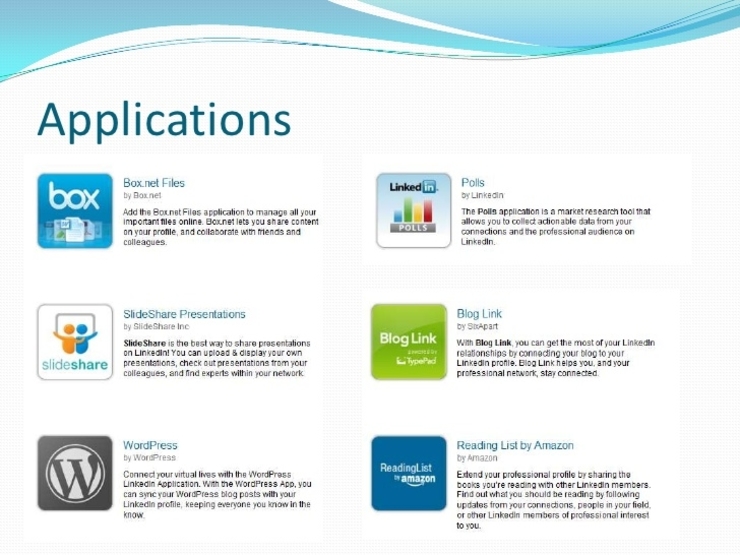 Be it Twitter, Word press, Calendars, Amazon etc, there are options for hundreds of choices as per your convenience. Go to the applications section on your profile to see which ones you could start using today, and make the most out of the new ones that come out in the future.
15. Optimize Your Company Page for LinkedIn Search
We've all recognized the importance of SEO in today's online world and not only do we have to adhere to its rules to stay relevant but also add value through our content. Whether your audience is searching on LinkedIn or off, a well-optimized Company Page can help you gain visibility among the people searching for what your company offers. For your Company Page is designed to be SEO friendly, here are three ways you can optimize it for search:
Insert keywords. Be sure to incorporate keywords into the company profile information, clearly representing who you are and what you do. For example, if you're a piano player and when someone searches for "music graduate", "piano" and "Julliard Academy", your profile shines through and is the first one on the search page.
Creating links to your Company Page is essential for boosting your ranking in search. An easy win here is to link to your Company Page from your website, blog, and other marketing materials. Add in this link in areas that are related to your field or work for this to work.
Share relevant content as it is one of the best ways to improve your rankings and search results. When you publish updates from your Company Page they also appear on your public page, allowing your content to be indexed by Google. The more frequently you share content your followers engage with, the higher your Company Page will appear in search results.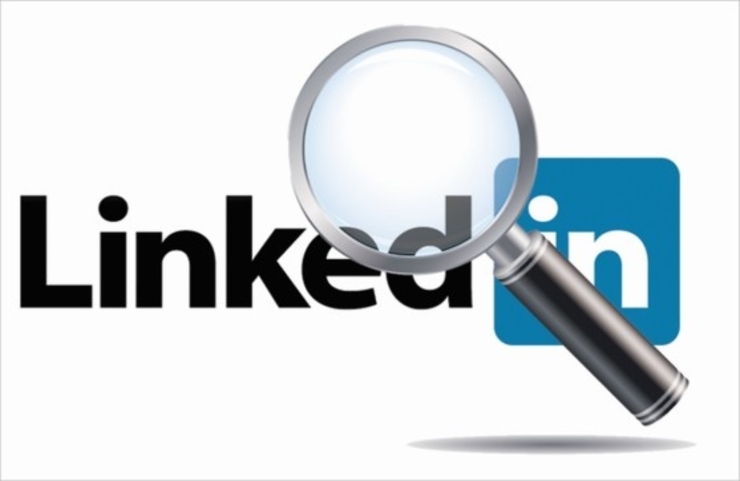 16. Add Company Page Followers
What's the direct way to tell people about your business? Get them to follow you! When people follow your Company Page, your updates appear directly in their LinkedIn feed. The more Company Page followers you have, the higher the reach potential of each update you publish. Here are a few tips for adding followers:
Start with employees who are your biggest advocates, and are also the most likely to share your content with their networks.
Promote your Company Page outside the company by inviting customers and other key partners to become followers. Promote your Company Page in emails, newsletters, and blog posts, encouraging readers to become followers.
Add a "Follow" button to your website as this allows your website visitors to follow your LinkedIn Company Page with a single click.
17. Request an Introduction
An introduction lets you contact members who are in your 2nd or 3rd-degree networks through a connection you have in common.  Introductions are free to all users.
18. Follow Other Company Pages
No business flourishes on its own. In order to gain more audience, you've got to help others to do the same. Following your partners, customers, and prospects' company pages and engaging with them by commenting, liking, and sharing their updates is a great way to get your company on your prospects' radar.
This not only helps to keep up with industry happenings but also helps us re-evaluate our own strategies to fit the current demand. It's never about "me", it's always about "us."
19. LinkedIn Ads
LinkedIn Self-Service Advertising provides an effective way to raise awareness about your company, share useful and relevant information, build relationships, and drive quality leads. You pay by clicks and focus on reaching people with specific job titles, functions, seniority level, or companies within a certain industry and company size.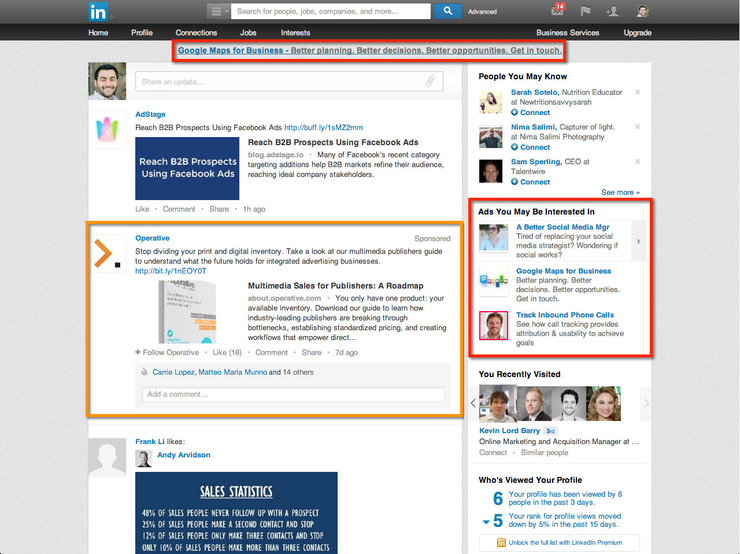 Similar to setting up your Company Page, it's also important to define the goal of your ad campaign, whether it's raising awareness, building relationships, or driving leads.
Apart from being a fairly simple and direct way of marketing, it's also the most popular among companies that are really serious about growing through LinkedIn. Make the most of this feature and get the online community to know who you are!
20. Give a face to your employees
Get as many of your employees as possible to create and complete their profiles on LinkedIn. These should include appropriate photos, relevant job history that includes a description of how they help your business, and professional connections. The more people you have representing you, the larger network you can build.
21. Make your Company page matter
It's also important to have an updated and consistent presence for your brand with its own Company profile page. Imagery, colours and content on this page should be consistent with your website and any other social media profiles the business has.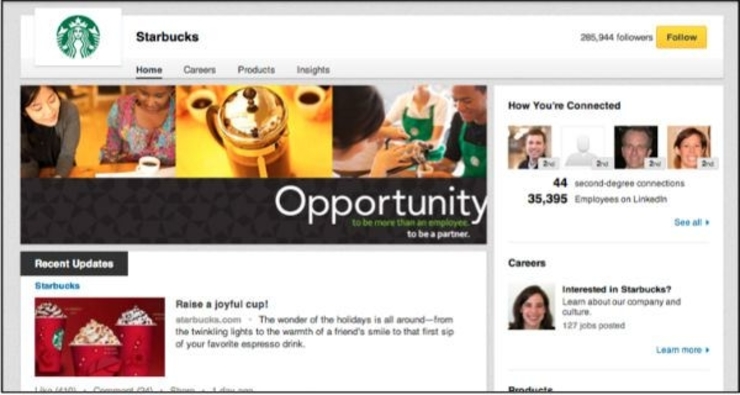 The page should be updated regularly, so the brand is active and appears to be a current business. During the holiday season, send out creatives that wish the clients and don't forget to congratulate them on their achievements and LinkedIn anniversaries! It's not without reason that 92% of B2B marketers leverage LinkedIn over all other social platforms
22. Avoid hard selling
Treat LinkedIn as any other form of marketing that you do, and get clued up on the latest trends. People don't want to be interrupted, so try your best to be "discovered" on LinkedIn. Read up on Content Marketing and Inbound Marketing, and apply these strategies to this network. For example, don't sell to people who have no interest in your product. Don't seem too pushy or eager as there is a fine line between smart marketing and spam.
There are ways of displaying your company name to others and if done strategically through links and recommendations, you can drive the right audience to your company page. Get other industry professionals to add your link to their posts and do the same for them. This will lead the right buyers to the appropriate sellers and create an effective network.
23. Create SlideShare Presentations
Used by 70 million professionals, Slideshare is the world's largest presentation sharing site, and guess what, it's owned by LinkedIn! Presentations are an excellent content marketing tool, allowing you to share insights and knowledge quickly and effectively.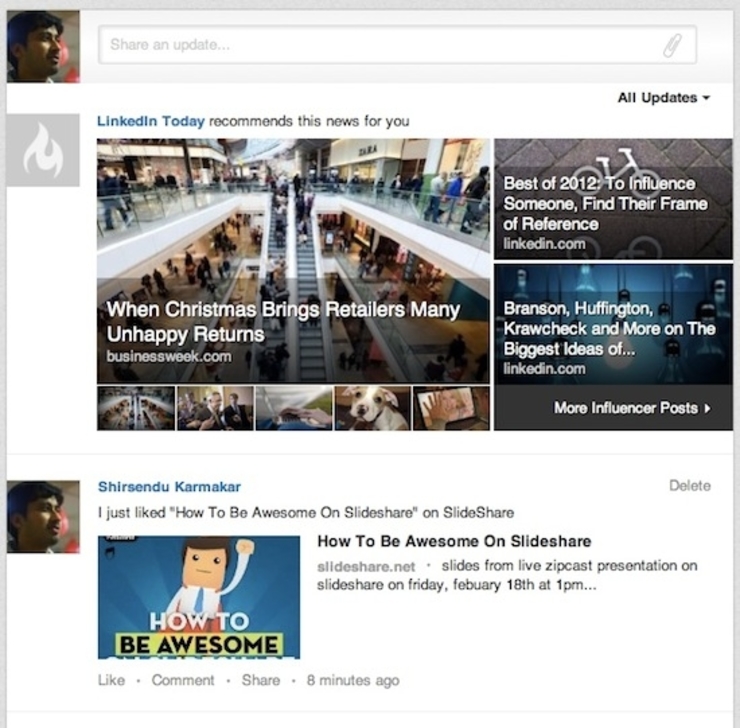 When you create them on Slideshare and link it to your LinkedIn account, it takes a single click to publish your presentations to LinkedIn and get a wider audience for them.
How will this help you ask? The purpose of marketing is to present in such a way that the key advantages of a product are clearly seen and chosen by the consumers. Creating a presentation is not only visually pleasing but also a treat for a calculative mind. When presented well and backed by logical figures, a presentation can do wonders for your online strategy.
24. Check Analytics
If you're going to improve your marketing, you need to know what's working. LinkedIn makes data available for profiles, company pages and, of course, advertising. On your profile, you can see who's viewed your updates, how many people have viewed them and how you rank for profile views.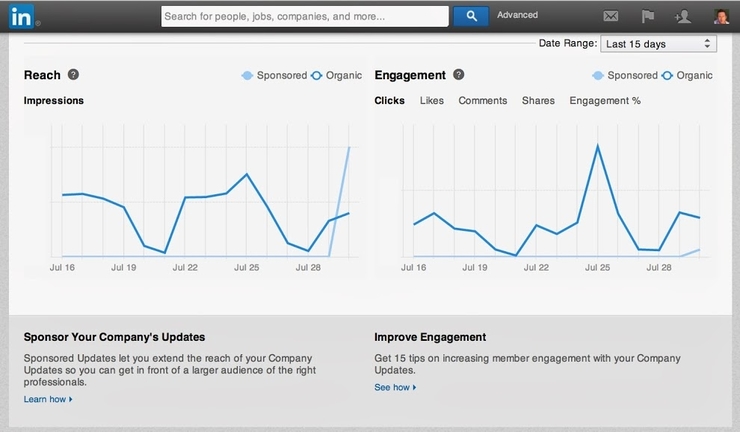 For your page, you can track engagement, reach, and data about followers and visitors. You also get stats on the performance of sponsored updates, which can help you with future content targeting.
25. Upgrade to a paid LinkedIn membership
Before I begin to tell you about LinkedIn Premium, let me share some numbers with you. As of March 2016, 79 % of LinkedIn members were using the free basic account.
This is a clear indication of the untapped paid features of LinkedIn that are at your disposal! Logically, if most people aren't doing it, you'll undoubtedly have the upper hand when you try to sell your products online. Believe me, if most people were using this tool, it wouldn't mean a damn thing.
Have you seen LinkedIn Premium ads but are sceptical to use them? Statistics in 2016 show 200% increase in the use of Premium members when compared to 2010. This tool will give you additional contact options and other benefits that may be a good fit for what you're trying to accomplish.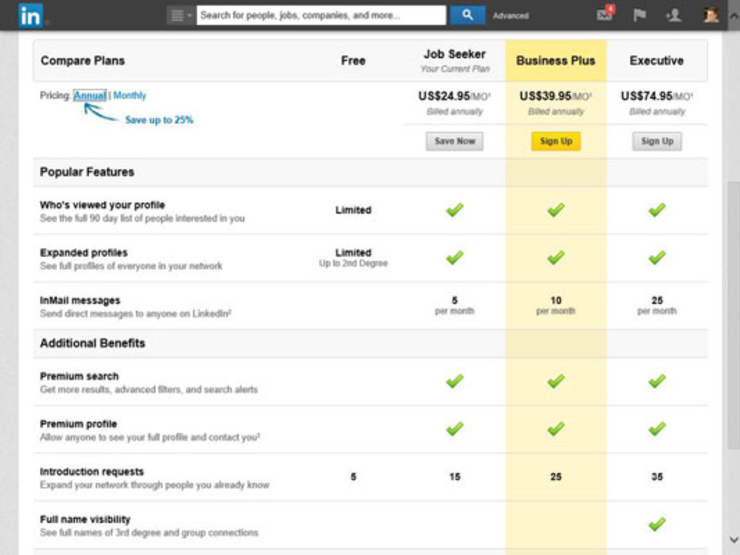 LinkedIn offers "Career," "Business," Sales," and "Hiring" upgrade options. Often, LinkedIn offers a free trial so you can test out the additional features from a paid membership before committing to it.
The advantages are endless and the cost, justifiable. Top marketing giants not only use this tool, but know how to get quite ahead of their competition by building their network and gaining followers.
26. Save Searches
When you go through the work of creating a highly specific and targeted search, you'll want to save it. Saved searches create a way to stay active in your prospecting. You know that getting B2B leads isn't a one and done activity. You have to maintain consistency in order to have a steady pipeline of sales.
Directly from your advanced search, look for the "Save search" option in the upper right corner. When you create a saved search, not only do you get to find that exact search again, but you can also set up alerts. Keep in mind that without an upgraded subscription, you can only save three searches.
So, you have a LinkedIn page and have created one for your company as well. What now?
To cut the long story short, let's bring out the big guns – numbers!
467 million – Total number of LinkedIn users
106 million – Total number of monthly active LinkedIn users
What does this tell us?
This mainly points to the fact that although the number of people on LinkedIn might seem overwhelming, only a fourth of those people are actually putting in a real effort to use it as a marketing tool. This is still an untapped field which is a gold mine for online marketers.
Keep in mind the strategies described again, mark your targeted audience and use the tools described above to reach out to those clients. With these effective modes of marketing, you'll see a gradual increase in your followers and as you spend more time to gain an online presence, you'll find your client base and your sales grow incrementally.
Adding LinkedIn to your marketing strategy can help you expand your network, find clients/customers, and create a professional image for you and your business. Even if you don't think LinkedIn can work for your business, it's worth a tour to check out how others in your field are maximizing what LinkedIn has to offer.
As a networking resource, LinkedIn can give you connections that can lead to publicity, more work, and other great business growing advantages. LinkedIn is a great all-round marketing tool. How are you using it?