This would have never crossed your mind that a thing that began on Twitter and gradually made its way through Instagram will someday rule the social media. Now that we come to think of it, a hashtag has the power to really make or break a certain project.
The social media is buzzing with hashtags with millions pouring in as you read. By the time you have finished reading this, thousands of new hashtags would have been introduced to the world already. Think about that for a while and realize how fast paced this world has become.
A hashtag is essentially a tag or an address that is attached to a certain social media post which makes the post easier to find for users. It increases the post reach by at least 20-30% and helps in better engagement of the post. This is the fancy way of saying, it is a 'marker' or a bookmark (in this case, an Instagram postmark). You will not believe how much a small hashtag is useful in social marketing of the biggest companies.
Following is a bar graph based on a research done by HubSpot that shows the difference done by using hashtags in a tweet.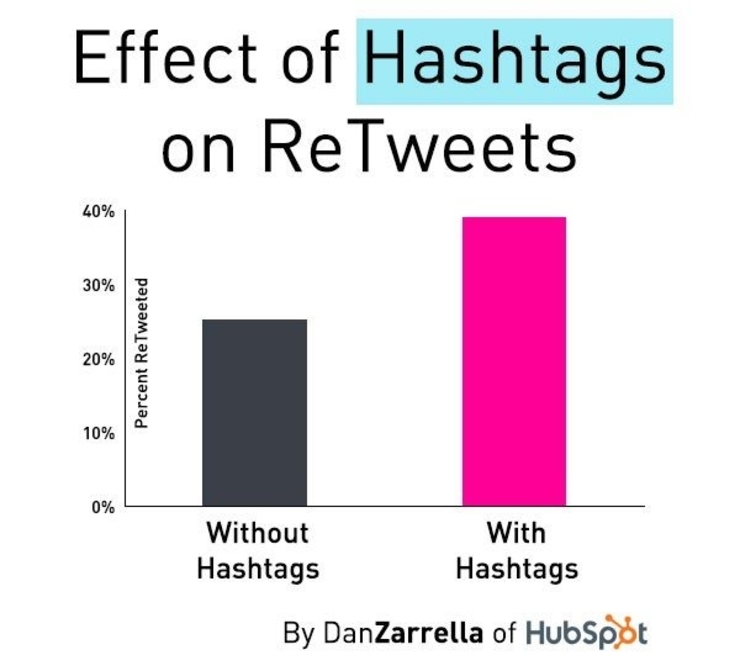 It shows that posts that had hashtags got almost 40% re-tweets and those without hashtags got 25-30%. Even though the research was for 'Twitter', the same is applicable to Instagram and other social media sites as well.
Let's look at it in a simple way, if you use #rose in a certain post which is about a bouquet of roses, the people who are interested in roses will easily find you when they search for results that contain the hashtag.

The following article will give you a clearer understanding of hashtags and its use in social media. If you want to double the growth rate of your Instagram engagement in limited time, this is the way.
Given below are 13 mind-blowing ways in which you can increase or even double your Instagram engagement. Read on, for the truth and the myths have been decoded for you.
1. Use limited hashtags  
There are certain rules and company policies that Instagram follows and users have to abide by it. The limitations, as well as instructions related to usage of hashtags, are given below. Before starting to use hashtags, you must be familiar with the rules.
It is a rule that more than 30 hashtags cannot be used in a post. If a person types in more than 30 and attempts to post it, none of the hashtags will appear in the post after uploading. So, be careful while choosing the hashtags.
Even though the hashtags have a limit in a post, if you want to posts additional hashtags, you can do that in the comment section of the post. The purpose will be fulfilled all the same and people will find you regardless of using hashtags in post/comments.
Instagram has a policy where users can choose their audience and can set a limit on who can view the content and who can not. If the account is 'private', the hashtags will not show up in the 'top posts' or search results unless the user has enabled the audience to view the post.

In other words, the post will remain hidden in spite of using hashtags if the account is private. It will be better if you don't go for the 'private' option. It leaves a much bigger room for people to join in and follow.
2.Use relevant hashtags
Although we all might have used hashtags in some way or the other at some point in our life, there are people who still do not know the significance of a hashtag.
Using this symbol ' # ' before every word you write is not the way to do it. The symbol is a mere prefix to a certain target word.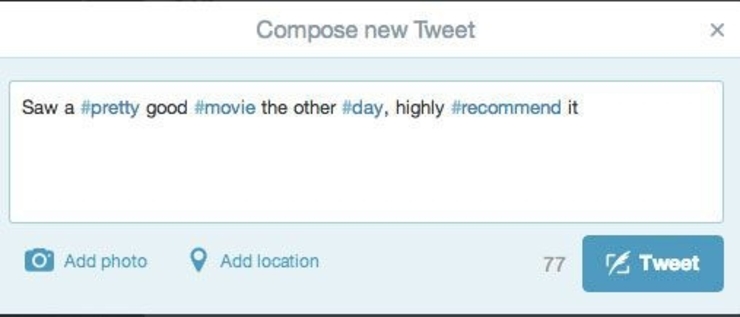 The above picture contains a sentence with 4 DEAD hashtags that make no sense and will barely make any engagement. I use the word 'dead' because no one is going to search for #recommend or #day exclusively. The hashtags were not used in a purposeful way in the previous picture and thus will generate even less traffic than they were before.
Moreover, given the usage of hashtags in the sentence points out that the post/photo is going to be either about a movie or most probably a selfie in front of the movie theatre. This is something that can be easily deduced from the sentence.
But try to imagine the psychology of someone who is searching #day, #pretty or even #recommend. Do any of these words make sense to the 'selfie'? Hashtags like these confuse users and they stop visiting these hashtags.
Example – Suppose you are posting a picture of a potted aloe vera plant. And you obviously want that picture to be seen by other people who share the same interest.
Wrong ways to use hashtag –
1) #lovely #morning #and #healthy #aloe #vera #plant #grown #by #me
2) #lovely_morning_and_healthy_aloe_vera_plant_grown_by_me
Correct way to use hashtags –
Caption – It's a lovely morning. My healthy aloe vera plant is finally fully grown.
#aloevera #healthyliving #lovelymorning.
It is very important that you describe your photos in the caption itself. Using hashtags to describe your picture will not only let you have a limit (30 hashtags = 30 words) but it also is not the correct way to do it.
Go for a full-fledged description and use as many words you want (not more than 2200, that is Instagram's policy) and then use correct hashtags to tag your picture so that people who are also interested in "aloe vera" or" healthy living " can find it easily.
3. Target specific audience with specific hashtags
The other way to say the same sentence is that ' Keep the hashtags specific to your post so that you desired audience can find you and follow you'.
Using wrong hashtags or irrelevant hashtags for your post is like labelling an orange ball as ' green'. Wouldn't you be angry if you searched a hashtag and saw all kind of irrelevant things?
Well, nowadays thousands of people are using this technique to increase their views but remember, it is the kind of view that never converts. This kind of false advertisement technique is also called 'Clickbait' and we all know how much people despise that.
Example – You type in #biscuit on the search bar and are eagerly waiting for pictures of a yummy cookie. You are expecting to see a crunchy and perfectly baked wafer and then you see pictures of people and food items other than a 'biscuit'.
Immediately your mind will start questioning the algorithm and you will be severely disappointed.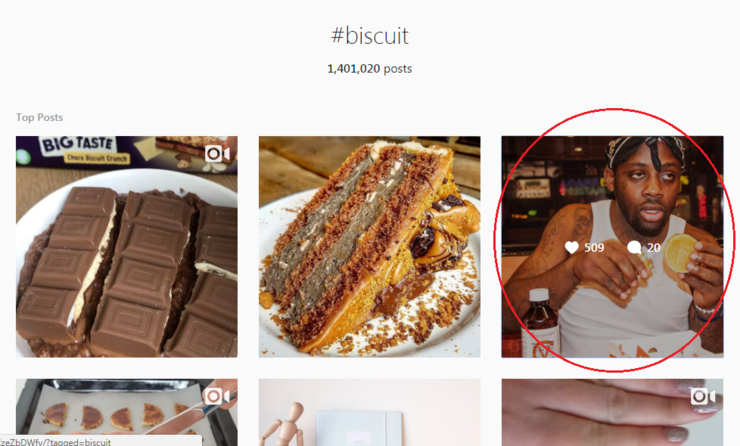 It will make you think, out of 1,401,020 posts that contain #biscuit, how many are genuine. Will you look at the same hashtag again knowing that the search results are all messed up?
Now hold that thought and ask yourself if you want to put someone else through the same disappointment and lose engagement. Obviously not. And let's take a look at another instance.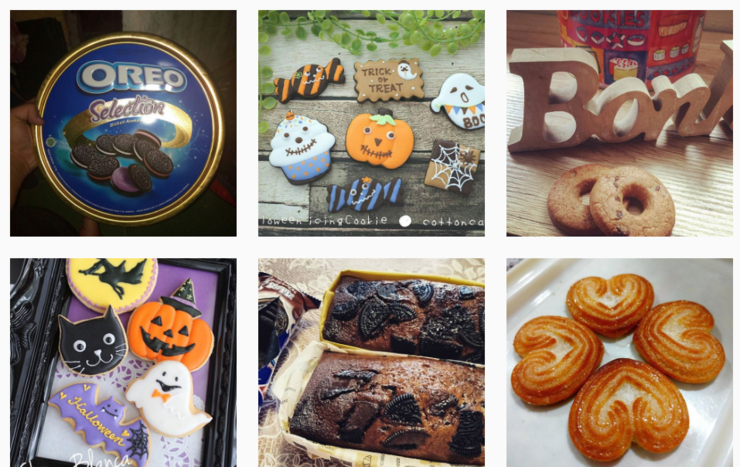 The above picture perfectly represents what was searched for. This is the kind of result a user expects when he searches for ' #biscuit' and only these kind of results will ensure that the user will be back again for better pictures on the same topic.
Keep your hashtags to the point and precise to engage the correct audience of your choice. If your product is 'pizza', you cannot use #cakes, #popsicle even though they are food groups as well. The hashtags that make sense to your product are #cheese, #mozzarella, #tomato, #fresh and so on.
Alternatively, the #biscuit can also be used for signifying a person's or a pet's name, the colour of the same name or a brand of the same name. In that case, the purpose is totally different and legitimate.
4. POPULAR Vs EFFECTIVE hashtags
Some hashtags are viral, popular and used by almost everyone every day. #love and #HAPPY are two such examples of widely used hashtags. But this does not mean that using these hashtags will bring you into the limelight.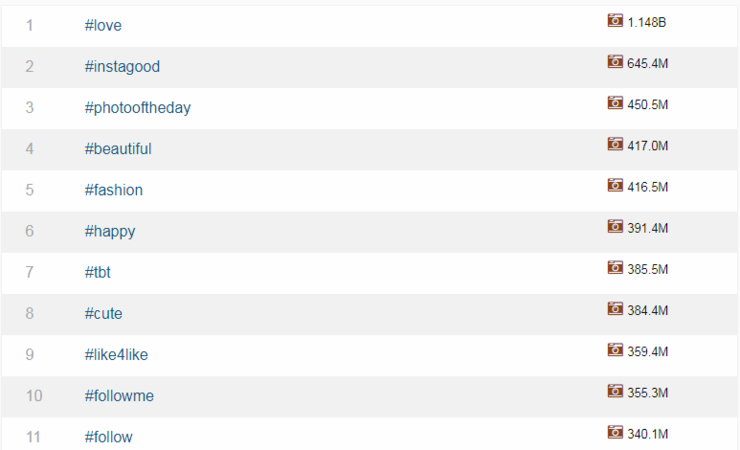 According to this website, #love has been used over 1.148 billion times! Closely followed by #instagood, which has been used over 645.4 million times. These are huge numbers and they signify the rate at which the popularity of certain 'words' are increasing.
However, it is not true that using these will ensure a great engagement on your Instagram page. The science behind it is that even though these hashtags are widely used on daily basis, these hashtags are not searched enough. People simply do not want to see something related to #love. As sad as that might be, the fact remains the same. "If you want to be heard, say something people want to hear. "
Use hashtags in your favour but do not make the mistake of thinking that any popular word you write with a hashtag symbol (#) will bring you popularity. Remember the number of hashtags one can use for a single post is limited. Thus, make the best use of it and use only those hashtags that matter.
Know the difference between a popularly USED and a popularly SEARCHED hashtag. If you need engagement, you need to use the latter more frequently and exclusively than the former. In the battle of 'Popular' against 'effective' hashtags, the latter will win.
It is because even if it is used by 5 people, those 5 people meant to use it for a certain reason and they have a collective motive. The sense of purposefulness alone makes the effective hashtag triumph over popular one.
Example – #hashtag is also very popular and was created to celebrate the success of 'hashtags' (how ironic). But it doesn't make any sense to use it in a sentence /post/picture.
5. Use hashtags to improve your feed
It is a known fact that using hashtags increases post reach, even if used in a wrong way. But no one knows for sure how this actually works.
Now, I can recommend you to start using hashtags and look for changes or growth in your Instagram feed.
But, why would you implement this change and do something which you do not even believe in, to begin with? Why would you waste your time on something you are unsure will even produce results.
That's why, I will be doing a research FOR you, so you don't have to.
Experiment – I posted an image on Instagram with a decent caption that describes the image. After one hour, I checked the engagement of the post. Sadly, it got zero views and likes.
After deleting the image, I repeated the whole experiment. Only this time with 10 hashtags. After one hour of waiting, I checked the results and there were 9 likes.
This change in statistics was recorded using the same photo, same time frame and same Instagram Account. The difference is in front of you. This is how hashtags change the game and help people to find you easily.
If one hour can make such difference, then imagine how much difference it would make if you actually invest your time in it. This small experiment is a proof that they work effortlessly.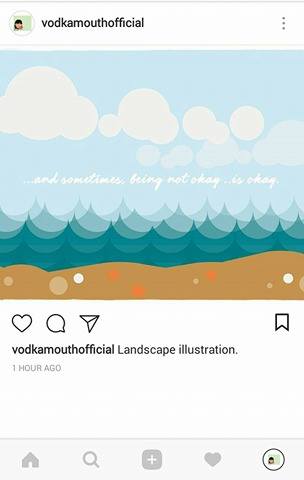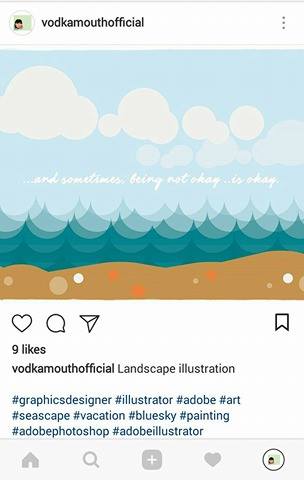 Invest some time in your hashtag research and you will not be disappointed. The number of likes/ comments also depends on the pre-existing following of the particular Instagram page. The account which was used for this experiment had mere 50 followers at the time of the experiment. Thus the reach was comparatively low.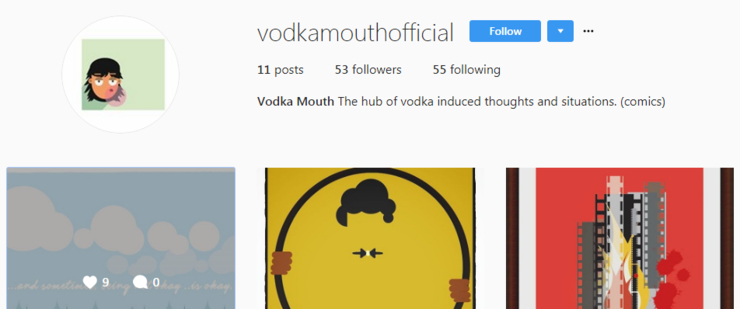 If someone with 1000 followers posted the same image, the number of likes for the post without hashtags might have been different. Nonetheless, the point has been proved.
6. Choosing 
The internet is currently being ruled by millennials. Millennials are the on and upcoming generation X. They comprise over 80% of the online demographic. You can make them your target audience easily by using certain lingo/language in your post. You need to correctly read what your audience's need is.
Millennial audience regularly come up with new words and meanings nowadays. You might have heard them use YOLO, IDK, Shook, Woke, etc. These words do not have their meanings in the Oxford dictionary. To understand and relate to words like these, you need to keep up with it.
To understand how people on the internet think, you need to understand the language they use. The internet has its own lingo and it is growing per day. Most hashtags are curated by these 'modern linguists' nowadays.
Using modern slang/lingo for hashtags is beneficial for engagement as it attracts people who relate to the language and are comfortable with it. Using Urban Dictionary can be very helpful at times. It is a goldmine of internet lingo AND their meanings.
Some internet language has an undecipherable lingo that takes a full team to decode but Urban dictionary can be a saviour.
Example – Hashtags like #throwbackthursday and #outfitoftheday have become trendy with time and the abbreviations of the same have also caught on i.e #TBT and #OOTD. Following the trend, #OOTN or outfitofthenight also became popularly used.
Using these in your post will not only make them super- comfortable with your style but they will relate to your page and what you have to say as well.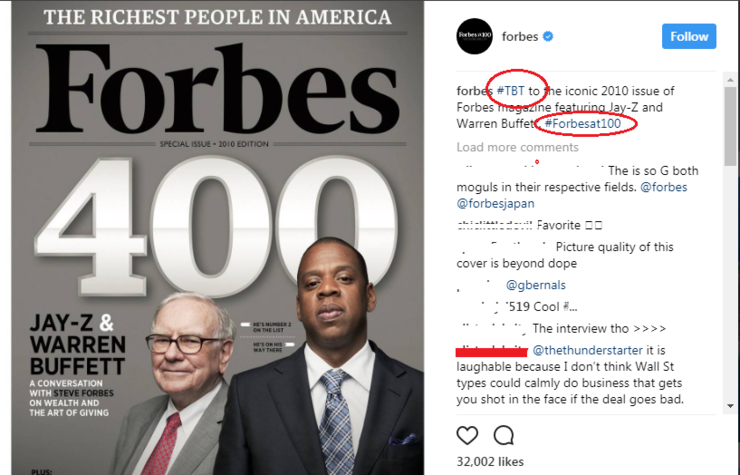 In this following image, we can see Forbes's Instagram page using the hashtag throwback Thursday or #tbt very elegantly to relate with the Gen X audience's lingo along with their own hashtag #forbesat100 (to maintain originality).
7. Don't just use hashtags for social media 
Most of the hashtags that people use on daily basis are honestly meaningless blocks of words. The only way they impart some meaning if by being an address for a cause or thought.
Using hashtags should not limit to your posts, be it Twitter, Instagram or Facebook. Imprinting the hashtags on the products you are selling and different business/invitation cards also help increase the engagement.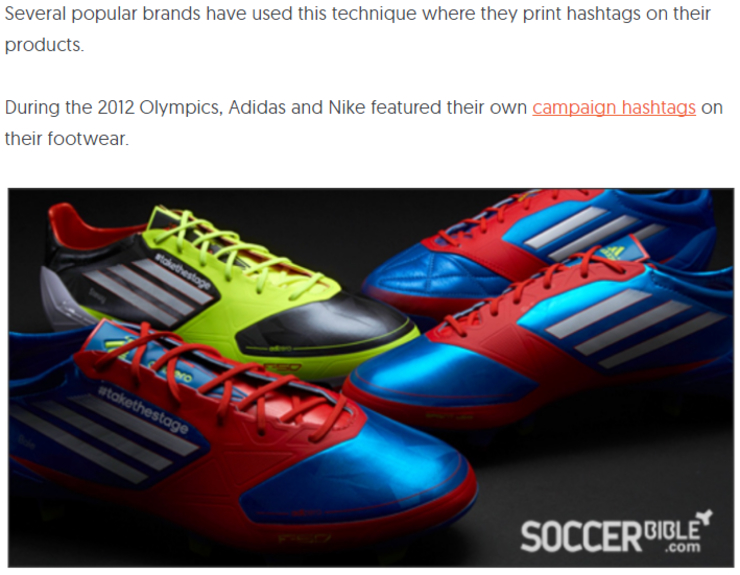 This research done by Neil Patel shows that the greatest brands and the biggest ones often follow this rule to promote their products or support a cause.
Using Instagram hashtags outside the virtual reality is a way of telling your customers or users that their support is not only limited to a screen. This increases the trust factor and stands out as a unique concept in a day where millions of hashtags are lying around purposelessly over the internet.
Printing your hashtag on your business cards or merchandise can also be an easier way to get more post reach in the virtual world.
8. Use optimum hashtags 
Instagram allows a maximum of 30 hashtags in a post to stop spamming but that hasn't stopped people from using endless hashtags in the comments of the post. It is a common misconception that the more the hashtags, more the views.
As foolish as this is, too many hashtags actually bring down the post engagement. The standard rule of thumb is using 11-15 solid hashtags that make perfect sense to the theme of your photo/post.
Example – The Instagram page of FedEx express posts fair amount of hashtags to maintain a balance.

Given that their Instagram theme is all about travelling and features the FedEx transportation vehicles in motion through their journeys, the hashtags such as #openroad and #enroute generates a personal vibe.
Research has shown that posts with 9- 12 hashtags produce optimum results. Keep the number slightly below 11 or slightly above 13 to hit the sweet spot.
Do not use more than 6-7 hashtags after the caption in a post. If you require, you can post additional hashtags in the comment section. Too many hashtags right under the post look very desperate.
If you still want to use all 30 hashtags in the post itself, use adequate space under the caption before the hashtags begin. This will ensure that the hashtags are hidden while viewing the post. If the users want to see the hashtags they have to tap on 'read more' in order to do so.
Encourage audience to use your hashtag in other posts but avoid spamming.
9. Own your hashtags
It has been seen that big companies like Google and Forbes barely use any hashtags but they are still popular because they were popular, to begin with when they joined Instagram.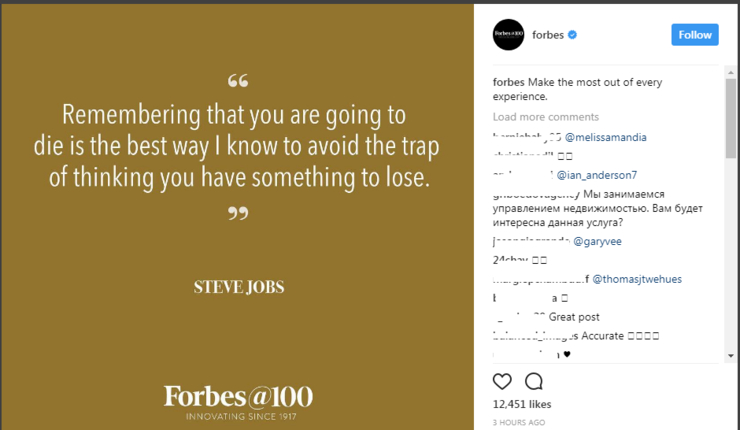 Now they use personalized forms of hashtags to convey their messages to people. The companies no longer have the additional pressure to 'be found'. They are already established and thus using hashtags for them is not really quintessential. Instead, they use their own hashtags to promote certain stuff.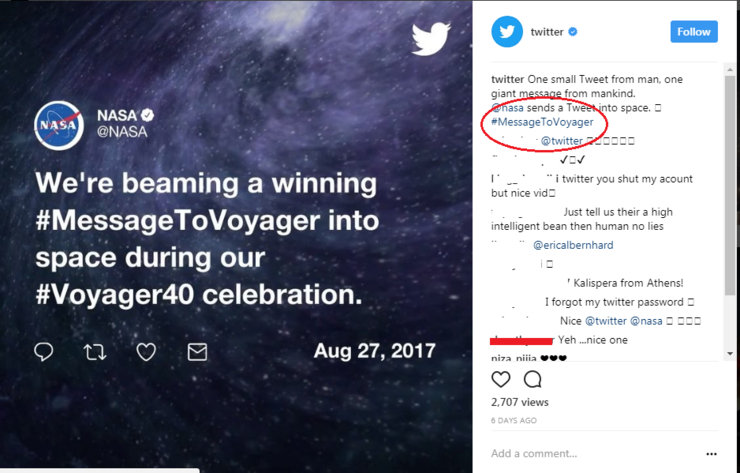 For example, Recently, Twitter's Instagram page promoted a #MessageToVoyager to celebrate it's first tweet to space.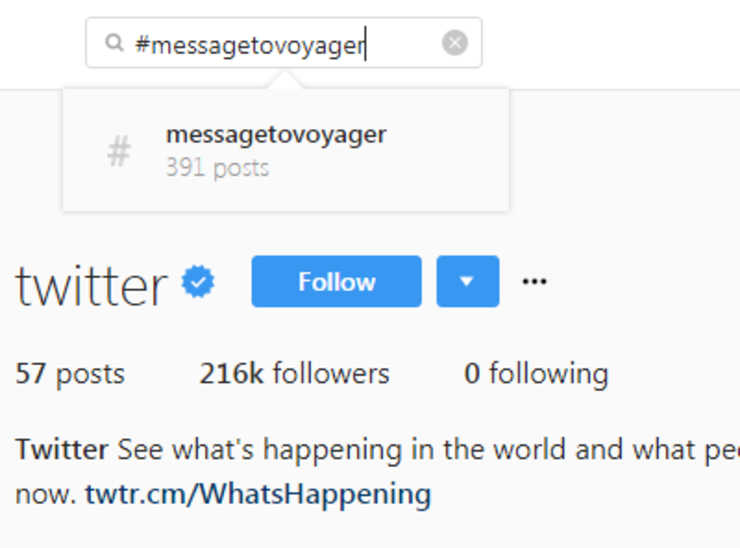 Keep in mind that this was not a popularly used hashtag such as #happy or #love. But within a couple of days, the hashtag began to grow and there were more than 300 posts with the same. The topic became the talk of the town and over 350+ posts were posted with the same hashtag.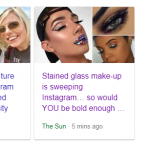 Once your motive is final, create hashtags in favour of it and promote that. Once your current followers see that you are not only using already existing hashtags but are creating your own, You will gain their trust as a leader and authority that they can follow and trust.
Another small example can be this news article. As soon as the news became viral, they created their own hashtag and started using it.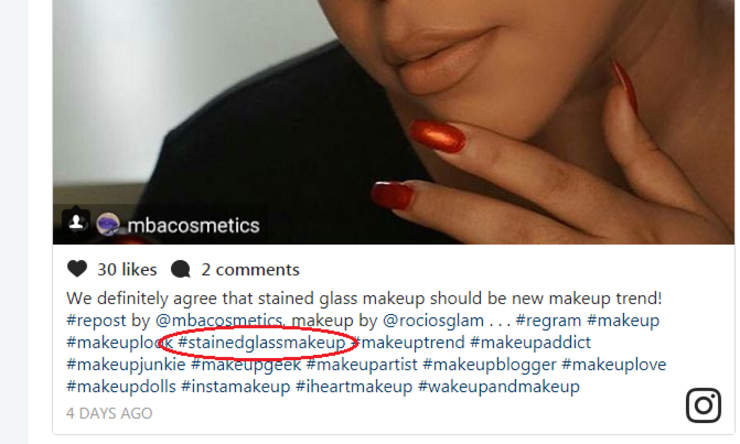 It not only helped the post reach get higher but established the presence of something unknown such as 'stained glass makeup'. Before the news went viral, no one would have had heard about it but using the hashtag made it easier to search, find and use the hashtag more often.
10. Never underestimate the power of a Hashtag
If you use the Internet regularly, you must be familiar with the DiGiorno Pizza twitter blunder. In September 2014, the Twitter page of the brand tweeted out with a trending hashtag at that time i.e #Whyistayed.
The hashtag was a big disaster and obviously met with a lot of negative comments and tweets, leading the sales and engagement of the page to go down severely.
What happened was that #Whyistayed was initially started by domestic violence survivors on twitter to share their stories. It was in favour of a sensitive issue and was very emotionally damaging for most. The fact that Di Giorno used this to promote their brand and sell their pizza was enraging.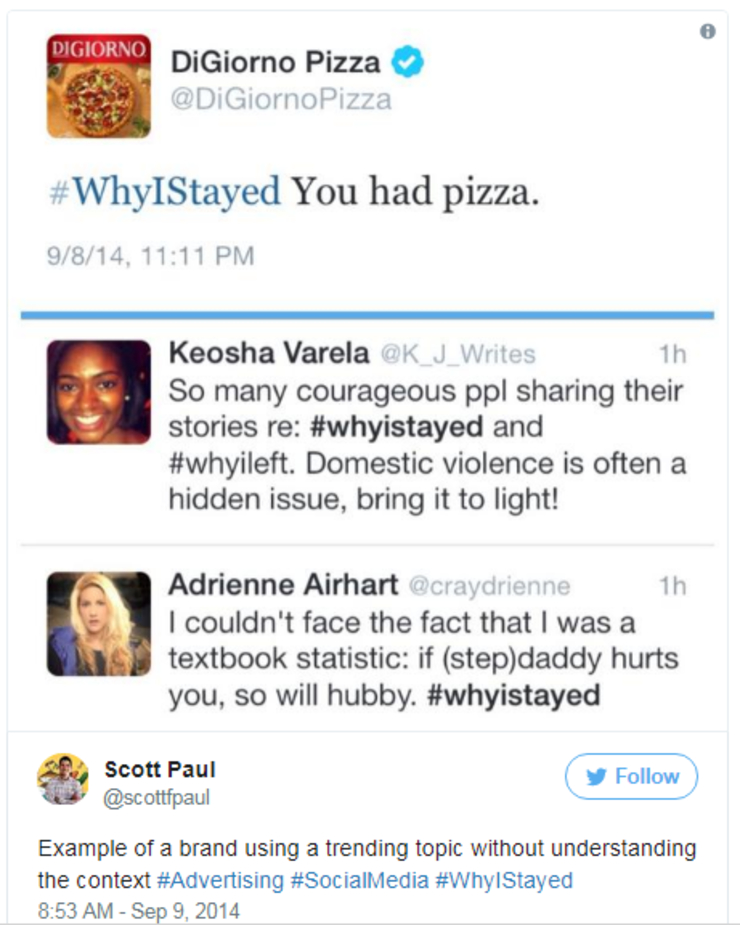 Keeping with the trend and following trendy hashtags is very nice but not knowing the context and purpose behind the usage might end you up in a dump like Digiorno Pizza. Eventually, the company realized the huge mistake and went on to make a public apology on Twitter.
19 hours and counting after the incident, they continued apologizing to each tweet that was made by angry or hurt people. Not only that, but the company apologized to each and every angry tweet personally, which controlled the damage much better.
Not just a single copy-pasted apology, but they provided individually created apologies for each person. Eventually, things went to normal and now all is in the past.
If a small hashtag can cause this amount of chaos, do you think it is wise to underestimate the power of it?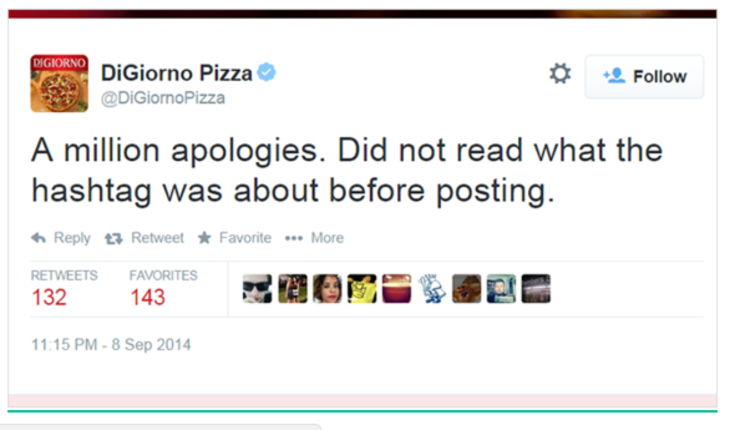 So the lesson learned is that using trendy hashtags is very good but using a sensitive issue related hashtag to promote yourself will take you nowhere. Know the meaning of a hashtag and it's purpose before using it.
11. Where to search for appropriate hashtags
If you are a complete novice, then there is nothing easier than installing an application from Play Store/ Google Play/ app stores that have loads of hashtags ready to copy and paste.
A lot of applications are filled with just loads and loads of words with hashtags in front of it that make zero sense. You do not want to stumble upon something like that.
For your convenience, here are some trusted applications for Windows, iOS as well as Android.
Autohash – The software has photo recognition technology that scans an image and quickly recognizes the relevant hashtags to a certain photo. Not only is this enormously helpful for people who are clueless about which hashtag to use, but is also very less time-consuming.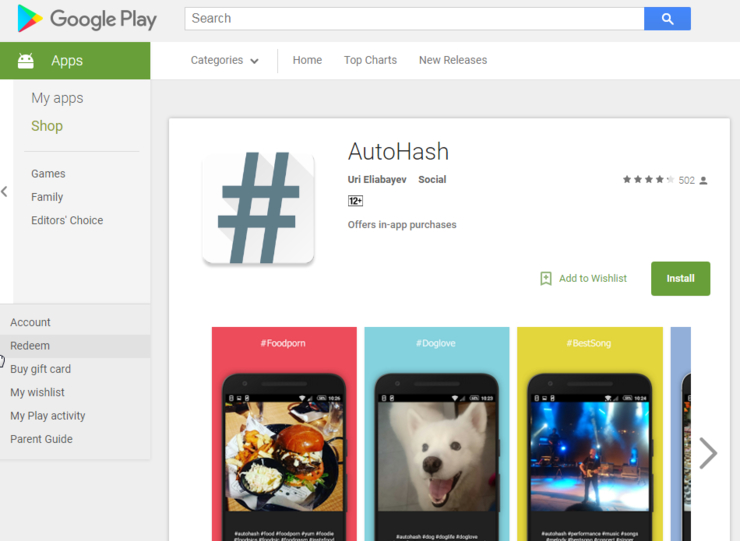 It gives precise search results compared to the copy/paste applications.
Auto hash has a feature of getting personalized location-based tags. Location-based tags help you to connect with people around you.
It has a very useful 'directly share to Instagram' feature. It also has 'copy to clipboard' feature for ease of usage.
A unique hashtag counter feature allows users to count the number of hashtags in a single click.
Features that allow you to remember your favourite and most used hashtags for future uses.
Available for – Android (3.0 and up), iOS, Windows.
Focalmark – Allows the users to have the best handpicked hashtags to use for their post. The hashtags are authentic and guarantee post reach and growth.
There are several categories of hashtags that are used regularly such as photography, design, etc and Focalmark allows users to easily find related hashtags for the same topics.
The application is available for Android (4.1 and up), iOS.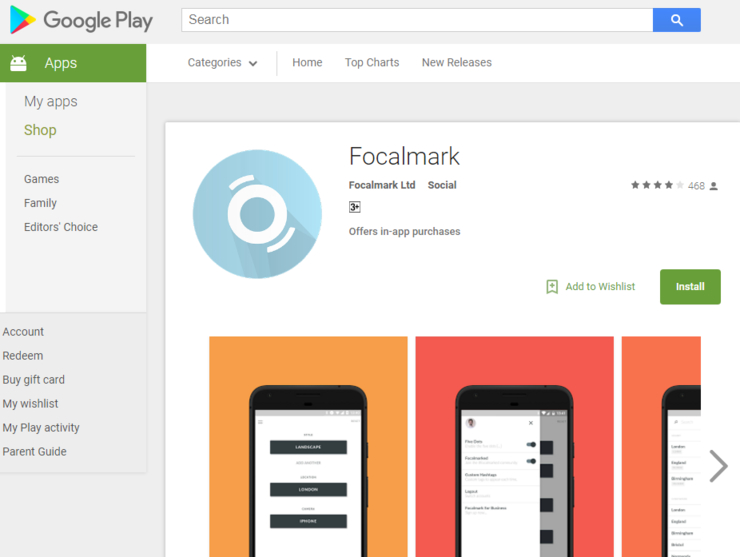 Display Purposes –  It is a website that you can put your queries in. https://displaypurposes.com/
It has an interface that allows users to search for relevant hashtags without downloading any software or installing any app.
For ease of access, bookmark this website and type in your requirements whenever you need. You will be very satisfied with the vibrant range of results.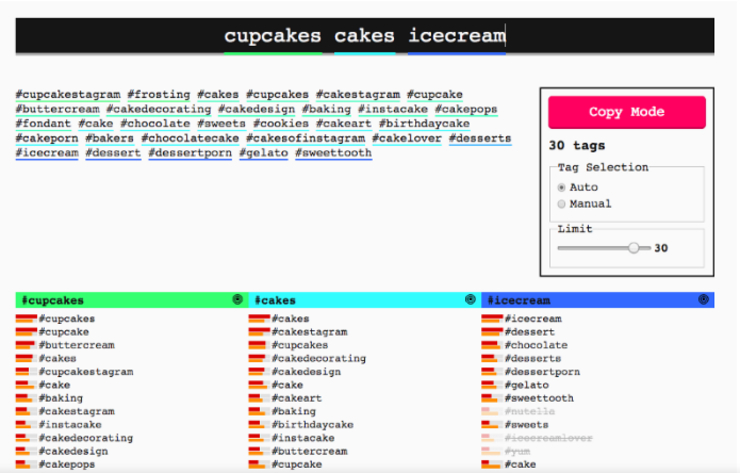 12. Keep up with the trends and viral posts
One good example of companies using trending issues is Twitter and the recent solar eclipse 2017.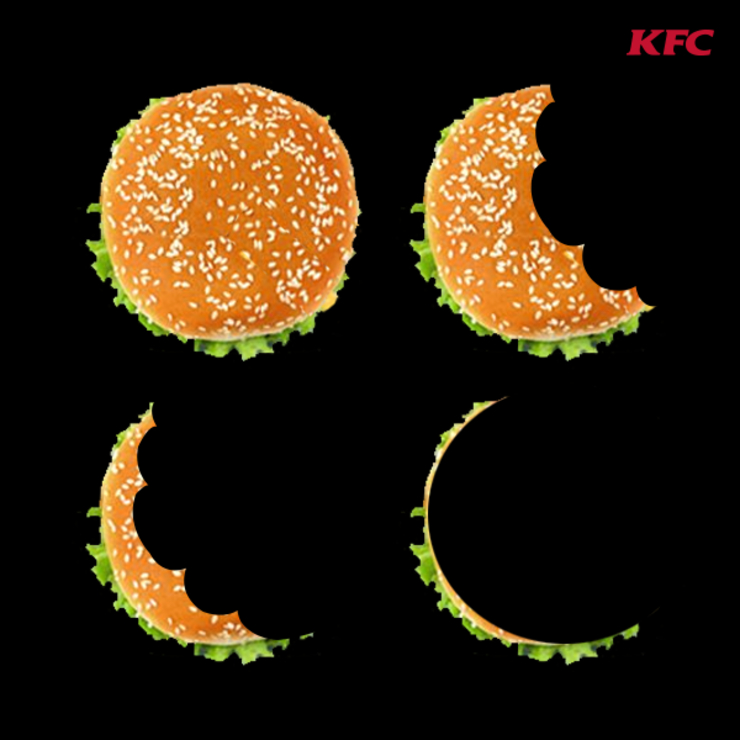 It was a worldwide phenomenon with BBC and NASA posting live feed for people around the world to see.
Kentucky Fried Chicken used this opportunity to post a witty illustration that shows a burger being eaten as if being eclipsed. On the other hand, Twitter's Instagram page posted #solareclipse2017.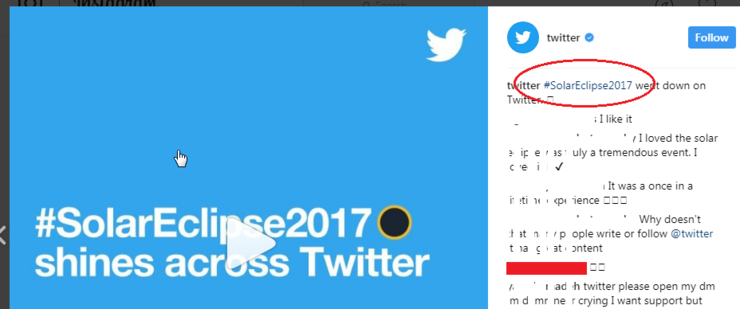 The topic became instantly viral and produced 514,646+ posts related to the hashtag because it was something they were all looking forward to.
This was a very smart move on their part as they used a worldwide phenomenon to promote their hashtag and hence the business.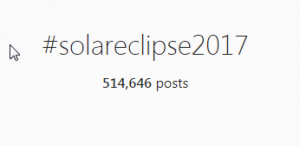 During natural disasters, specific hashtags are created in order to aware people all over the world about it. It is a remarkably good measure that is being taken. People all over the world use the particular hashtag to keep up with the current situation/scenario.
However, This is not very wise to use these hashtags in order to promote your business. In 2012, popular clothing brand GAP's twitter page used #sandy to first wish the users a safe time while the hurricane is out there. That would have been a perfect post for the brand's engagement. But they went out and wrote "We'll be doing lots of Gap.com shopping today. How about you?"
This turned out as insensitive and inconsiderate of them to still talk about shopping while thousands of houses and family were getting destroyed by the storm.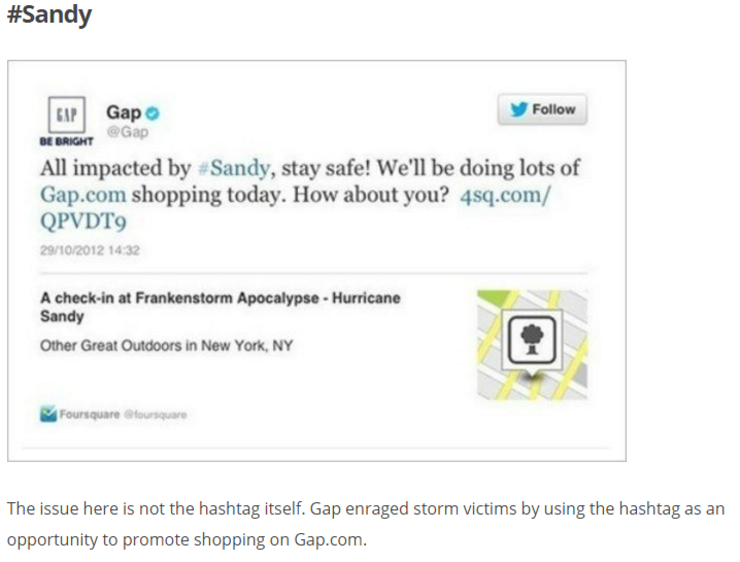 Lesson learned is that keeping up with viral hashtags can be very beneficial for your business, however completely being considerate of feelings of others will gain you more trust among the audience. At the end of the day, you not only want to sell your product but also want to build good relations with users/audience.
These were two examples of using trending worldwide phenomena related hashtags for business. One can clearly decipher why one went downhill.
13 Things to avoid when using hashtags 
While using hashtags is a very good practice, there are still some things that could go wrong. Here are some pointers for you, if you really are afraid to mess up badly. Just follow these blindly as you go.
Do not use more than 15 hashtags on the post, use additional hashtags in the comments if you need
Do not post irrelevant hashtags, this will disappoint your users and will drive them away.
Never spam other people's post with your hashtag or use it almost in every post you see. This is very annoying for the users to see.
Do a quick research before using a certain hashtag i.e if it is popular or not and if it is grammatically and socially correct to use.
Do not use hashtags that target religious sentiments, social sentiments and emotions to promote your product or sell it. Never use political hashtags other than how it is meant to be.
Do not be afraid to experiment with your own hashtags. Put on new hashtags regularly to keep your Audience engaged rather than using SAME OLD HASHTAGS EVERY SINGLE TIME.
Do not blindly rely on your hashtag game. Sometimes the hashtags might work and sometimes they might not. Let the hashtags out and hope for the best.
Do not be disappointed if one of your hashtags get zero reaches. Let out a fresh one.
Example – Shark fins are widely used for making the famous shark fin soup. Thousands of sharks are killed because of their fins. FedEx ships shark fins and thousands of people are very angry about this.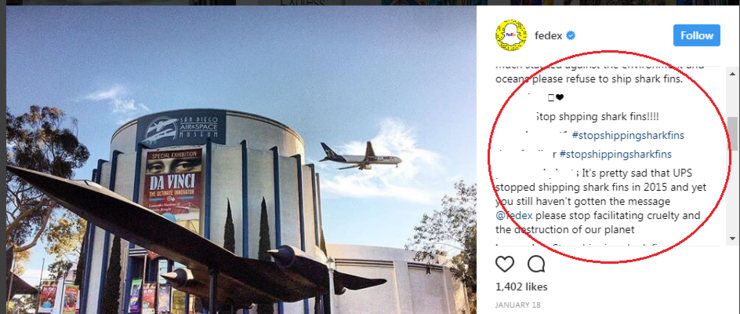 A lot of people have pleaded, warned, rebelled against the company policy and have asked them to change it. But FedEx has not yet stopped shipping shark fins.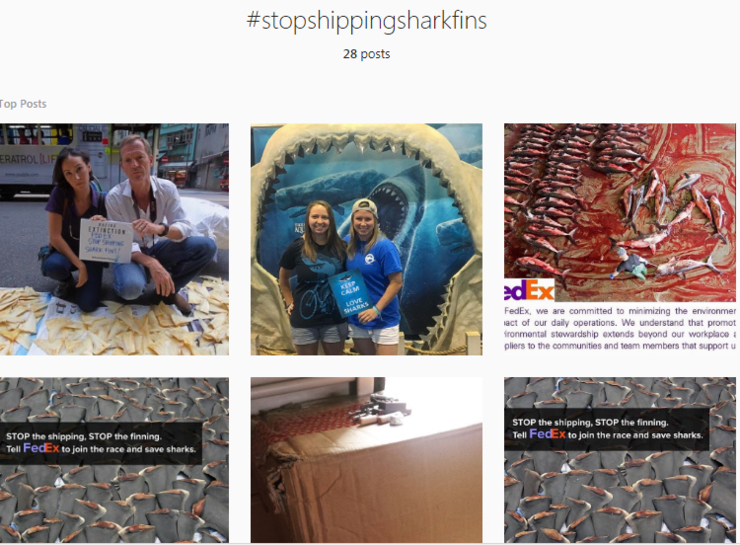 In favour of their movement, one of the activists started a hashtag #stopshippingsharkfins. As you can see, in spite of it being a purposeful and thought out hashtag, it did not get more than 30 posts.
On the other hand, another hashtag (#fedextinction) that was created for the same purpose got more than 600 posts.
There were subtle differences between the two hashtags that ensured why one made the cut and why one didn't.
#fedextinction is catchy and short while #stopshippingsharkfins was longer to type out and nearly a sentence than a phrase.
#fedextinction is directed towards the company FedEx and its purpose is transparent to everyone but #stopshippingsharkfins could have been used for any other company worldwide.
#fedextinction sounds very elegant and classy and is easier to spell, while #stopshippingsharkfins is a bit of a tongue twister.
So, keep your motive clear and continue using hashtags in your post. If one doesn't work, the next one will.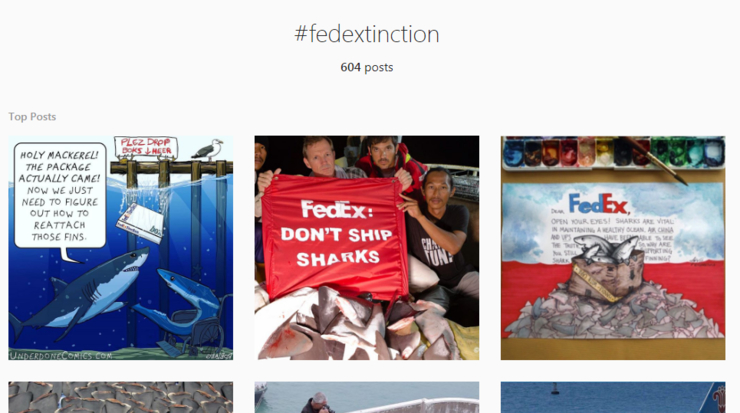 Conclusion
When a person types a hashtag on the search of Instagram, they get an instant gallery of pictures that were posted using that hashtag.
There are two sections, namely TOP and RECENT. Posts with the most number of comments and likes are featured in the TOP section (only 9 top photos are shown).
Similarly, the recent section contains all the recently posted photos using the same hashtag. The goal of an individual is to climb from the Recent section to the top section. Careful use of hashtags and choosing the correct words will escalate your journey to the top.