Who doesn't want to be unique? Who doesn't want to get noticed? Who doesn't want to win business?
I am sure none of us reading this would say, "No. I don't want to be unique. No, I don't want to make my business stand out from the pack."
The moment we plan to start a business, we aspire to grow as fast as we can and surpass our competitors. Every business owner, big or small, seeks ways to make his brand the apple of every eye. Though this may sound very tough and challenging to you, especially if you are a start-up, honestly speaking a little bit of incisive research and study on branding and marketing techniques would help you to achieve this easily.
In this post, I will be covering 10 most strategic marketing techniques that will help your brand to beat the competition and trigger company sales. But before we dig deep into these methods, you need to keep the "3-U" s in mind:
Step#1: Understand your competition
Step#2: Understand your target audience
Step#3: Understand your company's potential
Now let's start with the 10 actionable strategies to make your brand the most unique!
1. BUILD A BRAND IDENTITY KIT THAT NONE HAS SEEN BEFORE
People visualize your brand through your brand kit. A kit comprises of a logo, business card, brochure, letterhead, envelope, ID card, diary, etc. All these elements are constant in every kind of business identity kit, but apart from these, a kit also includes other items like Goodie bag, coffee mug, CD cover, Label cover, pen, badge, bag etc. depending on the type of industry you are involved in. A brand identity kit is the first most important thing to establish in order to build a consistent and unforgettable brand image.
Work determinedly to build a striking identity kit until you see the final results. Study carefully how big brands like Apple, Samsung, Coca Cola has won the hearts of many and are stilling winning. Their minimalist design, elegant use of colors and fonts is the key to their high-profile position in the global market. Thus, without wasting any time, contact any highly skilled, experienced graphic designer to design all the components of your brand identity kit.
#Point to note: Each item in your brand identity kit must have a similar resemblance in terms of pattern, look and color. Needless to say, the pattern and color should be selected on the basis of the brand logo so that if anyone sees any of these items, quickly identifies it as a part of your brand.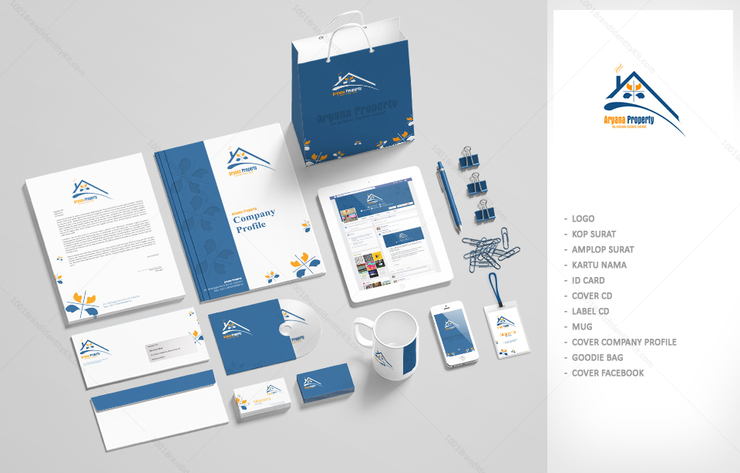 See below how a restaurant in Athens, Cookoovaya has set themselves apart with their creative logo and branding elements. Also see how YOLO(You Only Live Once), a sweet and candy seller beautifully embodies their underlying brand message in their products. The youthful and rich colors solidify a feeling of being happy and carefree. These two examples are clear evidence of the fact that to be unique you don't need to have lots of money. Some simple planning, smart ideas and creativity can help you easily achieve this and catch the public eye. You can see how both of them have maintained simplicity and elegance in their designs.


2. BUILD AND DEVELOP A WEBSITE THAT EVERYONE WILL ADMIRE
The primary purpose of any website is to provide detailed information about your business to your potential clients and generate company sales.
But honestly speaking, the role of a website is not only limited to generating business – it also acts as a window to your business house. The better is the interior view of the house from outside, the more people will be interested to go inside the house. Business functions the same way. The more appealing you build your website, the more will be the visitors fascinated to scroll down further.
A website design and development involves several stages. A web designer needs to choose a layout for the page first and then incorporate various graphical elements into it based on your brand tone. He/she should strictly maintain monotonicity between the website design and other branding elements.
Point to note: Focus more on the brand tone, logo design and color while designing a website, but simultaneously consider your business type and nature in order to make a concrete impression on the minds of your potential clients.
For instance, an E-commerce website of a fashion brand would definitely differ in every aspect from an informational business website. Ecommerce websites, of every industry type, are more simplistic and bland in appearance, whereas informational websites are more inclined towards being creative. Informational websites should have an exceptional design concept and rich content – as it acts as a primary tool to drive traffic and generate business. Some good website examples are shown here: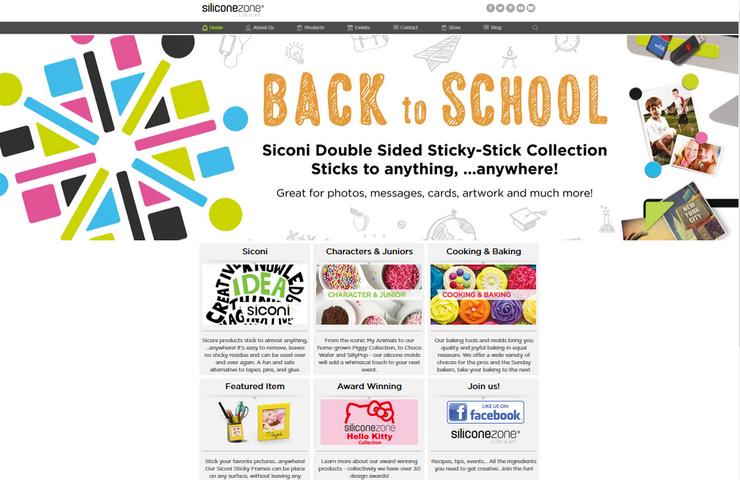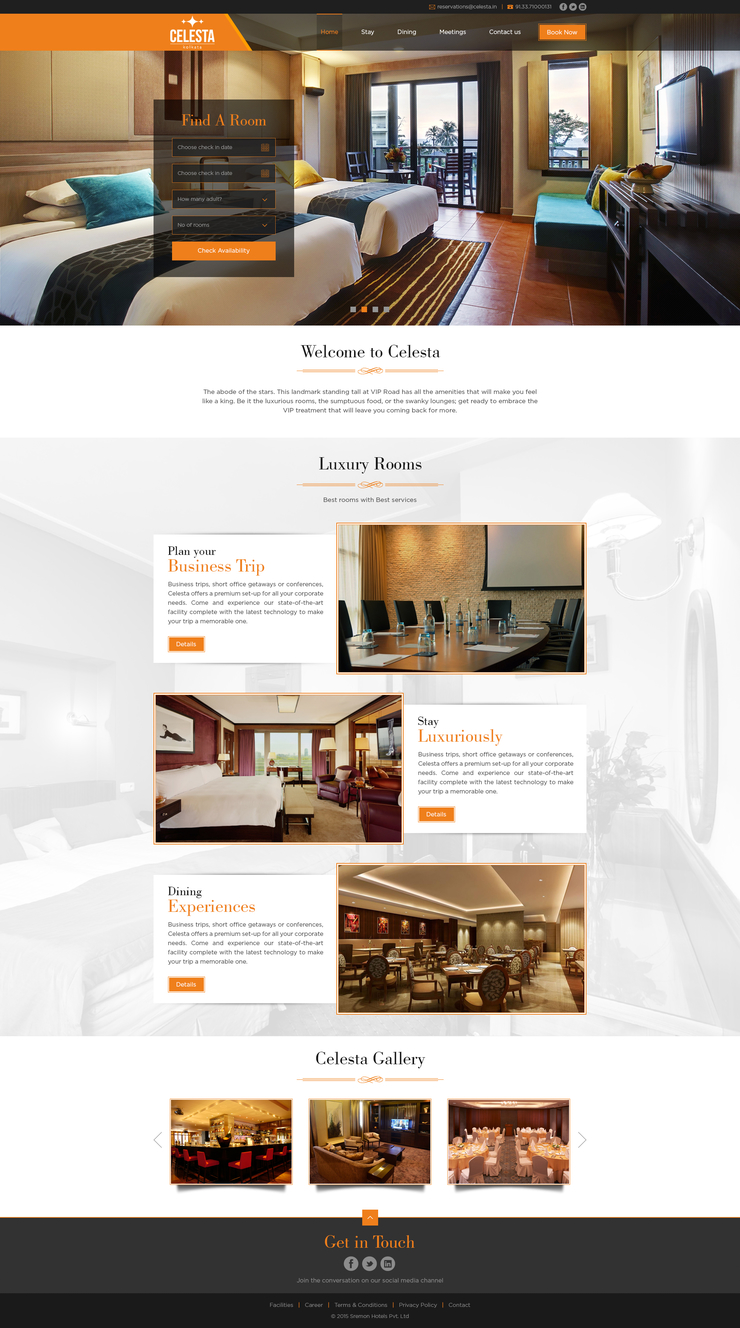 3. TURN YOUR PERSONAL ODDS INTO YOUR ADVANTAGE
In order to outpace your rivalries, do something new and unexpected. Find ways to integrate your quirks into your branding strategy. People get bored when they see the same old marketing stuff, similar kind of advertisements, social media posts, tweets and website blog posts. Unusual marketing is something business owners are afraid of trying. I am sure you too are thinking whether to break the usual norms of marketing and try something off-beat.
Well, to make your choice clear, I am providing an interesting example set by Kyle Taylor, the owner of the blog Penny Hoarder who didn't want his blog to be just another boring finance blog. He used a smart and inexpensive method to advertise his online business.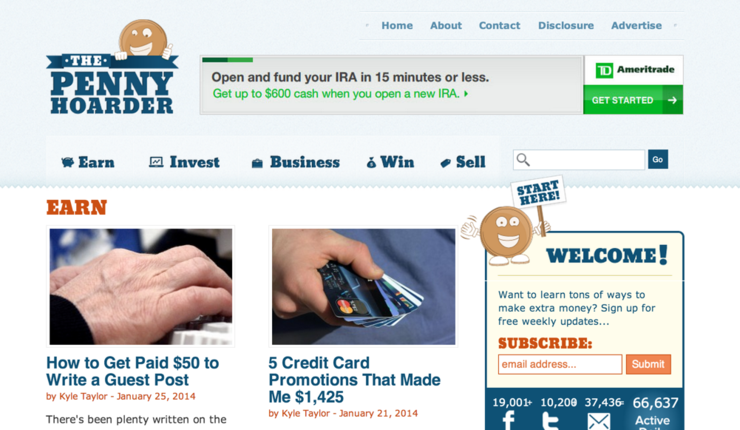 What was his marketing tool? – Bumper stickers! The bumper stickers comprised of a juvenile URL address "iGetFreeBeer.com"

Motive- Rather than promoting the blog directly, he chose to promote a weird article titled "I Get Paid to Buy Beer". He acquired this domain – iGetFreeBeer.com, so that this would permanently redirect the domain to the particular article that his blog hosted.
End result- He spent around $120 – $145 to make 250 bumper stickers and hired 5 college students for $15 each to put these stickers in their respective towns. In the second week only, this campaign generated 300 visitors at $0.40/ visit. Taylor tracked his visitors in Google Analytics as the visitors turn up as "referring site."
#Lesson to learn– In order to be innovative, you need not burn a hole in your pocket. By using some smart as a whip marketing ideas offline, you can boost your company sales easily.
To know in detail read his article, How I Got Free Beer & Made $5,000/Month By Auditing Liquor Stores
Note: This is just an example to help you understand how being odd brings in more money. It does not imply that you also need to apply the same kind of trick for your business growth. What I am trying to explain you through this example is "Think Big. Think Unique"
4. MAKE YOUR PRESENCE NOTABLE IN TRADE SHOWS AND MARKETING EVENTS
Think of unique ideas to grab attention towards your stall. Alternatively, do something, which others are not at all doing. Distributing Freebies is a good idea, but this is something, most stall owners would adopt in order to attract visitors. Instead, you can apply other tactics to win the visitors' attention. Here are some tips that you can apply in your trade show:
#1: Use Props- The best gimmick, one can have at his booth is arranging a roulette wheel, where visitors would be instructed to spin it, answer few questions about the concerned company and then win a prize. This spinning game would undoubtedly excite the audience and entice them to visit your stall. I bet this trick would work well as no one likes to miss the chance of winning a prize.
#2: Free Massage session – Imagine a certified and licensed massage therapist, wearing a T-shirt with your company logo emblazoned on it, giving massage to your attendees. Fantastic! Isn't it? I would suggest chair massage as it is something that we all love and hence your potential clients would surely walk into your stall to get one. Meanwhile, you will also get a chance to educate them about your products and services in detail.
#3: Incorporate Humor In Your Marketing Speech – The advertising world believes in the saying "Humor Sells." Experiments done by Marketing Psychologists reveal that, People buy from people they like and humor is the quickest and easiest way to achieve this. The basic and fundamental rule of selling products is developing a positive relationship with the potential customers. Thus, while standing at the stall try being funny and sweet with the attendees and simultaneously promote your brand through your humorous speech.
#4. Unique Giveaways Ideas Always Work Best – Attendees forget, in no time, the names of freebie-less exhibitors and vendors. Keep with you unique, but inexpensive giveaways to distribute to your guests so that your attendee didn't get any chance to forget your brand and your brand message.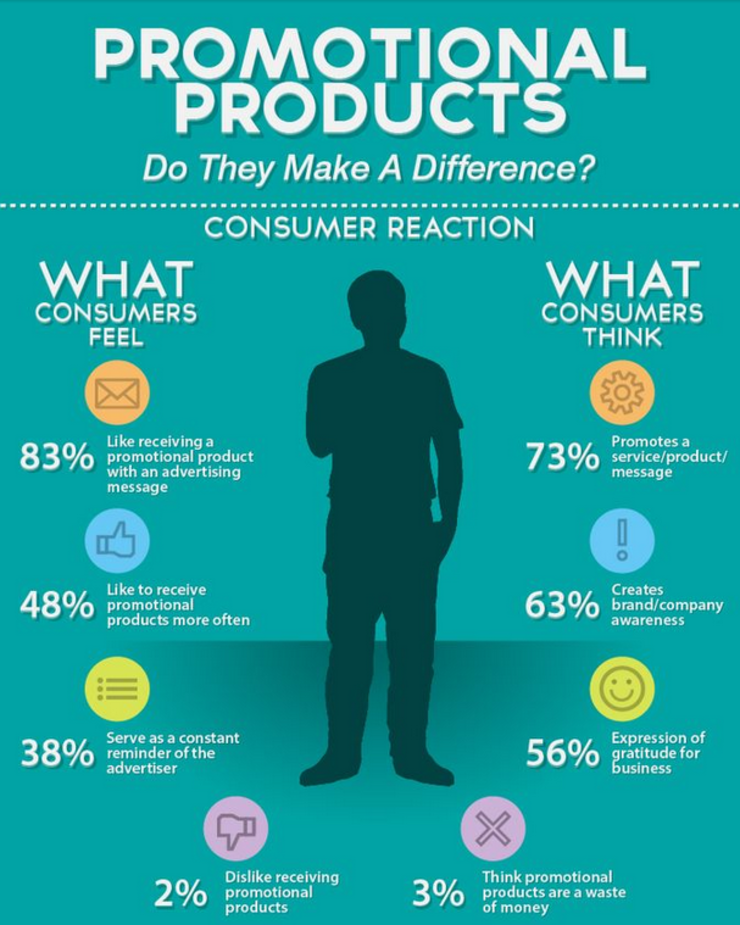 5. MAINTAIN YOUR SOCIAL MEDIA PAGES IN A WAY THAT YOUR COMPETITORS CAN'T EVER THINK OF
Most businesses have their accounts on all the popular social media accounts like Facebook, Twitter, Pinterest, Instagram, LinkedIn and others. So, merely having an account on these platforms will not do any good to you. You need to think like a highbrow and come up with some extraordinary social media marketing strategy.
Now you are thinking what kind of strategy I am taking about. Right? Go and do some razor-sharp research on the famous business pages and figure out their common strategies. After you are done with that, think of how to execute those same strategies in your page, but in your way.
Read the article The 16 Best Facebook Pages We've Seen This Year by Lindsay Kolowich. I'm sure you will get a clear picture of what I mean by "Extraordinary".
Remember: Each and every post on your page must have a high engagement factor. The audience should be amused each and every time they visit your page. Holding contests, quizzes, asking for customer's feedbacks, reviews, sharing personal experiences of the page visitors are some of the ideas you can apply. But again, most of the social media marketers do all of these. So make sure yours are completely matchless.
Intrepid Travel is one such travel agency who has a great Facebook Page. Thumbs up to its idea of having a special tab showing tour reviews and show trips. It provides a great user experience by letting the users search and book their trips without requiring to leave the Facebook Page.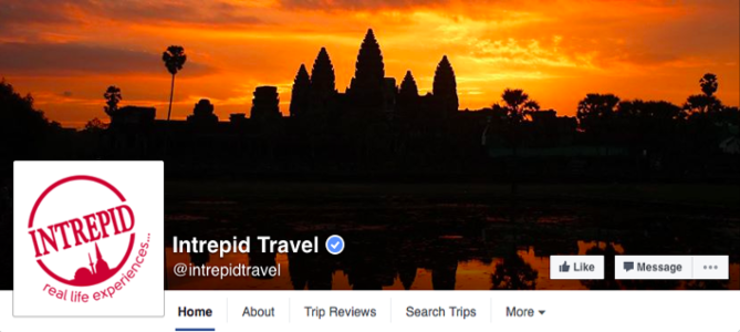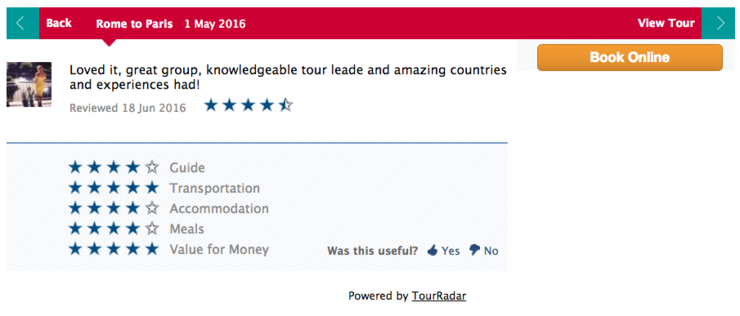 L.L.Bean, an Ecommerce site for outdoor gear, clothing and travel accessories maintains its Facebook page in an elegant style – its content, images, videos, statuses all focusing only on target audience i,e. outdoor adventurers. They keep posting cool images and tips regularly and have separate tabs devoted to their events, job openings, grand offerings and others.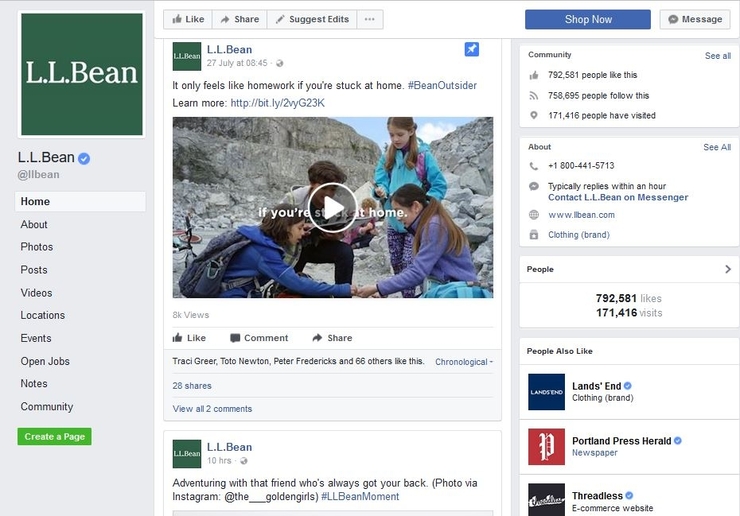 Another great example is the Page of Nutella. Their videos and image posts are super interesting, creative and relevant to their audience.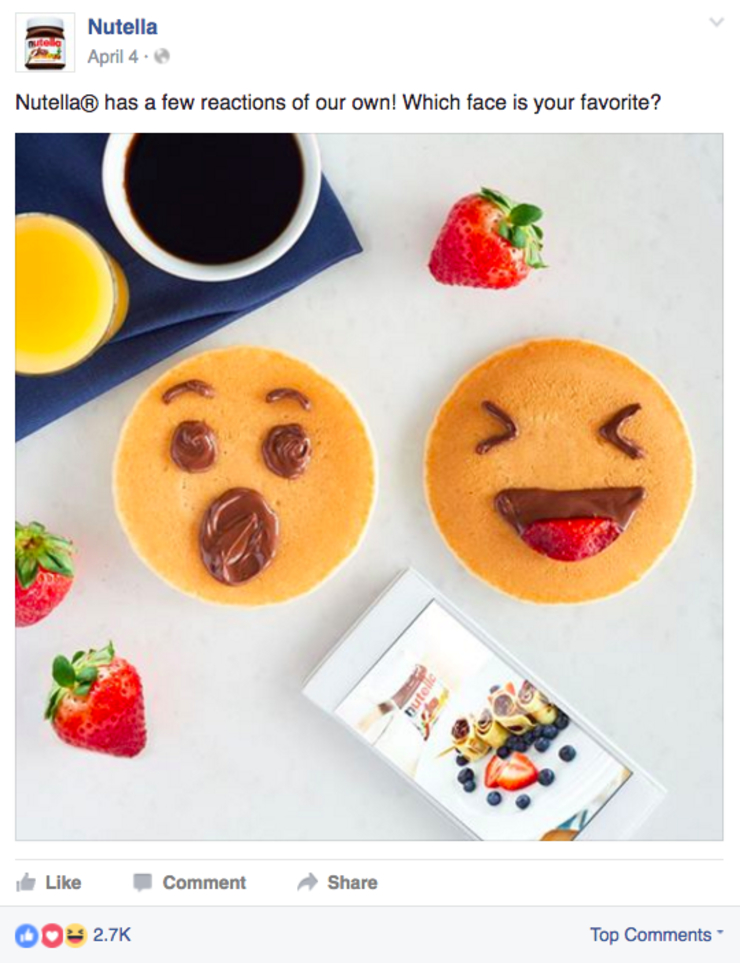 First, focus on only one or two most important platforms rather than strewing yourself all across multiple platforms. Make sure you or anyone from your sales team is available always to answer to visitors messages ASAP! See how Threadless has a tag in their "About' section indicating us that they respond quickly to all the visitor's inquiries.
Here are the tips to follow in order to have a great Facebook Page:
#1. Portray your brand message in each and every image and post.
#2. People should get to know your brand story from your profile picture and cover photo.
#3. Keep posting content that serves the interest of the target audience.
#4. Keep the majority of the posts and updates visual. (Text based content bores the visitors)
#5. Post daily and in a day post twice or thrice. (Observe when most of your followers come online and keep posting at that time on a regular basis)
The below two Infographics would give you the idea about the best days in a week and the best times in a day to post on the two most favored social media platforms- Facebook and Twitter.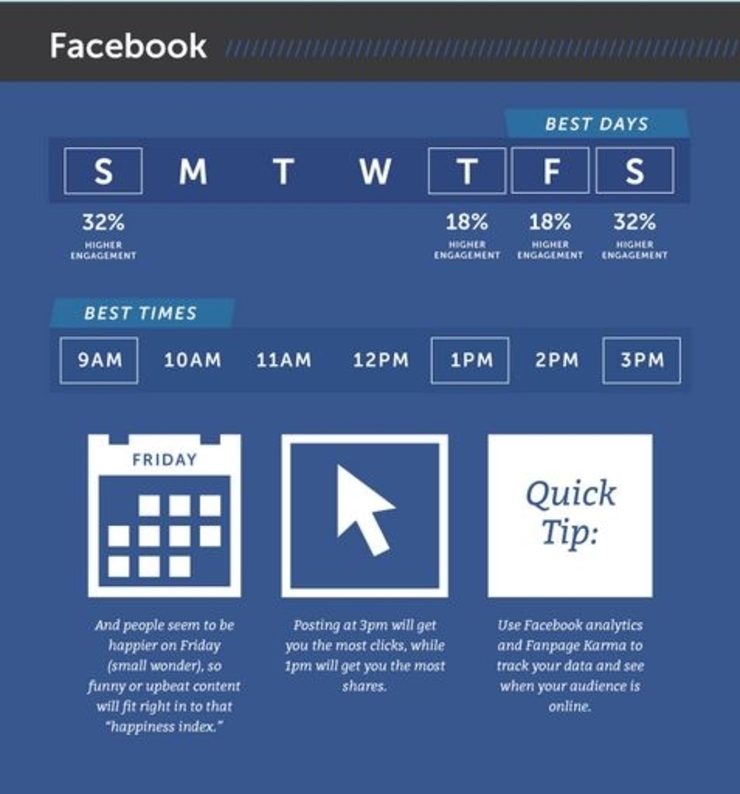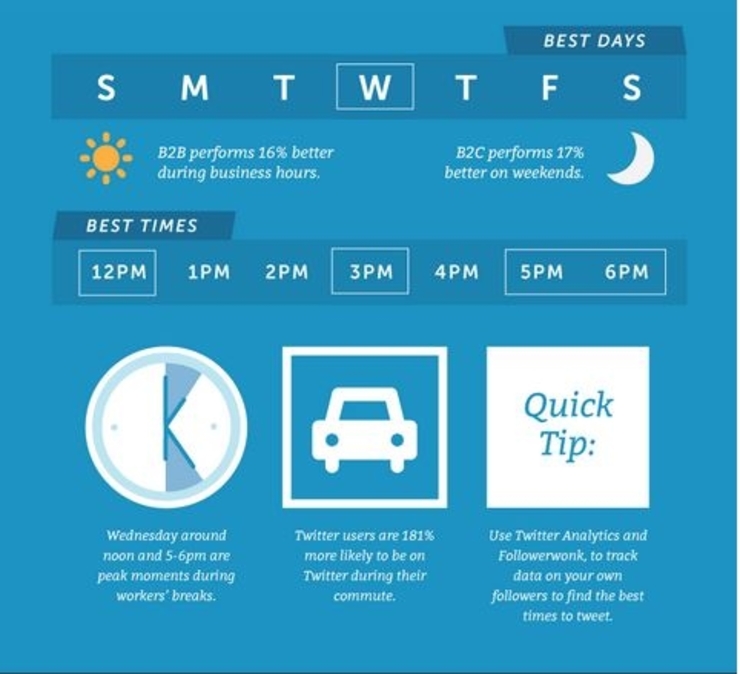 6. BLOG REGULARLY AND DON'T FORGET TO SORT THEM UNDER SEPARATE CATEGORIES
Since digitization has become the primary pathway for consumers to reach you, you must find new ways to engage them and blogging is the best way to do this. Regular blogging is essential for every business because it helps you to get found on the Internet. In addition, it is related directly to search engine optimization. But when you are blogging daily, it is highly recommended to put your daily posts and articles under separate categories on the basis of their topics. Once you put all those hundreds of posts that you have already written, under separate categories, new readers would not have to scroll a crap ton to find any particular post. Most times, such readers tend to move to other similar sites in search of that particular topic if they find your website blog unsorted. Creating archives for all of your blog content will make your readers feel comfortable and give them a user-friendly feel.
According to research by Hubspot, if you have a content rich blog, den updating it on a regular basis has some certain advantages:
Increases the company's overall ROI at an increasing rate by improving the conversion rate.
Helps in generating inbound links which in turn bring important referral traffic back to your website.
Blogging regularly increases the number of leads for your website. Research shows that business websites with 401-1000 content pages of content get 6 times more leads than websites with 51-100 website pages.
Gives you an opportunity to involve in a two-way conversation and connect with business prospects and customers through the replies, comments and feedbacks.
The most common approaches of designing of a good archive page are:
#1. Utilize as much space as possible
#2. Make the navigation easy, so that your topics are easily findable.
#3. The category menu should be delineated in such a way that it remains distinct from its surrounding content.
#4. Split the entire archive list into several sub categories.
In my opinion, the Archive Section of WPBeginners is quite excellently built – it not only contains a manageable category bar, but is also sorted date-wise. To sum up, it provides a good user experience.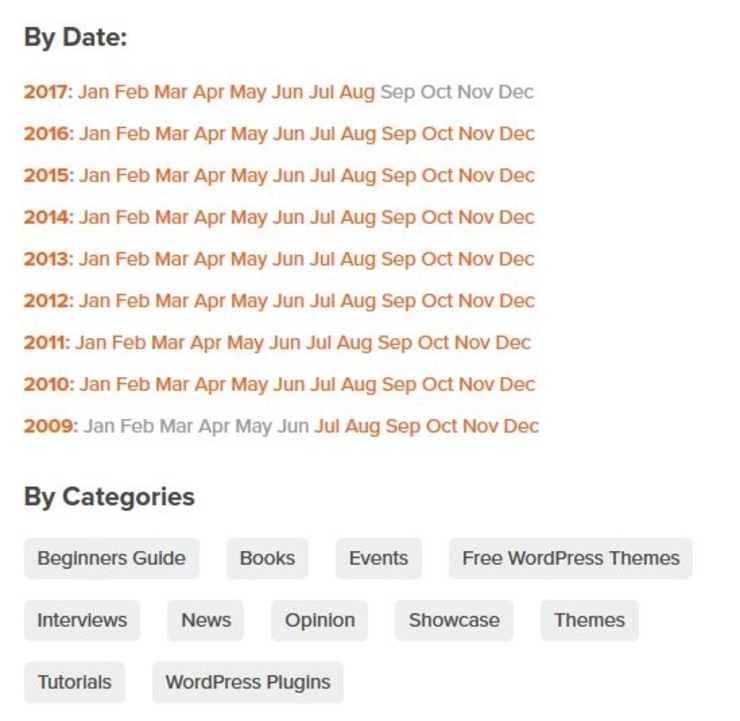 7. MAKE A POWERFUL ONLINE PRESENCE
To make your existence noticeable in the industry you need to accomplish the 4 most important ways of going digital. So let's take a look at these 4 things:
1. Having a stunning and out-of-the way business website – This we have already discussed in Point#2.
2. Enroll your name in local listing sites – This step is very necessary, even if you do not have your business website yet. Entering your business name on those local listings sites will help others to find you on the internet. For example, you have opened a medicine shop and it is in its growing stage. You have no website, but you want people near you to know about your presence in the medicine market. What will you do then? This is when local business listings come to your rescue. These sites serve in a particular area locally by informing those surfers seeking for your type of products in the Google. For instance, if you search for "medicine shop near me", Google would bring before you all those local sites, that has all the names and details of the medicine shops enlisted with them (and your shop will also be listed among them).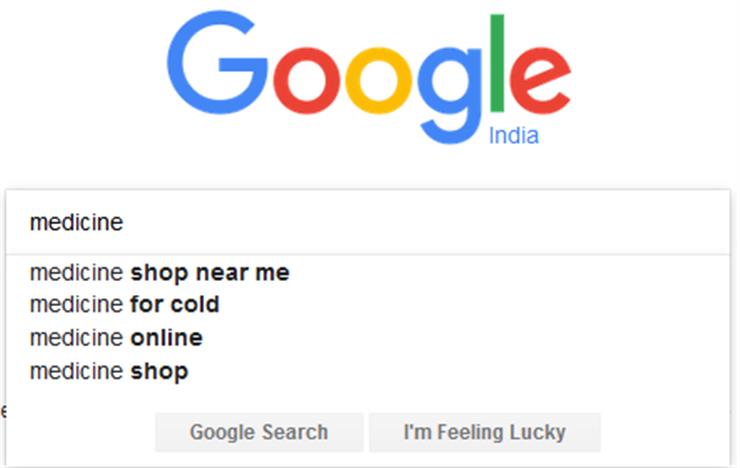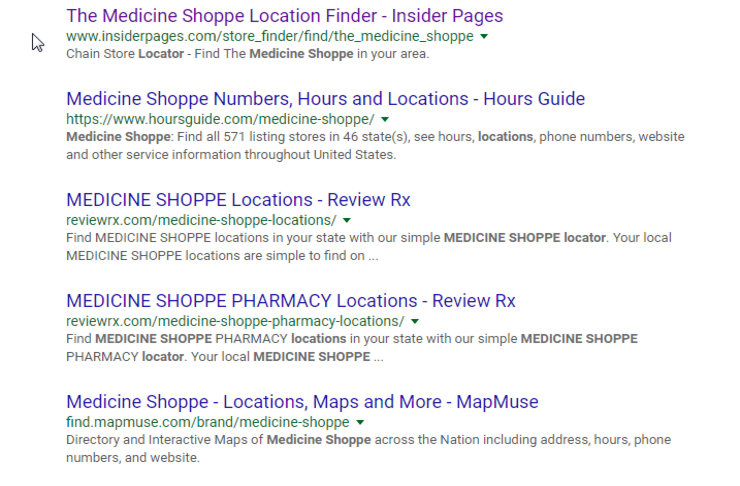 #Important Note: These listing sites and yellow pages, also act as an optimization tool for search engine rankings.
1. Review sites – Like local listing sites, there are other sites called review sites whose primary function is to provide real reviews(both positive & negative) and feedbacks of the customers regarding your company, products & services. All you need to do is to add your company name and products (or services) to these review sites and ask for customer reviews.
Purpose of doing this – This will ensure your constant online presence and hence give you a tough competitive edge over your rivalries.
2. Google Maps – Adding your company location on the Google Maps is mandatory as customers now-a-days validate every detail of the company before proceeding with any kind of business transaction. Also, interested people get an easy solution to reach you through the Google Maps. Thus, to get recognized online locally as well as globally, Google Map is your sole key. See below, how Google Maps give directions to all the medicine shops automatically when you search for "medicine shop near me"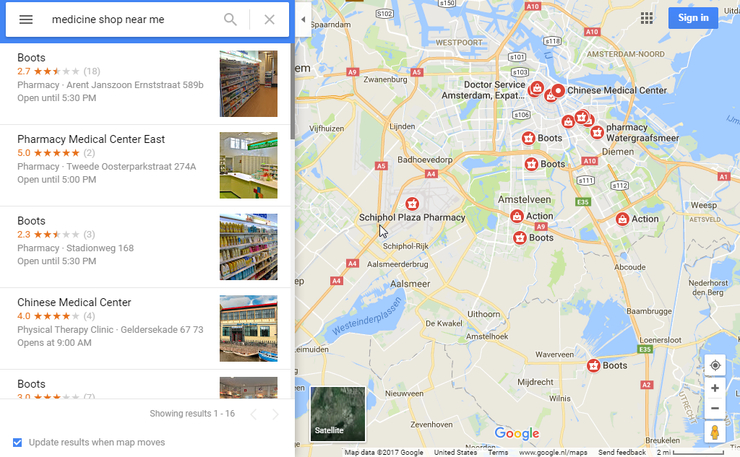 8. MAKE THE MOST OF "WORD-OF-MOUTH" MARKETING
Research by Ecommerce marketers has revealed that 92% of the customers read the testimonials and online reviews before considering any product purchase and 88% of customers say that online reviews help them grow trust in a business more.
Driving customer review volume is extremely important, especially in this post-amazon age. Customer interaction and social proof (customer reviews) affect conversion rate across all industries and all channels.
One customer interaction with your review can yield:
58% more likely conversion
62% more revenue per visitor
3% more per order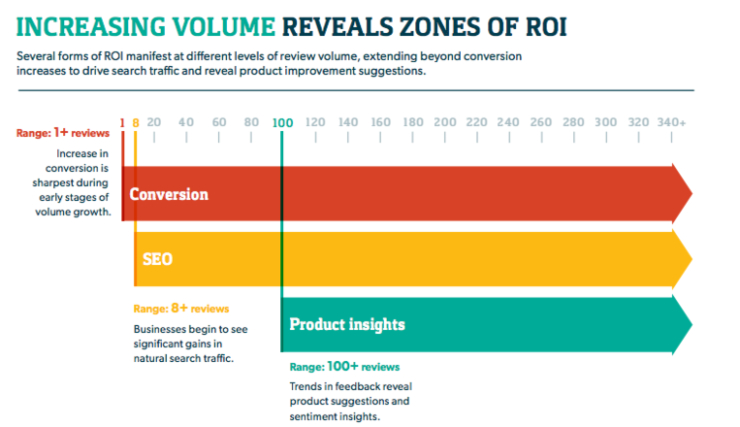 Sharing all the customer testimonials and positive reviews on your social media pages is a great way to win the trust of your prospective clients. That's what popular outdoor speaker manufacturer, Fugoo is also doing!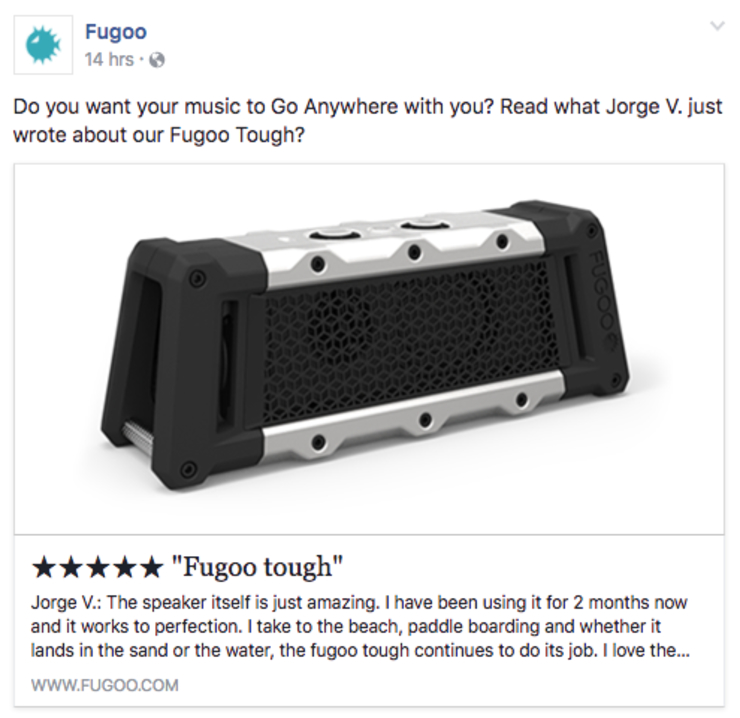 9. UNDER PROMISE BUT OVER DELIVER – A TERRIFIC TRICK!
Yes, you heard that right! Never show your maximum potential to your audience. Always keep it minimum and deliver earlier than the stipulated time of delivery' The magic of this trick is that, customers get excited when they see that they are receiving the product earlier (which is actually not).
Trust me, It's a Tried and Tested trick!
Allison Marshall, who runs a Photography Business tells her clients that she would be delivering the photo session images in FOUR weeks, but in reality she plans to make them ready and deliver in just TWO weeks.
End result: Clients are super happy as they get the pictures in half the time promised.
Another advantage is that even if some extra work or emergency crops up in the middle of the FOUR weeks, she would STILL have some extra time in hand and will deliver the work earlier than expected.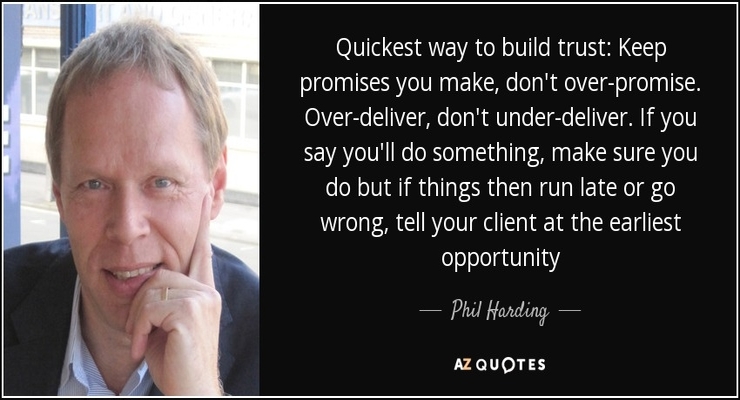 10. DO WEBINARS: A NEW AND POWERFUL MARKETING CHANNEL
If you ask about blogging, maintaining social media pages, online presence, then I would say these are the things that most businesses are following these days. And therefore as discussed earlier in this article, you need to do something out-of-the-herd in order to make your brand noticeable.
But what about WEBINARS? No, not everyone still knows about the webinar (seminar over the web) and hence it is a great opportunity for you to weaponize the power of WEBINARS.
Now the question is how attending webinars can make your company stand out :
Not everyone is utilizing this channel and that makes it even more precious to you because you will be the first among all your competitors to do this.
In a Webinar, people get a chance to know you personally first-hand! They can see you, hear you and interact with you.
Thus, now you can literally connect with your target audience at zero cost! Sounds amazing. Right?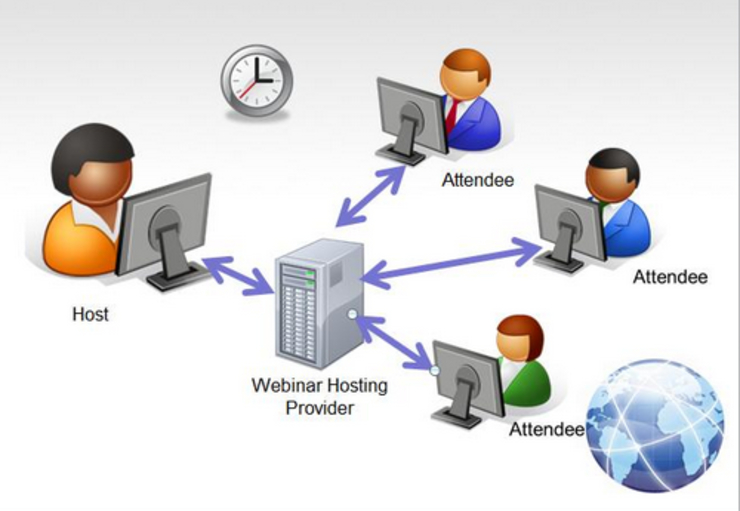 CLOSING THOUGHT
Personal Branding is something every business does in order to earn recognition worldwide. Without branding and marketing, it's next to impossible to establish your own identity. You also need to do the same, but of-course in a different way!
Hope, I have been successful enough in explaining to you, how to apply the same old branding techniques, but in an innovative way in order to leave an indelible impression on the audience's mind.
In a nutshell, engagement is a two-way path and you, being the owner or the marketing manager of your brand, have to show your connections, prospects, and peers what you can offer which your competitors can't and what are those things that sets you apart from them.
Also, I would love to learn from you, too. If you have any brilliant branding ideas or techniques in your mind feel free to share with me here. Feel free to post your comments, feedback, opinions in the below section.