Not too long ago, email marketing had been written off as an unproductive exercise – one that did not yield the fruit it was supposed to. But that's all in the past! Now email marketing is one of the most potent weapons at your disposal, and is something you should use extensively if you wish to send personalized messages to your target audience.
In fact, now most marketing gurus agree that email marketing is the way to strengthen your relationship with your target audience, placing it over and above social media. Emails can help you direct the right kind of (read: high) traffic to your website, thereby increasing the chances of your business' prosperity. But for that to happen, you need to use the best email marketing software out there.
In today's blog post, I'm going to discuss how to pick the right email marketing software, the top 10 software you should use and their pros and cons so you get a comprehensive idea of the whole thing. Let's get started.
How to pick the right email marketing software for your business?
Did you know that by the end of the year 2022, there'd be a total of 4.32 billion email users in the whole world? That's a lot of potential customers if you look at it! That's not the end of the good news though. The Manifest conducted a survey recently, which revealed that emails can help in increasing engagement as well as improving customer retention rate. So if you want to up your email marketing game, having the right software at your disposal is a must.
That said, the question that arises is how do you know which is the best email marketing software for you? Well, I've got some tips laid down for you that can help find a software that ticks. You just need to ensure that the software you finally pick for your business has the following basics covered-
The right tool will offer you the facility of audience segmentation through which you will be able to send out your emails to your target audience and not everybody.
Email template designs should be a part of the software you chose. They should be customizable as well for maximum convenience.
The mark of good software is that they offer multiple features you can use to your heart's content. Despite being feature rich though, email marketing software should be easy to use so that they don't take up too much of your time.
Seamless integration to the other software you use should be offered by the email marketing software you zero in on.
Security and compliance are two factors that cannot be stressed upon enough when you scout the market for email marketing software. Keep customer support as an important criterion too. Trust me, it'll make all the difference when you face issues.
Constant monitoring of the software is an unwelcome hassle. So check if it has the option for automatic scaling up before deciding on it.
The ideal email marketing software must be able to handle a large volume of emails efficiently and quickly. So make sure the one you go for has this feature.
The tool of your choice should be able to churn out a detailed performance analysis of your email marketing campaign.
Finally, the email software you fix on should fit into your budget. Don't worry if your budget is way too tight. Plenty of free email marketing software exist as well.
As long as the email software you pick out is able to fulfill the above basic requirements, you're good to go! A word of advice though? Make sure you include your brand's logo in your emails. The logo should be simple, instantly recognizable and memorable. If you don't have one like that, you might want to design a logo that fits the bill.
The 10 best email marketing software for you to try
Now that we've cleared up the air on what qualifies as the best email marketing software, let's direct our attention to the best software you can use for your email marketing campaign in no particular order-
1. ActiveCampaign

Image courtesy: https://bit.ly/2yeovz2
Although this list does not follow any particular order, if I had to choose one email marketing software that comes out right on top, I'd give the crown to ActiveCampaign. It has a lot going on for it. Currently, over 60,000 organizations swear by ActiveCampaign and it's not hard to see why. The software is extremely feature-rich with some very handy tools such as global variables and conditional content.
Starting Price: $9/month
Pros:
Feature-rich
Customizable
Cons:
Sluggish and confusing interface for first-timers
Few pre-designed email templates
2. SendinBlue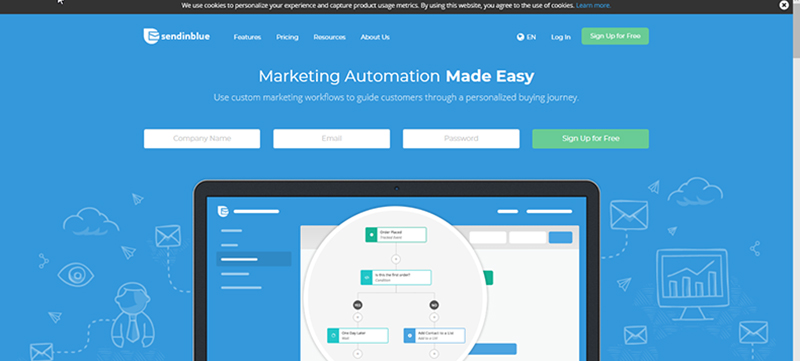 Image courtesy: https://bit.ly/1qma8OR
Whether you're sending transactional mails or engagement ones, SendinBlue offers you the option to handle both with ease. The email builder offers neat tricks such as drag-and-drop, which allow you to create mobile optimized mails without hassle. The design templates at SendinBlue are quite responsive and highly customizable too.
Starting Price: $25/month
Pros:
Responsive design
9000 free emails each month
Easy tracking
Cons:
Doesn't allow third-party integration
No option for Double Optin newsletters
3. Hubspot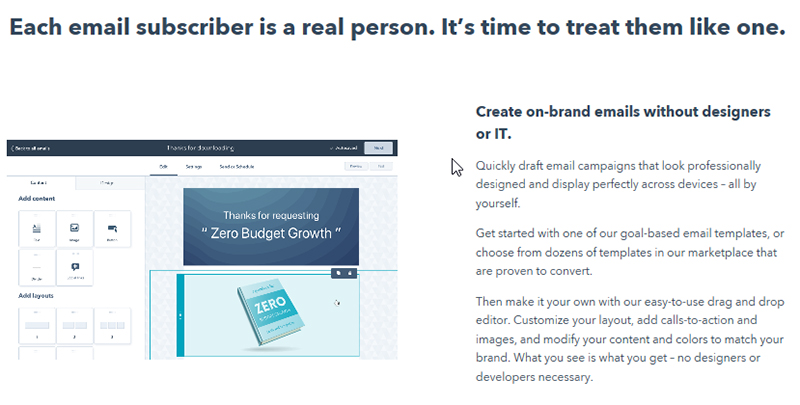 Image courtesy: https://bit.ly/2VPon8I
HubSpot is a name to reckon with when it comes to marketing. It's a trustworthy choice, so you don't have to worry if you are a first-timer. And if you still don't believe that, take the word of the 48,0000 companies that use HubSpot daily. This software is loaded with features and serves as the perfect email marketing software for small businesses.
Starting Price: $50/month
Pros:
CRM integration
Plenty of features
Cons:
SEO features are half-baked
Limitations in workflow
Steep price
4. MailChimp

Image courtesy: https://bit.ly/2fujeNO
Just like HubSpot, MailChimp enjoys immense popularity. Especially among small businesses! The no-code interface is extremely easy to use, with crafting emails proving to be a breeze due to its campaign builder. MailChimp doesn't skimp on features and you get all the basics and then some. That said, MailChimp is particularly known for its browsing behavior analytical services, which can help your business grow immensely.
Starting Price: $10/month
Pros:
Plenty of third-party integrations
Useful analytics
Flexibility in pricing
Cons:
Unclear pricing policies
Lacking reporting functionality
5. FreshMail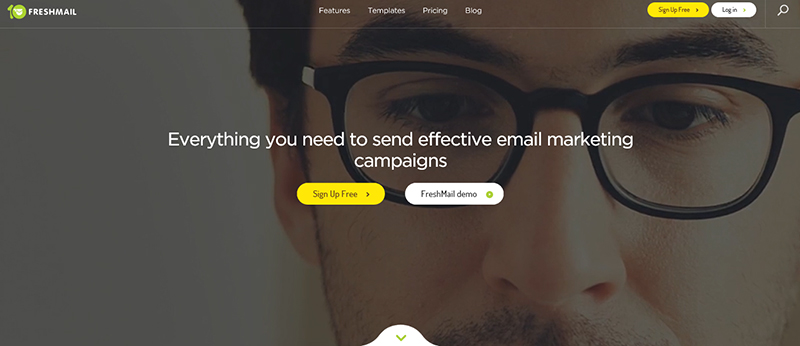 Image courtesy: https://bit.ly/2PYk1Xu
The best part of FreshMail is that it's entirely cloud-based so you don't lose any data. Perfect for small and medium-sized businesses, the interface of the software is intuitive and suitable for those who are not skilled at coding. As a bonus, you get industry-specific templates to speed up email creation. You can't go wrong with FreshMail. Its in-built auto-responder alone makes it one of the best email marketing software out there.
Starting Price: $14/month
Pros:
Free trial without time limit
Auto-responder is very handy
Intuitive interface
Reasonable pricing
Cons:
Pricing table is a bit confusing
Only paid users get access to phone support
6. Zoho Campaigns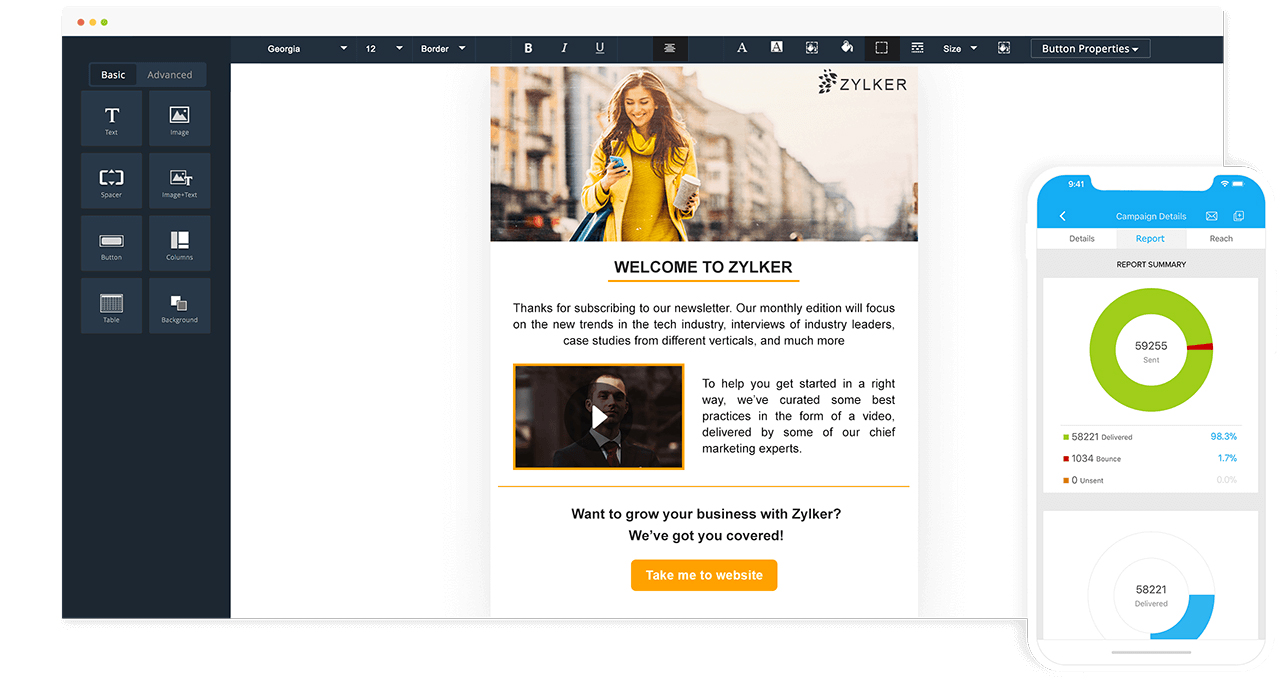 Image courtesy: https://bit.ly/2Jp1mmk
Zoho Campaigns is the email marketing tool of Zoho and it does not disappoint. Catering to small and medium-sized businesses, Zoho can help you create, send as well as track all of your emails. If you are a part of the Zoho ecosystem, this is a great choice due to the seamless integration it offers with other Zoho apps. You can track recipient activity and measure engagement with the help of Zoho Campaigns.
Starting Price: $6/month
Pros:
Option of a free plan
Convenience of pay-as-you-go as well as monthly plans
Auto-responding facility
Facility of Google Analytics tracking
Cons:
Access to only basic templates
Out-of-date UI
7. Constant Contact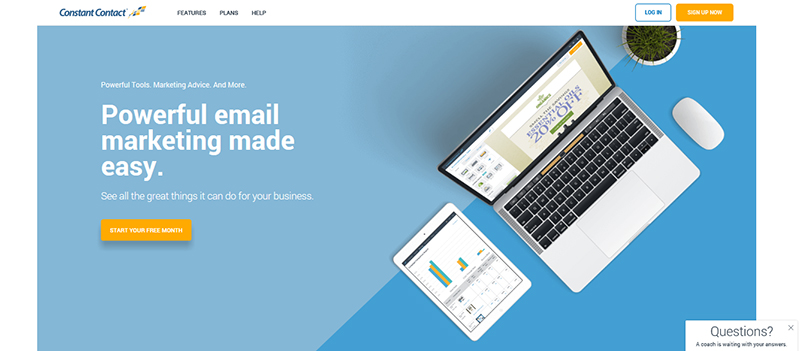 Image courtesy: https://conta.cc/2VVpzHm
Is your email campaign based on newsletters? Constant Contact is the email marketing software for you! This software works quite well if you are running a B2C campaign. Founded in 1995, Constant Contact has proven trustworthy and sends out 200 million emails per day for its clients! Although Constant Contact has all your usual bells and whistles, it lacks inspiring email templates.
Starting Price: $20/month
Pros:
Intuitive UI
Flexible editing modes
Extensive third-party integration
Cons:
On the expensive side of things
Lack of revenue-tracking feature
8. Campaign Monitor

Image courtesy: https://bit.ly/2Yg0MeW
If simplicity is what you are looking for, Campaign Monitor can satisfy that need. This email marketing software for small businesses is loaded with features such as drag and drop editor, which can help speed up your work. Campaign Monitor is highly suitable if your focus lies on transactional emails.
Starting Price: $9/month
Pros:
Powerful software with a more than capable email builder
Intuitive UI
Helpful auto-responding facility
Cons:
Importing contacts is a painful process
Missing support channels
9. Wix ShoutOut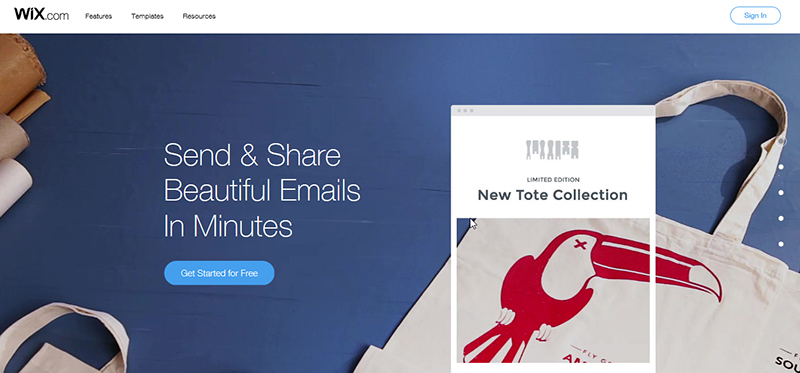 Image courtesy: https://bit.ly/2Q5Cpw9
Another one for small businesses, Wix ShoutOut has been designed to simplify the task of building and sending emails. You can freely customize the emails you create with this software, whether it's in terms of fonts, color, backgrounds or anything else. With Wix's platform, you can be sure your emails will work fluidly on both mobile and desktop devices.
Starting Price: $4.90/month
Pros:
Easily customizable templates
Mobile-ready templates
Useful mail list management tool
Cons:
Lack of a free trial
Incapable of handling large mail volumes
10. SmartrMail

Image courtesy: https://bit.ly/2DVCajV
SmartrMail can help you create personalized emails that connect with your target audience without much hassle. The upside to that is you'll witness an increase in sales as all the emails composed are based in the consumer's purchase history. A neat mobile view for all the emails composed is one of the hallmarks of SmartrMail.
Starting Price: $29/month
Pros:
Easy to navigate UI
Seamless integration with third-party
Accurate campaign tracking
Cons:
Difficult to set up automated campaigns
Limited customizations
As you can see from the list above, each of the software mentioned here have their pros and cons. So if you're looking for a magically perfect email marketing software that proves to be a master of all trades, you might be disappointed.
However, that doesn't mean you shouldn't give the above ones a shot! These are the crème de la crème of the software out there. The only thing you should keep in mind is that the software you pick should fit into your requirements and budget and match your webpage designs.
Planning To Start A New Website? Hire Digital Polo For The Design Work To Get A Stunning Site
A website that looks good brings in good business! So if you're on the brink of starting your own, you need a designing agency that can create a beautiful site for you at an unbeatable price. Luckily, you don't have to look anywhere else to find that website design company as Digital Polo is at your service! Get access to stunning logos, business cards, email designs, brochures and more without any hassle with us.